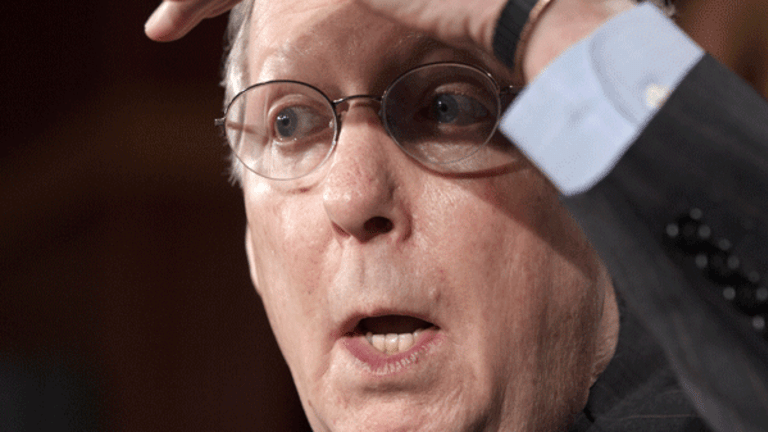 Polls Might Have Mitch Gobbling More Tums for His Tummy
Berry Craig: Sen. Mitch McConnell's new campaign ad suggests he's no longer vexed by Matt Bevin, his tea party-tilting challenger in the May 20 GOP primary. McConnell apparently figures Bevin is toast and is focusing instead on Allison Lundergan Grimes.
[dc]"W[/dc]hat, me worry?" the grinning, snaggle-toothed Alfred E. Neuman, Mad magazine's cover kid, has been famously asking for umpteen years.
Sen. Mitch McConnell's new campaign ad suggests he's no longer vexed by Matt Bevin, his tea party-tilting challenger in the May 20 GOP primary. McConnell apparently figures Bevin is toast.
If I were the captain of Team Mitch, I'd be at least a tad concerned about what Bevin and the Bevinites might do if the vote goes against them -- more on that in a minute.
McConnell's ad ignores Bevin. It is aimed at Alison Lundergan Grimes, his all but certain Democratic foe. The captain of Team Switch has no serious opposition in the Democratic senatorial primary. McConnell has known that all along.
"He's been called a hero for saving Kentucky jobs," the narrator, a woman, gushes in McConnell's commercial. Naturally, the spot doesn't say who called McConnell a hero. Of course, the hiring of a female narrator is supposed to help close the senator's yawning gender gap and convince Jane Q. Public that McConnell and the GOP really aren't waging a "war on women."
But Grimes has got the goods on McConnell. She points out that he twice voted "nay" on the Lilly Ledbetter Fair Pay Act and on the Paycheck Fairness Act.
Ledbetter is for Grimes. "Alison Lundergan Grimes will fight every day for fairness and for better lives for Kentucky women and their families," she said in her endorsement. "Meanwhile, Mitch McConnell will continue to serve the demands of big corporate donors. The choice for Kentucky women -- for all Kentuckians -- is clear."
Anyway, the ad goes on to cite purported examples of how McConnell has saved jobs in the Bluegrass State. "Mitch McConnell works for Kentucky jobs," the 30-second commercial concludes.
Immediately, the Grimes campaign countered with a press release disputing McConnell's commercial, chapter and verse. The release declares anew that Grimes, Kentucky's secretary of state, is "the only candidate in this race to put forth a comprehensive jobs plan."
In any event, Adam Beam and Philip Elliott of the Associated Press wrote that McConnell's ad "feels like one that could easily air just weeks before November's elections."
Polls still show a Grimes-McConnell matchup too close to call. A brand new HAI survey has the race a dead heat.
"This marks the fifteenth recent poll that finds Alison leading or tied with McConnell – before the Grimes campaign has spent a penny on TV or radio," says another press release from Team Switch.
Maybe McConnell no longer feels bedeviled by Bevin. But the polls must be causing him to gobble a ton of Tums for his tummy.
At the same time, while McConnell has a big edge in campaign cash, Grimes isn't exactly in penury. Lately, she's been outraising the senate majority leader-wannabe.
Meanwhile, the ad's Mitch-the-job-savior theme might mean he really is worried about Grimes, Beam and Elliott suggested. "Just last month, a local newspaper quoted McConnell saying it was 'not my job' to bring employment to a struggling Kentucky county. He said that role belonged to the state commerce department."
Team Switch was all over that McConnell gaffe. The senator protested that his remarks were taken out of context. No way, said the scribe who quoted McConnell. The newspaper guy is sticking by his story, word for word.
So it looks like McConnell will likely win, probably in a blowout, come May 20. But what happens May 21?
Will Bevin forget all of the nasty things the guy he called the lying "Mudslinging Mitch" said about him? Will Bevin, in the name of Republican solidarity, switch to Team Mitch and supplicate himself before the guy who belittled him as "Bailout Bevin" the tax scofflaw?
Will Bevin and the Bevinites go fishing for the rest of the campaign? Or will they hop on the bandwagon of David Patterson, the little known Libertarian senate candidate? Patterson's anti-government platform might appeal to the libertarian-leaning Bevinites, if not to their seemingly sunk candidate himself.
Berry Craig