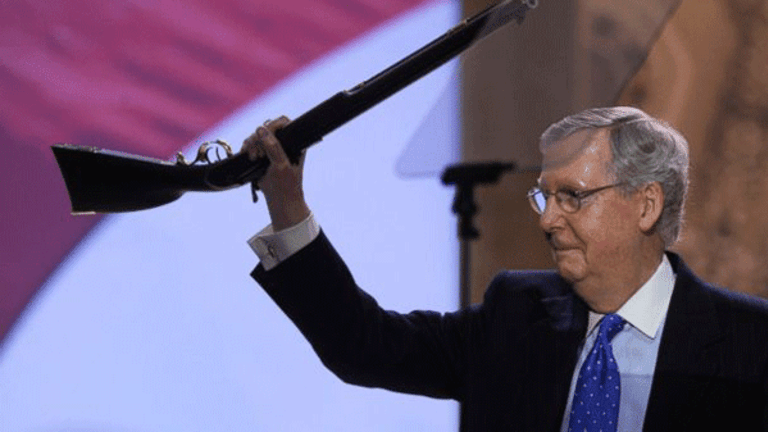 Mitch McConnell's Mike Dukakis Misfire?
Mitch McConnell Misfire: McConnell figured the CPAC rifle-toting would earn him precious bona fides with skeptical tea partiers.
Just about everybody says Mitch McConnell laid an egg at the Conservative Political Action Conference.
Worse for Kentucky's senior senator, he might have handed the opposition a golden Mike-Dukakis-in-the-tank moment.
The campaign of Alison Lundergan Grimes, McConnell's almost certain Democratic foe in the fall (provided he beats tea party-tilting Matt Bevin in the May GOP primary), is already pouncing on McConnell's misfortune. "Biggest Gaffe of the Year" says a fresh press release from Team Switch.
McConnell made his grand entrance at CPAC packing heat. He beamed and brandished what looked like a pioneer-style Kentucky Long Rifle. The smoke pole was a replica – an award from a grateful National Rifle Association to Sen. Tom Coburn, R-Okla., who is retiring for health reasons.
Charleston Heston's famous gun-hugging brought down the house at NRA conventions. McConnell's reprise bombed at CPAC.
The only decent applause he got was when he passed the rifle to Coburn. After that, McConnell delivered a brief bloviation full of his usual anti-Democratic sound and fury. But it signified nothing based on the crowd's not so gung-ho response.
By all accounts, the senate-majority-leader-wannabe managed merely a smattering of tepid applause. On TV, it sounded even less enthusiastic than that polite clapping you hear from the gallery at a pro golf tournament when a player double-bogies.
The CPAC appearance had to be a big-time bummer for the five-term McConnell, who is in the political scrum of his life.
Joseph Gerth of the Louisville Courier-Journal mused that that "the normally sharp-shooting" senator "may have misfired" at CPAC. "The image of McConnell walking out, waving the gun over his head, went viral," according to the scribe.
It wasn't good viral like cute kittens.
Gerth quoted The Huffington Post's Howard Fineman, who used to write for the C-J: "McConnell…seemed to want to evoke the joy of a hunter celebrating the one-shot takedown of a 10-point buck. But with his wan smile, diffident manner and blue patterned suit, he looked more like Elmer Fudd on the way to a meeting with his accountant."
So who can blame Grimes for a little schadenfreude? Gerth quoted a tweet from the captain of Team Switch: "Someone tell@Team_Mitch that's not the way to hold a gun. KY women do it better. #kysen ." That cyber-rejoinder earned Grimes "CNN Political Gut Check's top tweet of the day" honors, according to Gerth.
McConnell's "campaign refused to say if McConnell hunts, shoots targets or even owns a gun and last fall when Grimes challenged McConnell to a shootout at a gun range, he ignored a reporter who asked if he would take her up on her offer and walked away," added Gerth, who also compared McConnell's CPAC appearance to 1988 Democratic presidential hopeful Dukakis' ill-fated tank trip.
Anyway, I wouldn't bet the farm that McConnell will chance it against Grimes' in a shooting match. Discretion is the better part of valor.
Doubtless, McConnell figured the CPAC rifle-toting would be great PR for his campaign and earn him precious bona fides with skeptical tea partiers. Dukakis probably thought he'd look macho with a tank under him.
The George H.W. Bush presidential campaign quickly cranked out a Dukakis-is-soft-on-defense TV commercial featuring him riding in the tank. The ad made the Democrat – who is actually an army veteran – look less than Patton-like.
Though I cheerily voted for Dukakis, I winced at the ad. So, I suspect, did a lot of other Democrats, maybe even the candidate himself.
Team Mitch has got to be worried that Team Switch – or even the Bevinites -- will make similar political hay off his CPAC misfire. I can almost see the ad copy: "a replica gun for a replica senator."
The Grimes or Bevin commercial gurus could even accompany the spot with new words for the old theme song from the "Daniel Boone" TV show of my teen years: "Mitch McConnell was a man…but a pre-tend Dan-iel Boone…"
Berry Craig