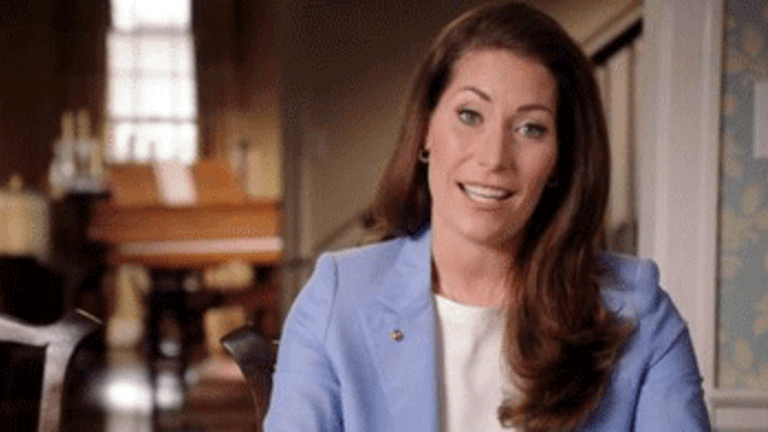 Will Mitch Get Ditched?
Berry Craig: Democrat Alison Lundergan Grimes is half a loaf to this lifelong Kentuckian. Yet McConnell and Bevin are no loaf. They're not even the bread wrapper. So Grimes has got my vote.
Mitch McConnell seems to be whistling past two graveyards.
Kentucky's senior senator says he's not sweating either of the candidates who want his job. Polls and recent history suggest he should be.
McConnell insists "countless Washington liberals" egged on Democrat Alison Lundergan Grimes to run against him. Yet it was the state Democratic Party brass who besought her -- more on that in a minute.
Anyway, the Senate Minority Leader claims he is eager to take on Grimes, whom he has tagged "President Obama's Kentucky candidate."
Maybe McConnell is rarin' to go. He has a ton of money and the potency of longtime incumbency. But first he's got to fend off Tea Party activist Matt Bevin in the GOP primary.
Bevin calls himself "the conservative choice for Kentucky." He says he's "tired of seeing McConnell talk a big conservative game, but then constantly work to undermine conservatives when it really counts."
Bevin doesn't count for much, according to Jesse Benton, McConnell's campaign manager. He told The Hill that Bevin is a "nuisance" candidate.
Maybe so, but another "nuisance" candidate beat McConnell's anointed one in the 2010 Republican senate primary. Hold your horses here, too.
At any rate, Grimes was not the favorite of "Washington liberals," or of left-leaning Kentuckians like me. Most of us wanted Ashley Judd to come home and run. She's a real deal liberal.
Grimes is moderately conservative by Bluegrass State standards. She's to the right of me and most other Democrats beyond Dixie and Border States like Kentucky.
Grimes will cruise in the Democratic primary. Besides her, the field includes some not-a-chance candidates. No other Democratic heavy hitter is expected to run.
McConnell also was set for an easy ride in the GOP primary. Ante-Bevin, he had just one nonentity to get past.
To be sure, this union card-carrying Hubert Humphrey Democrat wishes Grimes were a Kirsten Gillibrand, a Barbara Boxer or a Barbara Mikulski. They're my kind of DC Democrats. But I also know they probably couldn't get elected in Red State Kentucky. Only about 38 percent of us voted for President Obama last November.
Grimes is half a loaf to this lifelong Kentuckian. Yet McConnell and Bevin are no loaf. They're not even the bread wrapper. So Grimes has got my vote.
Anyway, polls show Grimes is more than competitive against McConnell. Some surveys say the race is even.
Judd's numbers looked halfway decent, too. Nonetheless, the Democratic bigwigs said a "Hollywood Liberal" couldn't win, and they were probably right. But it is also true that Judd was excessively liberal for most of them.
Bevin says McConnell is too liberal. That, of course, shows just how far right wing he is. More than a few Kentucky Republicans agree with him, notably those of the tea party persuasion who insist Obama is a socialist, if not an out-and-out communist. These same folks rallied 'round Rand Paul for the senate in 2010.
Paul was – and still is – the Kentucky Tea Party favorite. The faithful haven't forgotten that in the GOP primary, McConnell backed then Secretary of State Trey Grayson over their man.
Grayson was McConnell's protégé, Harry Potter to Dumbledore. But Voldemort, er, Paul, won. He also beat Democratic Attorney Gen. Jack Conway in the general election.
After the primary, McConnell had to go cap-in-hand to Paul, who reciprocated by endorsing him. Post-Bevin, Paul says he's still for McConnell. Benton is a Paul fan.
So will Mitch finally get ditched? Will Bevin pull a Paul and beat McConnell in the primary?
If not Benton, will the rest of the Paul faithful go along with their guy and play on Team Mitch?
If McConnell wins the primary, will Bevin back him? Or will he, or some other tea partier, run as an independent?
Tea party types seem less prone toward the half-a-loaf school of politics than those of us who don't duck the liberal label and who don't think "socialist" is necessarily a dirty word. Most of us – especially we Red State residents -- are pretty practical when it comes to voting.
We know if we sit out elections because a candidate like Grimes is not as liberal as we would like, we only help the other side.
Everybody knows Democrats like me are a tiny fraction of the state Democratic Party. We don't count for much.
Oh, we're glad to have Rep. John Yarmuth of Louisville and some state lawmakers from the Falls City and parts of Lexington.
Almost every other Democratic elected official in Kentucky is a conservative Blue Dog or a DINO – a Democrat in name only. But even a quarter loaf…
On the other hand, a lot of tea partiers are of the compromise-equals-surrender persuasion.
The tea party is the tail that wags the GOP canine in Kentucky. How the tea partiers vote will make a big difference in who wins next year.
"United We Stand, Divided We Fall," is our famous state motto. Almost all Democrats are marching behind Grimes. It's far from certain the GOP will be similarly unified.
Berry Craig
Saturday, 28 July 2013