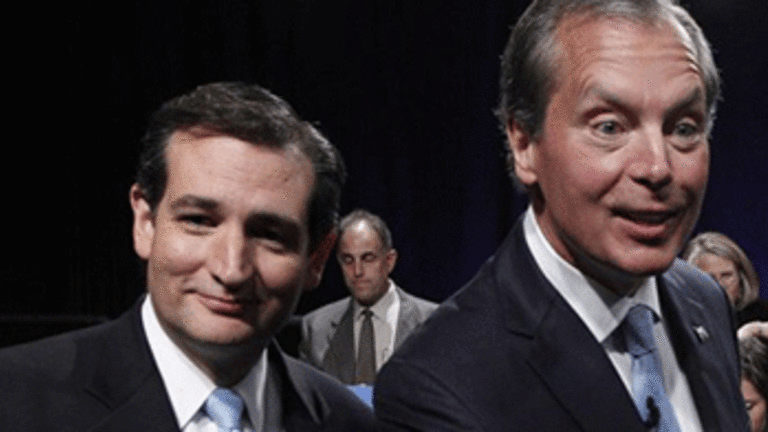 Money Can't Always Buy Political Love
Victoria Defrancesco Soto: Ultimately, it is this love that gets voters out of their air-conditioned houses into the heat and to the polls
This summer, Texas Lt. Governor David Dewhurst was supposed to be taking curtain measurements for his new D.C. Senate office, not mud wrestling in a primary runoff with fellow Republican Ted Cruz. Just a couple of months ago, Dewhurst was riding high in the polls and not giving Ted Cruz a second look. How could Cruz, who has never run for political office, challenge a seasoned Texas politico? Even more puzzling, Dewhurst has outspent Cruz by $10 million, yet most polls show Cruz in the lead and likely to be Texas' new U.S. Senator.
David Dewhurst has raised over $19 million while Cruz has only raised $8 million. But the devil is in the details; $11 million of Dewhurst's $19 million came from Dewhurst's own personal fortune. Ted Cruz also lent himself money, but only $800,000. When you do the math you can see that both candidates are roughly equal in total contributions, with Dewhurst at $7.8 million and Cruz at $7.5 million when the personal loans are subtracted.
Another interesting detail is where the contributions are coming from. In the last Federal Election Commission summary report, covering May 10-June 30, Dewhurst raised approximately $1.5 million from individual donors, coming in short of Cruz's $1.7 million in individual donations. These figures suggest a greater level of personal investment in the Cruz campaign. While about a quarter of these contributions have come from outside of Texas, the Cruz campaign highlights that the home state donations have come in from across the state and that over 20,000 donations come from repeat donors. In other words, supporters are putting their money where their mouth is.
Following the money trail, rather than just looking at the total amounts raised by each campaign, paints a rosy picture for Cruz. This financial support by individuals is mirrored in the most recent Public Policy Poll showing that not only is Cruz ahead 49-44 percent, but that among those voters that are "very excited" about voting in the runoff he has a 56-50 percent advantage. The enthusiasm measure is so crucial because it is a good gauge of what turnout will look like. After a recent primary and a number of local-level elections, Texans are election weary. Not to mention that the average temperature in late July during the early voting week and the actual election day will be in the triple digits. The folks who will be casting a vote for the GOP primary are going to have to be excited, to say the least.
Finally, Ted Cruz counts on the support of the Tea Party. While the Tea Party may be losing relevance in other parts of the country, here in Texas it's alive and well. And among Tea Party members, the support for Cruz over Dewhurst skyrockets to 71-26 percent. The Tea Party provides a solid base of grassroots support, a component that Dewhurst is lacking.
Money matters in American politics, and in this age of Super PACs there is the potential for money mattering even more. However, money alone cannot win an election – just ask Tony Sanchez, Rick Perry's challenger in the 2006 gubernatorial election. Sanchez spent $76 million to Perry's $28 million and in the end Perry won by 17 points. Money may be able to buy friends, but it can't buy their love. And ultimately, it is this love that gets voters out of their air-conditioned houses into the heat and to the polls.
Victoria Defrancesco Soto
Dr. VMDS
Posted: Friday, 20 July 2012