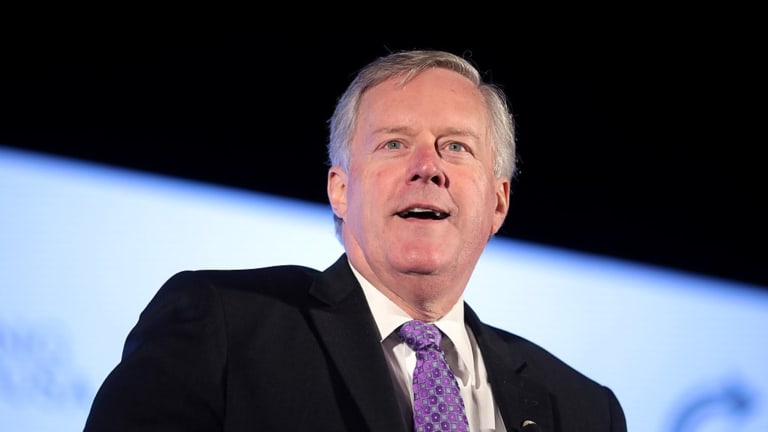 Republicans Denounce Multi-State Registration as Voter Fraud
The need for regularly purged and updated voter-registration records to avoid any voter fraud. The Republicans claim extensive voter fraud and their hypocrisy.
Republicans love to claim that there is extensive voter fraud, and that is why Mark Meadows champions "election integrity" out of his Conservative Partnership Institute that he created after Trump was finally ejected from the White House. Meadows also, of course, figures prominently in "The Big Lie" that is based on the ludicrous bellowing cry that the 2000 election was marked by massive voter fraud.
However, in case you missed it, this spring it was revealed that Meadows was registered to vote in three states: Virginia, South Carolina and his native North Carolina. In April, North Carolina removed him from its voter rolls, but he is still registered in the other two states. Meadows and his wife were listed as living in a rusting trailer home near the South Carolina border, but, in reality, the 14-by-62-foot mobile home trailer home was empty. Now, his right to vote in his home state has been removed.
Public records indicate Meadows had been registered to vote in Virginia and North Carolina, where he listed a mobile home that he never owned — and may never have visited — weeks before casting an absentee 2020 presidential election ballot in the state. Trump, for whom Meadows was serving as chief of staff in Washington at the time, won the battleground state by just over 1 percentage point.
Last month, North Carolina Attorney General Josh Stein's office asked the State Bureau of Investigation to investigate.
About a year after he registered in North Carolina, Meadows registered to vote in Alexandria, Virginia, just weeks before Virginia's high-profile governor's election last fall, the records indicate.
After Donald Trump lost the presidential election, falsely claiming election fraud, Meadows became senior partner at the Conservative Partnership Institute (CPI), which promotes "election integrity" efforts. The organization's "citizen's guide" urges activists to determine that the registrations of their neighbors are legal by checking on "whether voters have moved, or if the registrations are PO Boxes, commercial addresses or vacant lots" and then "obtaining evidence: photos of commercial buildings? Vacant lots?" and "securing affidavits from current residents that a registered voter has moved."
Voter-list maintenance is one of the dividing lines in American politics. Republicans argue that if voter-registration records are not regularly purged and updated, election fraud can take place. Democrats push back that too many voter-list purges are conducted haphazardly, removing eligible voters who don't learn they are no longer listed until they show up to vote.
Now it turns out that until last week, Meadows was simultaneously registered to vote in three different states — North Carolina, Virginia and South Carolina — according to state records obtained by The Fact Checker.
The Post also points out the irony:
This is the latest in a series of revelations about election-related behavior by Meadows that appear to contradict his and his party's rhetoric on election integrity.
Meadows, in fact, was the keynote speaker at a CPI Election Integrity Summit in Atlanta on Feb. 19. "What you're doing is investing in the future of our country and making sure only legal votes count," Meadows told attendees. He said he had just gotten off the phone with Trump, who he said had told him: "We cannot give up on election integrity.
As former chief-of-staff to Donald Trump, it should be no surprise that he engages in such glaring hypocrisy.