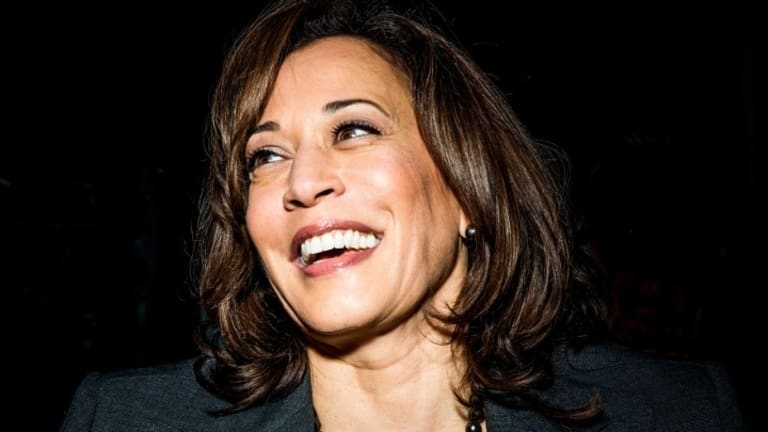 Namaste, Kamala
Ted vaill: What mattered was that Kamala impressed me as a great candidate for California's Attorney General, at a time when we were deep in the financial meltdown engineered by the Bush Administration.
It was early Spring, 2009, and I had just been elected a delegate to the California State Democratic Party Convention, held in Sacramento that year. It was a festive time, as Barack Obama had just been overwhelmingly elected President, a candidate I had supported and worked for since attending Camp Obama in April, 2007.
I was making the rounds of the many parties and gatherings held at each such convention, from early breakfasts to late night celebrations. I decided to go to a coffee and donuts breakfast put on by a candidate for California Attorney General I had never heard of: San Francisco District Attorney Kamala Harris. 
When I arrived, few people were there, but I was greeted by a very pleasant and energetic young woman who introduced herself as Kamala Harris. We had an engaging conversation, about her two terms as San Francisco's top law enforcement officer, and what she wanted do as Attorney General, an office being vacated by Jerry Brown, who would be running for Governor for the second time in 2010.
I talked to Jerry too during that conference, telling him that I was jealous of him when he was governor previously. He ask me why, and I responded "Because you dated Linda Ronstadt". He replied, "Well, you should be."
What mattered was that Kamala impressed me as a great candidate for California's Attorney General, at a time when we were deep in the financial meltdown engineered by the Bush Administration
After meeting Kamala at that breakfast event, I had no idea what her ethnicity was, nor did it matter to me. What mattered was that Kamala impressed me as a great candidate for California's Attorney General, at a time when we were deep in the financial meltdown engineered by the Bush Administration and the crooks on Wall Street which severely damaged the American economy.
(Why do Democrats always have be elected to clean up the messes created by Republicans… Clinton/Gore after Reagan/Bush; Obama/Biden after Bush/Cheney; and now Biden/Harris after Trump/Pence have ruined America with their total incompetence and corruption?)
In a very tight election, Kamala managed to beat LA DA Steve Cooley for the AG job, and proceeded to do great things, especially when she held out settling with the big banks over their mortgage foreclosures of Californians who lost their homes in the meltdown, finally settling for eight or nine times what had originally been offered by the banks.
When she walked out on the negotiations of the banks with all the AGs of the 50 states, she was roundly criticized. But Kamala worked out a much more generous settlement for California, on the order of $20 billion. Kamala and Delaware AG Beau Biden worked together to accomplish other important concessions during the meltdown recovery. 
Thereafter, at a later CADEM convention (I was elected a delegate to four two-year terms), Kamala delivered the keynote speech, and she wowed the delegates with her electrifying speaking ability. Later on, she was the guest of honor at an event held by the Pacific Palisades Democratic Club, on whose board I have served for many years, and she did not disappoint in her speech to the Palisades Dems. I had an enjoyable conversation with her at that event, where I recalled with her our meeting in Sacramento in 2009. She clearly had a great future in California politics. 
Two years into her second term as AG (after winning her fourth election in four attempts), she announced for the Senate seat of retiring Senator Barbara Boxer, and won the seat against fellow Democrat Loretta Sanchez, in a "top two" runoff race in 2016. Now almost four years into her first term as Senator, she has been selected to be Joe Biden's running mate.
In addition to being a female, an African-American, and an Asian-American, Kamala is also the first Democratic candidate ever nominated for national office who comes from California or any other West Coast state. The GOP had Nixon and Reagan, and earlier Gov. Earl Warren, Dewey's VP running mate in 1948, but the Democrats have never nominated anyone from a West Coast state for President or VP.
The time is now for California to take its rightful place in national Democratic politics. For many years, the party was run by Northern Liberals and Southern Segregationists. As the largest state by far, California for too long has been an afterthought on the national Democratic scene, but no more.
The Republican Party is dying in California, with no statewide offices and only seven seats in Congress of 55. If all breaks right, the GOP will have even fewer seats in Congress next year, with the seven House seats that were flipped in 2018 retained (including Christy Smith winning back the Katie Hill seat), and with "Drunken" Hunter gone, and Devin "I love Putin" Nunes hopefully gone.
If the Biden/Harris ticket wins in November, Governor Gavin Newsom would be able to appoint Kamala's successor for the remaining two years of her Senate term. There are many worthy California Democrats whom he might appoint: Representatives Adam Schiff, Ted Lieu or Karen Bass, Assemblyman Kevin de Leon, L.A. Mayor Eric Garcetti, or AG Xavier Becerra, among others.
On October 7, Kamala will have the opportunity to debate VP Mike Pence (unless Trump dumps him next week and picks someone like Nikki Haley in his place). I can't wait for her to confront Trump's "white bread", vacuous, evangelical sycophant of a VP and ask him to explain the corrupt policies of the administration for which he has been such a weak apologist.
Kamala (whose name means "lotus" in Sanskrit) was born in Oakland to parents who emigrated from Jamaica and India, and she was brought up in the Baptist and Hindu faiths. Some extreme Republicans have said that Kamala should not be allowed to run because her parents were foreign born, but they should be reminded that Trump's father was conceived in Germany and his mother was born in Scotland.
Namaste, Kamala… 
Ted Vaill