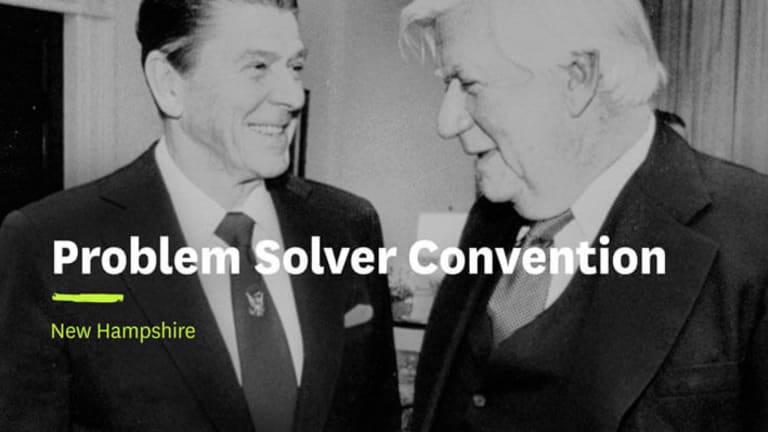 No Labels: Can Both Parties' Candidates Find Solutions?
Michael Hertz: The speaking is not supposed to be a debate, exactly, but a way for each candidate to present ideas that others may accept.
October 12 is the date that many Presidential candidates will meet together for the first time – at the No Labels Problem Solvers Convention.
According to its own statement, "No Labels is a nationwide, grassroots movement of Republicans, Democrats and everyone in-between. We are united by the conviction that people with different beliefs can set aside the labels and come together to solve our nation's pressing problems. We're working to advance the creation of a National Strategic Agenda for America's Next President through the process of agreeing to goals first. We believe our country's best days are not behind us."
No Labels' primary goal "is to start a national movement that will culminate in a Federal government that sees the presidential administration and both houses of Congress working together to achieve mutually agreed-upon goals that will solve the nation's problems." To that end, on October 12, 2015 in Manchester, New Hampsure, No Labels will hold its Problem Solvers Convention and has invited all the presidential candidates of both parties to speak.
The speaking is not supposed to be a debate, exactly, but a way for each candidate to present ideas that others may accept.
No Labels is an organization led by Jon Huntsman and Joe Lieberman, both of whom were Presidential candidates in the past. "Throughout 2016, No Labels will be pressing the next president of the United States, upon taking office, to sit down with the leaders of the other party and agree to big goals to unite the country: create 25 million new jobs over the next 10 years; balance the federal budget by 2030; secure Social Security and Medicare for another 75 years; and make America energy secure by 2024."
"The 2016 presidential season is about to begin - and No Labels is going to kick it off with the first celebration, pep rally and ideas festival of the campaign season. The No Labels Problem Solver Convention will feature speakers, such as Governor Jon Huntsman, Senator Joe Lieberman, congressional Problem Solvers and policy experts ... but the gathering will primarily be a citizen-centric, uplifting rally and send-off for activists who will be holding presidential candidates' feet to the problem-solving fire as the primary season heats up."
The speaking is not supposed to be a debate, exactly, but a way for each candidate to present ideas that others may accept. And it will be truly interesting to see whether the candidates can actually agree on cures for jobs creation, securing Social Security and Medicare, energy security, and budget balancing. It would seem to be an unlikely outcome, although that would appear to be the hope.
Which of the many candidates is attending? On the Republican side, it's Chris Christie, George Pataki, Lindsey Graham, John Kasich and Donald Trump. On the Democratic side it's Bernie Sanders, Martin O'Malley and Jim Webb. In other words, Jeb Bush is not attending. Nor are Carly Fiorina, Ben Carson, Marco Rubio, and a string of others. And on the Democratic side, there will be no Hillary Clinton or Lincoln Chaffee. So, except for Bernie and the Donald, the leading candidates are staying away.
I called the No Labels office and tried to get an agenda for the Convention. I was told that they were still working on it (!) but it would be available "soon." I then asked if the candidates would be speaking separately or together and was told that they would be speaking together. "The discussion will be free-flowing," I was told.
I reminded the No Labels representative that Democratic candidates are not permitted to be in a debate outside the official debates or they can be barred from the official debates. It's interesting to note that nowhere in the information available about the Convention is there any statement that the candidates will be speaking. Perhaps the candidates and the Convention are working on how the candidates can speak collectively without someone arguing that they are involved in a debate.
Hillary Clinton's absence from participation this Convention jibes with her non-appearance in large public settings, particularly ones where her ideas can be compared with those of other candidates, particularly Bernie Sanders. But maybe she's hoping that Bernie will debate some of the others and then be barred from participating at the Democratic debate. That is just the sort of low blow that Hillary could take, but using the DNC as the "decider."
It's unclear to me how Donald Trump will be involved in a speaking engagement including Bernie Sanders without the Donald's taking direct jabs at Bernie. But perhaps the organizers' hope that this Convention will brings positive results will come true. It would be a true miracle if the Donald and Bernie could come to agreement on important issues.
Stay tuned.
Michael T. Hertz