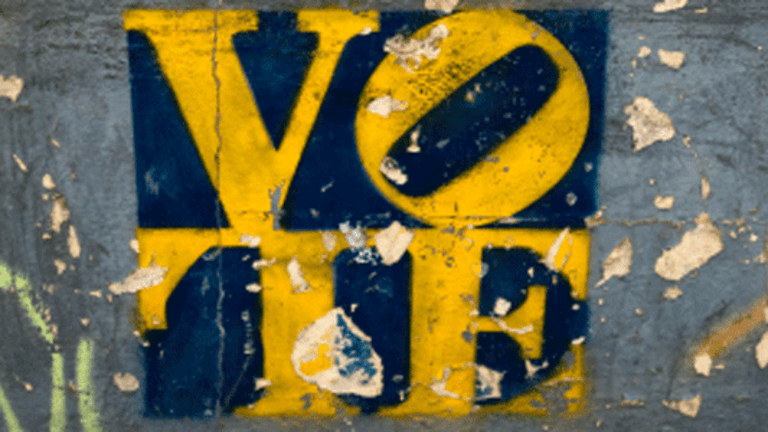 How Will the Open Primary Change Things for California Voters?
How Will the Open Primary Change Things for California Voters? Can a teacher win an election when career politicians oppose her? Will progressive voters show up and the power of big money?
Compared to other democracies, the United States is ranked among the lowest in voter turnout. This is true for Presidential elections but even more striking for midterm and special elections.
Although many laud the accomplishments of the Obama campaign in igniting a fire under an otherwise unengaged populace, the actual increase in the 2008 voter turnout when compared to the 2004 was less than 1%. Check out this table.
| | | | |
| --- | --- | --- | --- |
| Year | VAP* | Turnout | % of VAP |
| | 109,159,000 | 68,895,628 | 63.11% |
| | 114,090,000 | 70,651,298 | 61.93% |
| | 120,328,186 | 73,199,998 | 60.83% |
| | 140,776,000 | 77,744,027 | 55.22% |
| | 152,309,190 | 81,531,584 | 53.53% |
| | 164,597,000 | 86,574,904 | 52.60% |
| | 174,466,000 | 92,653,233 | 53.11% |
| | 182,778,000 | 91,594,686 | 50.11% |
| | 189,529,000 | 104,423,923 | 55.10% |
| | 196,511,000 | 96,277,634 | 49.00% |
| | 205,815,000 | 105,405,100 | 51.21% |
| | 215,694,000 | 122,267,553 | 56.69% |
| | 231,229,580 | 132,645,504[1] | 57.37% |
Source: Wikipedia - *VAP = Voter Age Population
I'm writing about this today because tomorrow in Los Angeles, California, there is going to be a special election. This election, on Tuesday, May 17th, was set up to allow voters living in the 36th Congressional District to select a candidate to fill the seat left vacant by Jane Harman who decided to resign just weeks after winning in November. Yes, Jane Harman the Democratic Congressional representative who called herself the best Republican in the Democratic Party. The congresswoman who voted to support warrantless wiretapping, left office to join a think tank.
Now, based on history, low voter turnout is expected. But I'm writing to implore you, whoever you are, to please pass this article via email, Facebook, Twitter, etc to as many people as possible whether or not you think they live in the 36th CD. Click here to find out more about the election.
Why? – Well for a couple of reasons. Yes, I hope this article will motivate someone who hadn't planned to vote to get to the polls tomorrow. But beyond that, I want to suggest to you that our "democracy" if you can call it that, is barely functional for several reasons but in my opinion, chief among them is that most voting aged Americans don't participate.
On average, in off-year elections, most Americans stay home. So what we get is a few deciding for the many – kind of like an oligarchy. Many, maybe even most of us are being negatively impacted by these difficult economic times with its record layoffs, foreclosures, and rising food and gas prices. We actually have the power to change these conditions but we've got to do better at the polls if we intend to make change.
Tomorrow, voters in the 36th CD will participate in one of the first open primary races since a 2010 California constitutional amendment was enacted that changed California's election processes by consolidating all primary elections for a particular office into an election with one ballot that would be identical to all voters, regardless of their party preferences. With this open primary, the two candidates with the most votes in the primary election will then be the only candidates who run in the general election, regardless of their party preference.
Marcy Winograd will be on the ballot. If you haven't heard yet, she is a teacher, a union member, and a progressive activist. But, she is also a community leader who, has run a non-corporate funded campaign. This is not easy. Money is what talks in politics but when you find a candidate who is running a viable campaign on a shoestring, odds are that candidate stands with the people. That is who Marcy Winograd is – a candidate who is truly there for the people, not her own career.