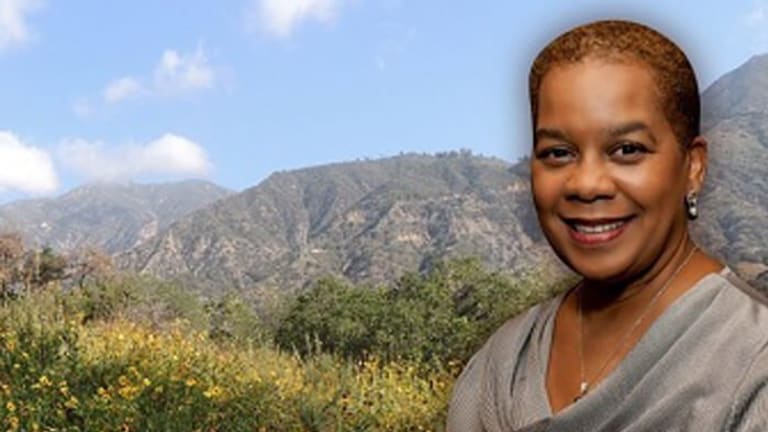 Phlunte Riddle Tied to Anti-Gay, Anti-Abortion Stands of Church School
Ron Buckmire: Riddle is now courting Democrats to back her campaign to represent the 25th District, stretching from Upland to Burbank, in the California State Senate.
After learning that an African American woman is running as a Democrat for Pasadena's seat in the state Senate, I was intrigued. So when looking further into her background turned up some troubling stances by the church school where she has taught, I was disappointed.
Phlunte Riddle is now courting Democrats to back her campaign to represent the 25th District, stretching from Upland to Burbank, in the California State Senate. She faces well-known Democrats Anthony Portantino, who has been building his campaign for nearly two years, and Mike Gatto, who has not stated he's running but is raising money and throwing elbows to clear a path for himself. Two less known Democrats, Katherine Perez-Estolano and Chris Chahinian, are also running, and it looks as if termed-out Los Angeles County Supervisor Mike Antonovich, a Republican, will also run. The 25th District leans strongly Democratic. Senator Carol Liu won reelection to the seat 61 to 39 percent in 2012, and she retires next year with a 100 percent voting record on reproductive health and LGBT rights issues.
By contrast, Riddle has worked as an instructor at the Harvest School of Ministry, based in Altadena, which advances contrary positions. The school's teachings align her with anti-LGBT discrimination, sexist policies and preaching, and anti-abortion fund-raising that seem more suited to Republican than Democratic leadership.
The Christian ministry school where Riddle has taught offers bachelor and master degrees in theology and doctoral degrees in ministry and Christian counseling. The school handbook lists Phlunte Riddle as an instructor. It lists Anthony McFarland as founder and academic dean and his wife Micheline as vice chairman. The McFarlands are also founders and pastors at Abundant Harvest Christian Center. The church Web site promotes them as "teaching awareness of the End Times" and "preparing the people in the house of God for disasters coming forth" and "the attack on the family."
The same school handbook that proclaims Riddle's work as an instructor also spells out a "Code of Conduct" that is blatantly antigay. The policy insists on "biblical guidelines" that require "abstaining from premarital relations, adultery, fornication, pornography as well as homosexual conduct." The handbook states that students "failing to abide by these standards" may be liable for "instant suspension or expulsion."
But hostility to gay people is not limited to the handbook. The church Web site features articles with more fiery rhetoric, including one on "Divorce and Remarriage" by Betty Miller. It states that "God hates divorce because it is a perversion of the holy picture of (sic) the His Son and the Church. This is also why he hates homosexuality, sexual promiscuity, and the other sexual and gender-related sins. All of these have their source with the Evil One who seeks to pervert all of God's truths until they are a twisted lifeless shamble of what they once were."
On the issue of privacy and women's right to choose, the church and school aren't quite as outspoken. But they have found a more direct way to support anti-abortion advocacy. This Saturday, on June 27, the church is holding an art auction for a local organization that uses misinformation to shame women away from legally ending an unwanted pregnancy. The Women's Pregnancy Care Clinic, whose fund-raiser Abundant Harvest is hosting, is not a clinic at all, but rather another local ministry that applies its "fighting spirit" to persuading women to "choose life for their unborn child" and deter women from understanding or exercising their full range of reproductive healthcare options.
Once again, the theme of resistance to women's authority over their own reproductive health or their independence as decision-makers in society is not limited to anti-abortion fund-raising. Another article by Betty Miller featured on the church's Web site states plainly that "women are to be subject to their husband's headship. The Lord ordained that the man be the one that would make final decisions in the home."
In the article shared by Abundant Harvest, the author continues, "Some women preachers have become very overbearing and bossy; thus it is very distasteful to hear them preach. ... Women who are single are not under any man's headship since they do not have a flesh relationship with a man. Their head is Jesus Christ and it is this union to which they are subject."
Rhetoric like this wrongly bestows privilege on men and completely ignores the lives of lesbian and bisexual women. It leaves no doubt that school lectures on "Theology and Politics" and "Marriage and the Family" reaffirm traditional gender hierarchies and invoke Christian scripture to ascribe a secondary status for women.
Such rhetoric also helps explain the rigid dress code for women at the school. It specifies the length of women's skirts and adds that all necklines must be "discreet." Administrative decisions on dress, the code adds, "shall be undisputed." This authoritarian language has an oddly familiar ring to it. When Anthony McFarland insists in a training video posted online by the church that men deserve deference in family and church, he doesn't ask for an amen from his wife. But she gives his pronouncement her blessing anyway.
I cannot support a candidate who has taught in a ministry committed to teachings like these. They are harmful and amount to a giant step backward in representation for the 25th District. They use religion as a crutch for bigotry, they threaten to reopen old wounds around Proposition 8, and they undo progress on openness toward LGBT people and family diversity in our faith communities. Views like these are more aligned with the extreme right's than with our movements for civil rights, whose work remains unfinished. We need Democrats we can count on as allies and a with fighting spirit for equality to get this work done.
Ron Buckmire