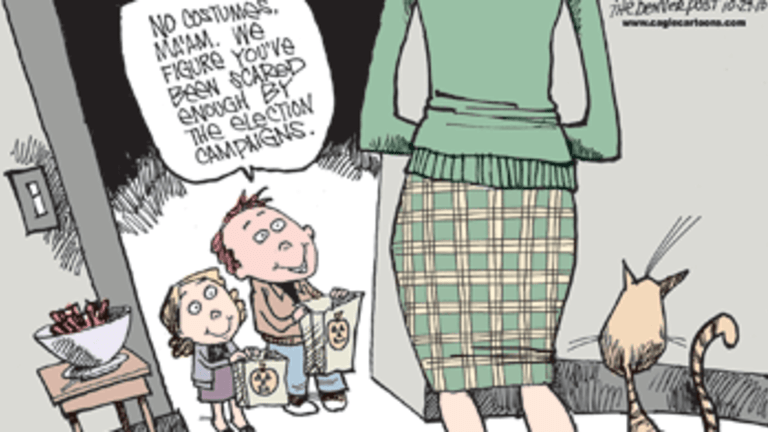 A Patch of Pumpkin Heads
Walter and Rosemary Brasch: Mitt Romney, once standing straight, is now leaning so far right that he is likely to be kissing the floor soon. Perhaps he could dress as the Cowardly Lion and hope to find some courage.
In a few days, millions of children will put on costumes, go door to door, and shout "trick or treat." By November 1, it'll be over.
But, it won't be over for Americans who will face presidential candidates for the next year. The candidates will continue to try to mask their true selves, while luring us with treats that disguise tricks. Let's see what each of the candidates might be wearing for the coming year.
President Obama could dress as a stable boy. Since his first day on the job, he's had to shovel whatever it is that was left for him in the stable. His opponents, however, think he should dress up as Pinocchio, with an exceptionally long wooden nose, and carrying a hammer and sickle.
Rick Santorum had begun fading away after he was trounced in a Senate re-election campaign in Pennsylvania, too reactionary even for the Republicans. Wrap him in bandages as the Invisible Candidate.
The other Rick in the race is Perry. For awhile, he was the leader of the pack until the other candidates ganged up on him. Moderates thought he was too reactionary; the extreme right-wing thought he was too liberal. Dress him in a helmet, black leather jacket, and jeans, etch a few tattoos onto his body, and have him encased by a sandwich board. For a few brief shiny moments, he was everything that Camelot wasn't.
The current front-runner is Herman Cain, whose mask is a cloth pizza slice, cut to the 9's. But since he'll be a passing pizza, as the Republican voters love and unlove their frontrunners, perhaps he could also wear a half-eaten slice with a red bull's eye on his back.
Michele Bachmann has become one-with-a-teapot. Every voting citizen is likely to see her during the coming year spewing scalding steam, but unable to make quality tea.
Dr. Ron Paul could wear a surgeon's scrubs, with a lot of fringe, able to leap onto any patient to cut fat and some muscle.
Jon Huntsman, perhaps the most intelligent and most civil of the candidates, could dress in a three-piece striped pants suit of the diplomat he once was. But, since civility isn't a trait among this year's Republican crop, the other candidates will probably throw a potato sack over him and bury him in the dirt.
The cast from The Wizard of Oz always presents good costume possibilities.
Mitt Romney, once standing straight, is now leaning so far right that he is likely to be kissing the floor soon. Perhaps he could dress as the Cowardly Lion and hope to find some courage.
It's too obvious to dress Newt Gingrich as a salamander, none of whom have monogamous relationships. But, it is possible that this incarnation of the former House speaker could wear the mask as Dick Cheney, the man without a heart, who dresses as the Tin Man.
Dorothy, the sweet Innocent with intelligence and compassion, isn't in the running for the Republican nomination. Sens. Susan Collins, Olympia Snow, and Lisa Murkowski are all possible Dorothies but have no reason to dress up since the Republican party doesn't like anything sweet and moderate.
The Wizard manipulating everyone might be Roger Ailes, the brilliant president of Fox News. But, since we are writing the story, we'll make this wizard evil, blustery, and dense. Cerberus, the three-headed vicious dog who prevents souls condemned to Hell from ever escaping, could be the disguise that best identifies Rush Limbaugh, Glenn Beck, and Sean Hannity.
And, of course that leaves just one main character from the Oz saga, the Scarecrow without a brain. Need anyone look farther than the Alaskan Tundra for the one most likely to seize all the treats she can and still trick the people?
Walter and Rosemary Brasch
Walter Brasch's latest book is Before the First Snow, a look at America between 1964 and 1991, the eve of the Persian Gulf War. Rosemary Brasch is a retired labor grievance officer and Red Cross family services specialist.