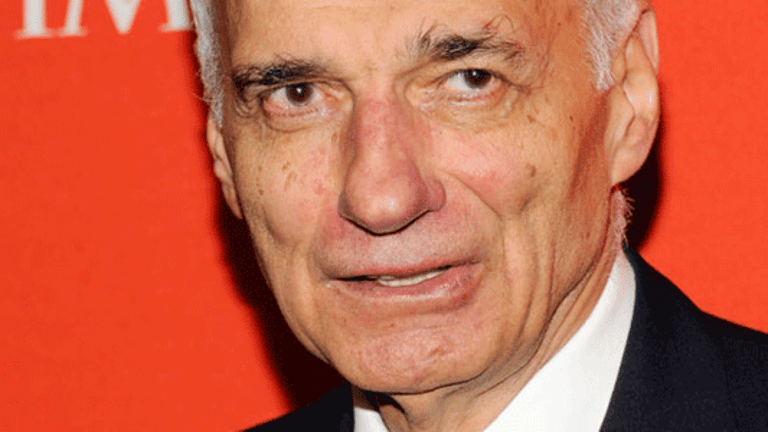 Ralph Nader Redux in the Bluegrass State?
Berry Craig: I suspect Team Mitch hopes Marksberry might be to Democrat Alison Lundergan Grimes what Ralph Nader was to Al Gore in Florida in 2000.
I'm thinking of a Kentuckian who probably couldn't be happier with erstwhile Democrat Ed Marksberry's independent campaign for the Senate.
The guy won't vote for Marksberry. He'll vote for himself.
He's Sen. Mitch McConnell.
I suspect Team Mitch hopes Marksberry might be to Democrat Alison Lundergan Grimes what Ralph Nader was to Al Gore in Florida in 2000.
Marksberry won't get many votes in the Bluegrass State. Nader didn't either in the Sunshine State. But he got enough to make George W. Bush president.
Nader ran to the left of Gore. Gore would have gotten almost every vote that Nader got.
Marksberry is running to the left of Grimes. I can't imagine anybody voting for him who would otherwise vote for McConnell.
Team Mitch knows their man is in a tight race with Grimes, the presumptive Democratic nominee. Hence, they're bound to cheer the candidacy of anybody who'd likely siphon any votes from Grimes.
To get on the ballot, Marksberry, who lives in Owensboro, the Daviess County seat, needs 5,000 signatures on a petition. He also has to switch his voter registration to independent by December 31, according to Phillip M. Bailey, political editor of WFPL, the flagship National Public Radio station in Louisville and its environs.
If I were on Team Mitch, I'd ink Marksberry's petition, give him a lift to the Daviess County courthouse and hand him a pen to re-register as an independent.
I'm on Team Grimes, though she's a tad too conservative for me. Okay, beyond "liberal Louisville," there are few Democrats of my persuasion anywhere in Kentucky.
I'm a union-card carrying, Franklin D. Roosevelt-Hubert Humphrey Democrat. That qualifies me as an endangered species in Kentucky, where I have lived all of my 63 years.
Call me less than a true believer if you will. But Grimes has my vote.
McConnell would love for liberals to vote for Marksberry. He knows nearly every liberal vote Marksberry gets would have been a vote for Grimes.
While Marksberry bills himself as the liberal alternative to Grimes, two other candidates say they're running because McConnell is insufficiently conservative.
Tea party-tilting Matt Bevin is challenging McConnell in next May's GOP primary.
David Patterson is seeking the Libertarian nod.
Meanwhile, "Mudslinging Mitch" – Bevin's moniker for McConnell – and "Bailout Bevin" -- McConnell's sobriquet for his fellow Republican – are re-enacting the famous food fight scene from "Animal House," one of my favorite movies.
Grimes is watching from outside the fictional Faber College cafeteria. But her view is obstructed because of all of the green peas, mashed potatoes, mayonnaise and Jell-O hitting the window.
If McConnell beats Bevin, you've got to believe that more than a few die-hard Bevinites will still want to ditch Mitch and will rally to Patterson, apparently a sort of Rand Paul wannabe.
Patterson would probably drain more votes from McConnell than Marksberry would grab from Grimes. Even so, if I were on Team Mitch, I'd make Marksberry at least an honorary member.
Marksberry surely knows he can't win, or even come close on November 4, 2014. So what's really fired him up to run?
"I want to give empowerment back to those that are impoverished, back to those who understand what the environment is experiencing right now and back to those who created the middle-class," Marksberry told Bailey. "And the only way to do that is to speak about the issues. And I hope that Alison Lundergan Grimes one day will open up and talk about the issues."
Bailey, the kind of reporter who gives you the whole story, pointed out that "Part of Marksberry's decision is based on an ongoing battle with the state party that has been brewing over the past few months.
"In July, he sued the Kentucky Democratic Party for allegedly violating its by-laws when it sent out an e-mail favoring Grimes over her three primary opponents."
Marksberry intends to drop the suit, Bailey added. But the candidate claimed "the KDP leadership mishandled the situation and is pushing out progressive voices in the party."
"Progressive voices" might include Ashley Judd. Most state Democratic Party bigwigs ran like scalded dogs from the "Hollywood liberal" when she talked about coming home to Kentucky and challenging McConnell.
It wasn't just Judd's politics that stampeded the KDP herd. It was also brass tacks politics. They were scared she couldn't win, and they were probably right.
Anyway, perception is reality. This Democratic rank-and-filer wonders if Marksberry jumped ship mainly because he's riled at the party pros he thinks slighted him?
Marksberry insists his run is based on principle, not pique. Yet his feud with the state party is a legitimate part of the story that won't go away, and shouldn't go away.
Don't get me wrong. I wish Grimes' were a real-deal liberal like my favorite Kentucky Democrat, Rep. John Yarmuth of Louisville. I suspect plenty of Bluegrass State liberals do too.
Yarmuth is for Grimes. So are most liberals I know.
We're also for empowering the poor, the stewards of our environment and "those who created the middle-class." But Marksberry's quixotic quest is not the way to do it. His run might, however unintentionally, give us another half dozen years of McConnell.
I hope Marksberry knows that unions made the middle-class. McConnell is one of the most anti-union lawmakers in Washington. Hence, the Kentucky State AFL-CIO unanimously endorsed Grimes. So did the Western Kentucky AFL-CIO Area Council, where I serve as recording secretary.
Meanwhile, Bailey thinks Marksberry's independent bid "would change the dynamics of the early contest." He added, "Observers have already warned this could be a spoiler for Grimes by attracting liberal voters away from her in a 2014 contest."
Marksberry suggested to Bailey that people who say he's a spoiler should ask themselves, "what are you really trying to do here? Are you trying to make it a better place for everybody or are you just trying to get rid of McConnell at any cost? And if that's what you're doing, then you're no better than McConnell."
That line wouldn't get Marksberry to first base in our area council hall or any other union hall I know of in Kentucky. If Marksberry drops by our hall, we'd be happy to tell him, politely, that we think ditching Mitch will indeed make Kentucky and the rest of the country "a better place for everybody," except for right-wing, social Darwinist millionaires like McConnell and the Scrooges who bankroll him.
This retiree member of American Federation of Teachers Local 1360 suspects more than a few liberal Floridians regret voting for Nader and helping hand the presidency to George W. Bush.
Liberal Kentuckians can save themselves similar grief by getting behind Grimes. Likewise, Marksberry can show he's a real McCoy liberal by swallowing his wounded pride and bowing out of the race. McConnell would hate that.
Berry Craig
Wednesday, 25 September 2013