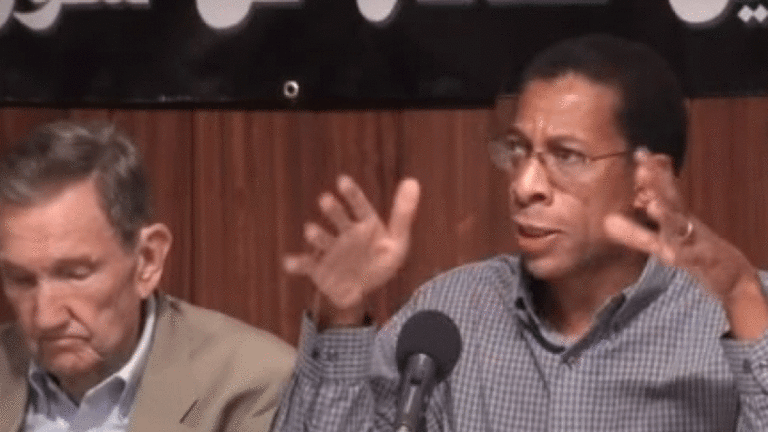 The Ramsey Clark Endorsement
Michael T. Hertz: "Trump's running for President. Bernie – an avowed democratic socialist – is running for President. And a guy who once was the U.S. Attorney General is endorsing a socialist. How does that happen?"
Have you ever heard of John Parker? He's running for Barbara Boxer's U.S. Senate seat in California. He's a socialist. Really.
Have you ever heard of Ramsey Clark? He's originally from Texas and he served as U.S. Attorney General under Presidents Kennedy and Johnson. He resigned to avoid any conflicts of interest when his father, Tom Clark, was appointed to the U.S. Supreme Court.
Their two names came up together for me, and all due to Bernie Sanders. I went to downtown Los Angeles on April 30 to participate in a May Day March for Bernie. The march came one day early because May 1 was reserved for all the caucuses to elect potential delegates for the national Democratic convention in Philadelphia on July 25-28. (I'll tell you about those caucuses at the end of this article.)
The May Day March brought 1500-2000 people to the Civic Center, including Native American dancers, people carrying banners and signs for Bernie, and people trying to register voters for the election and to gather voters for the caucuses the next day. Here's a sampling. 
"Trump's running for President. Bernie – an avowed democratic socialist – is running for President. And a guy who once was the U.S. Attorney General is endorsing a socialist. How does that happen?"
Amid the busyness, someone handed me a flyer promoting John Parker for Senate. In smaller type on the side of the card, it said that Parker was endorsed by Ramsey Clark.
"Wow," I thought. "Trump's running for President. Bernie – an avowed democratic socialist – is running for President. And a guy who once was the U.S. Attorney General is endorsing a socialist. How does that happen?" I decided to find out.
First I googled "John Parker socialist senator" in the hope of making a connection there. I found a Facebook page which included a photo of Parker speaking. At his side was a much older man, whom I quickly learned was Ramsey Clark. There was an email for Parker but no clues as to how to find Clark.
Finding Clark proved a bit difficult. I first thought that perhaps he had moved to California somehow and searched for him on the California Bar site. No luck. I then went to the Texas Bar site and learned that he had moved to New York. The Texas Bar even showed a telephone for him, but it proved to be disconnected. I found about six different sites that gave phone numbers for Clark, but they all proved bad until I finally found one that rang and a rough, Texan voice answered.
"Hello."
"Hi," I said. "I'm trying to reach Ramsey Clark. Is he there?"
"Yes, he is."
"Oh," I realized, "Is that you?"
"Yes."
I was sort of surprised. A celebrity person answering his own phone.
I went on, identified myself as a writer for L.A. Progressive, and then mentioned John Parker and the fact that Clark had endorsed him. "He's a friend," Clark stated flatly. He tended to be brief. Very Texas plus lawyerish.
That being settled, I asked about the Presidential contest. I told him that I was for Bernie and wondered if Clark had any take on the Presidential contest. He finally said that he liked Bernie and what he stood for. He was just a little concerned that Bernie was too old, given the stress of the job, On the other hand, he thought that Trump was too dangerous to be elected.
I told him that I'd spoken with Lawrence Tribe. Tribe was one of Ted Cruz's teachers at Harvard Law School. He had told me that Cruz was very smart but also very rigid in his views on the law. My own take is that Cruz is rigid because his religious views dictate his politics, so he can't compromise. (Cruz said this past February: "It is exactly right that in terms of who I am, I am a Christian first. I am an American second. I'm a conservative third. And I'm a Republican fourth. And I'll tell ya, there are a lot of Americans who feel the same way.") Clark said he agreed with the idea that Cruz was rigid and for that reason a bad presidential choice.
I couldn't get much else out of him. I told him that I thought his endorsement of a socialist was pretty amazing, but he stuck to his guns that he endorsed out of friendship.
The next day I attended the caucus for Bernie supporters in the 29th California Assembly District. It was 100% Bernie, which was very comforting. Nineteen women and about ten men were vying for delegate positions (3 for women and 2 for men). I went there both for the experience and because Mark W. from our East San Fernando Valley for Bernie group was in the running.
I do know that the five delegate number for our district is based on population. District 12 has 9 spots and District 21 has 4. The rest are in between.
Basically, if Bernie got 60% of the vote in the 29th District and Hillary got 40%, three of his delegates would get to go to Philly and two of hers would get to go. If he got more than 50%, he would still get 3 and she 2. If he got more than 70%, he would get 4 and she 1. So go, Bernie. Get at least a vote more than 50% in District 29, but preferably a vote more than 70%.
Michael T. Hertz