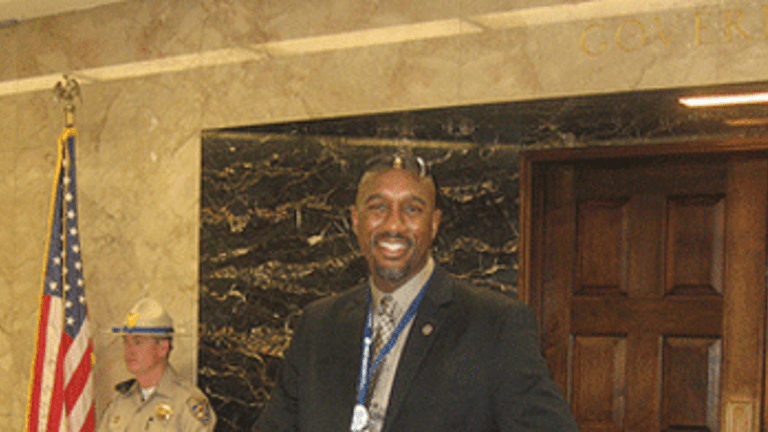 Re-Elect Ken Brown, El Camino College District, Trustee
Sharon Kyle: I want to press upon my friends in Los Angeles to vote for Ken Brown -- Board of Trustees seat for El Camino Community College Board.
When Ken Brown ran for the first time a few years ago, I did something I have rarely done -- I endorsed someone who has been a friend for many years. But I did this because I can say without any reservation that Ken Brown is the best candidate for this position -- Board of Trustees seat for El Camino Community College Board.
I've actually known Ken for more than 20 years. His commitment to providing quality education to young, primarily disadvantaged youth, is unyielding. Ken was appointed to serve on the college board in December 2010 to fill the vacated seat of long-time El Camino Board of Trustee Member Dr. Nathaniel Jackson who fell ill.
Kenneth Brown is currently the Vice-President of the Governing Board of Trustees at El Camino Community College District in Torrance, California. He has served on the staff at California State University of Dominguez Hills since 2002 as an adjunct professor of Physics teaching primarily Physical Science and Science, Math, and Technology (SMT).
Running as the incumbent, Ken has demonstrated his commitment to faculty and student of the college district. For almost ten years he has served -- ushering in several key initiatives and racking up accomplishments such as:
Responded to COVID-19 Crisis by being one of the first Community Colleges to move safely to online instruction
Led Board of Trustees to adopt Laptop Loan and Internet Access Hotspot Program helping thousands of ECC students cope with COVID-19 Crisis
Led El Camino College in being California's TOP transfer school for minority students to CSU and UC
Expanded free college to Inglewood HS students and graduates through HS Dual Enrollment & South Bay Promise 
Pushed to expand HBCU Transfer program now modeled throughout the state
Advocated and lobbied for AB705 to abolishing placement exams helping our student be more successful in English and Mathematics 
Helped to secure federal funding for South Bay Public Safety Training Center (First Responder's Program)
Acted as the driving force behind ECC's new Space, Cyber, and Talent Development Center designed to help students of color matriculate to STE(A)M careers
Addressed Housing and Food Insecurity with the expansion or ECC Warrior Pantry 
Presided over 3,700 Degrees/Certificates awarded last year, which was a 54% increase in the past 3 years
Continued to be Top 5 CSU transfer institution in the state
As an incumbent with a proven track record, Ken Brown continues his commitment to:
Maintaining El Camino's Academic and Vocational Excellence
Increasing student completion and success as students prepare for transfer or a career
Protecting taxpayer dollars with transparency and oversight
Help faculty and staff continue to foster a positive campus learning environment for all students
Election day is Tuesday, November 3th. You can check this link to see your ballot -- just fill in your address and zip code in the fields on the right.
Please "like" Ken on Facebook or follow him on Twitter
The Campaign's Facebook group is www.facebook.com/KenBrownECC, Twitter (@KenBrown_ECC), or by visit his campaign website: www.KenBrownECC.com.
Ken@KenBrownECC.com
www.KenBrownECC.com
213.293.KENB
P.S. Please help to get the word out by forwarding this message to those who might be interested. Thanks!
P.P.S. Remember, the election is next week Tuesday, November 8th.
Sharon Kyle
Publisher