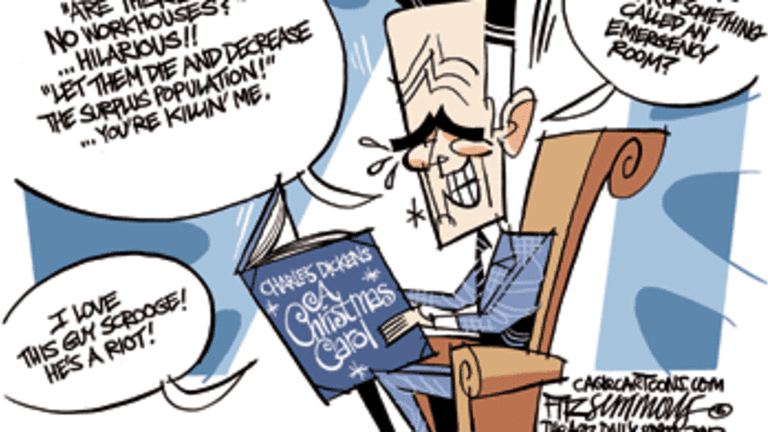 GOP Brand Disaster, Republican Reverse-Rorschach
Brent Budowsky: masses of voters consider GOP derision, originally directed against liberals and Democrats, to be directed at them.
Mitt Romney and Republicans are in big trouble because the Republican brand has become disastrously unpopular. Romney is not the cause, he is the symptom. As I wrote recently, "Why Romney is losing," Republicans have created a reverse-Rorschach syndrome in which large masses of voters consider GOP derision, originally directed against liberals and Democrats, to be directed at them.
Today's example is Todd Akin, the Republican Senate candidate in Missouri. Leading Republicans disowned Akin after he opined about "legitimate rape." Then they reversed to support him, and he insulted women again, suggesting Sen. Claire McCaskill (D-Mo.) is "unladylike." Does war on women ring a bell?
On Friday morning The Washington Post banners an excellent poll with the Kaiser Foundation, demonstrating the grave damage to the GOP brand among senior voters, caused by GOP attacks against "Medicare as we know it" (which is how seniors want it).
The leaked Romney video dramatizes, in stark words from their candidate's mouth, the brand crisis of Republicans and the reverse-Rorschach I mentioned in my column. Romney's words were widely viewed as insults directed at many voters, and when combined with GOP policies on issues such as Medicare and immigration the GOP brand suffers compounded damage.
All voters should watch the entire unedited Romney video, which makes him (and Republicans) look even worse than the excerpts. Romney appears in the video as a man consumed by his own wealth. He even embarrassed some of his wealthy donors whose nervous laughter revealed their discomfort with Romney's words and sentiments.
In his pandering, Romney even revealed his own low opinion of many of his own supporters. In the video Romney assumed they shared his self-absorbtion with wealth and contempt for so many Americans. Some Republicans do, others do not, but all are being tarred with Romney's feathers.
It is fact that the public image of the Tea Party and the Republican Party is dangerously low as Election Day approaches. It is equally true that the public image of Bill and Hillary Clinton is sky high, a fair indication of national opinion.
Romney could have transcended the GOP brand collapse, but: By his pandering, Romney reinforced it, and by his crass and craven comments he dramatized and nationalized the Republican brand crisis.
Mitt Romney is only part of the GOP problem, which is a branding problem for the Tea Party and the Republican Party. Romney is a symptom and accelerator of the problem, which is deeper than his candidacy.
My guess is, the Republican of the future is Marco Rubio, who has the potential to reach for the Reaganesque optimism that Romney and many Republican candidates lack today.
Don't be shocked if Karl Rove and the RNC start directing cash away from Romney, to try to save other Republicans who are now endangered by Romney and their larger brand problem that now poses a grave danger to House and Senate Republicans in bBu2012.
Brent Budowsky
The Hill
Published: Friday, 28 September 2012