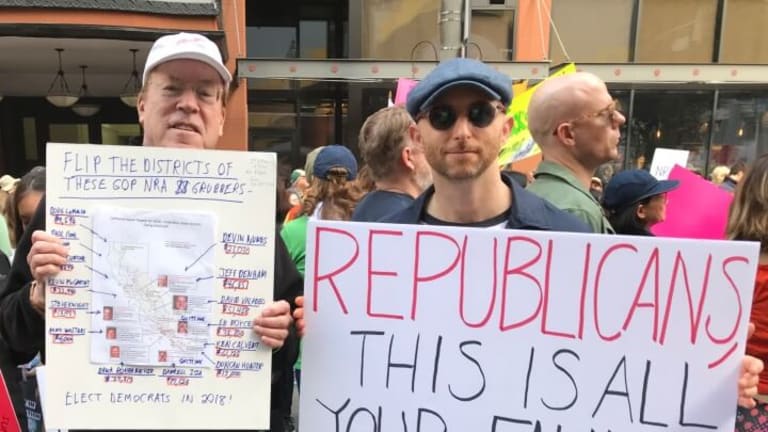 Republicans, This Is All Your Fault!
Ted Vaill: Will the Democrats be able to flip the House and, after Mueller drops what will almost certainly be breathtakingly broad charges against the Trumpsters and the Toadstool (after the election), impeach him next year?
Several months ago I went on an anti-gun march here in Los Angeles against Donald "The Toadstool" Trump and his sycophants, apologists and blind, deplorable followers. The attached photo was taken on that march, with me holding a sign detailing the GOP Congressmen and women from California whose districts we will flip on November 6 and the NRA money each of them have taken. Standing next to me was a man holding this sign:
REPUBLICANS THIS IS ALL YOUR FAULT
This past week we have been treated to a Trump-loving, Republican serial pipe bomber who targeted many prominent Democrat politicians, including Presidents Obama and Clinton and their families, and a number of prominent Democrat Members of Congress, George Soros, and Tom Steyer. The bomber was caught, and there is no doubt from his online comments and the decals plastered on his van that he is a rabid follower of Trump, and was caught up in the hatred spewed every day by The Toadstool.
And this weekend, another mass shooting occurred, this time at a Pittsburgh synagogue, where an anti-semitic hater armed with an assault weapon and other guns killed 11 worshiping Jews and wounded others. We can expect "thoughts and prayers" from Trump and Pence and their Republican blind followers in Congress, but nothing else. And the NRA will pump more money into their campaigns. Nothing will be done this year to ban assault weapons or pass sensible gun control laws.
Mueller apparently will be silent until after the November 6 election (and may have promised that he would be dormant, at least regarding indictments of U.S. citizens and until he gets the Toadstool's responses to the written questions that Mueller has sent to his lawyers), and Trump is already making plans for his 2020 reelection campaign.
What can be done to save the country from these evil people? The answer: VOTE, and bring down the Republican majority in Congress, especially in the House. Fivethirtyeight.com calculates that the Democrats have about an 85% chance of becoming the majority party in the House next January, with a pickup of between 30 and 40 seats (23 needed for a majority).
Flipping the House
Here in California, there are seven Congressional districts that were won by Hillary Clinton but still have GOP Members of Congress:
1. CD-10 (Modesto, Turlock): Rep. Jeff Denham is slightly leading Democrat Josh Harder.
2. CD-21 (Hanford, Bakersfield): Rep. David Valadao is leading Democrat T. J. Cox, and the DNC has reportedly pulled funds from Cox's campaign.
3. CD-25 (Santa Clarita, Simi Valley, Palmdale, Lancaster): Rep. Steve Knight is in a tossup battle with Democrat Katie Hill, in the only contested House race in LA County.
4. CD-39 (Fullerton, Diamond Bar, Chino Hills): Rep. Ed Royce is retiring, and Democratic millionaire Gil Cisneros is in a tossup battle with Republican Young Kim.
5. CD-45 (Irvine, Tustin, Orange): Rep. Mimi Walters is losing to Democrat Katie Porter.
6. CD-48 (Seal Beach, Santa Ana, Newport Beach, Laguna Beach): Rep. Dana Rohrabacher, Russia's favorite Congressman, is tied with Democrat Harley Rouda, who has faded from a slight lead.
7. CD-49 (Oceanside, Vista, Carlsbad): Rep. Darrell Issa is retiring, and Democrat Mike Levin is well ahead of Republican Diane Harkey.
In addition, CD-50 (eastern San Diego area) is the home of Rep. "Drunken" Hunter, currently under indictment for using campaign finances for personal expenses, is leading Democrat Ammar Campa-Najjar, with Hunter claiming that his opponent is a terrorist because his grandfather, whom Ammar never met, was one.
Also, CD-22 (Visalia, Moscow): the Russian lapdog Rep. Devin Nunes is in a real battle with Democrat Andrew Janz. Send Andrew some money, PLEASE!
It is expected that at least five, and hopefully seven GOP House seats in California will flip to the Democrats. Since 1946, the average number of House seats lost by the President's party in the midterm elections is 26, and in only two midterms (1998 and 2002) has the President's party gained seats. So happy days could very well be here again.
Flipping the Senate 
In the Senate, the road to a Democrat majority is much harder, since 25 Democratic seats are up, as against only 8 GOP seats. And ten of these Democratic Senators are running in states won by Trump in 2016. Fivethirtyeight.com calculates that the Democrats have less than a 20% chance of taking over the Senate, with the consensus being that in 2019 there will be 47 Democrats and 53 Republicans in the Senate (it currently is 49-51). (But in 2010 the roles will be reversed, with 22 Republicans up for reelection versus only 11 Democrats.)
Here are the key Senate races:
Sen. Heidi Heitkamp (D-North Dakota): She courageously voted against "Do you like beer" Kavanaugh, in a state which has gone deep red. She is down 10% or so to the state's lone Congressman, a Trumpster. Likely a Democratic loss.
Sen. Jon Testor (D-Montana): a rancher, he is in a tossup race against GOP State Auditor Matt Rosendale, and may just pull out a win.
Sen. Joe Manchin (D-West Virginia): a former governor, he voted in favor of Kavanaugh in a desperate attempt to win reelection in this deep red hillbilly state. He is slightly favored against Republican West Virginia Attorney General Patrick Morrisey, since he is barely a Democrat.
Sen. Joe Donnelly (D-Indiana): an upset winner in 2012 in this reliably red state, he is in a tossup race against GOP candidate Mike Braun, with Braun leading 46% to 43% in the latest poll.
Sen. Bill Nelson (D-Florida): a former governor, he has slipped a little, and is now tied 46%-46% against Republican Governor Rick Scott, but may be pulled through on the coattails of the popular Democratic candidate for governor, Tallahassee Mayor Andrew Gillum, who has a five point lead over Trump lover Ron DeSantis.
Sen. Dean Heller (R-Nevada): is slightly losing to dynamic Democrat Congresswoman Jacky Rosen, but it is still a close race, with two polls favoring Rosen and one Heller. Rosen calls him "Senator Spineless", due to his gross sucking up to The Toadstool.
Sen. Claire McCaskill (D-Missouri): in a deep pink state, Sen. McCaskill is almost exactly tied with the GOP candidate, Missouri Attorney General Josh Hawley. She is incessantly raising money, and if money wins, she will be back in the Senate.
Sen. Ted Cruz (R-Texas): it is hard to read this race, as attractive Democratic Congressman Beto O'Rourke is running a strong race and has raised a lot of money. The race will be determined if the large Hispanic vote can be convinced to turn out and vote, and to vote for a non-Hispanic (but Cruz is Cuban, not Mexican).
Open Arizona Senate Seat: vacated by retiring Sen. Jeff Flake, Democratic Congresswoman Kyrsten Sinema is running a strong race against nasty GOP Congresswoman Martha McSally, and may just win.
Open Tennessee Senate Seat: vacated by retiring Sen. Bob Corker, former Democratic Governor Phil Bredesen is running a strong race against Trump lover GOP Congresswoman Marsha Blackburn, with once recent poll favoring Blackburn and another favoring Bredesen.
Sen. Bob Menendez (D-NJ) is having an unexpectedly tough race against Republican Bob Hugin, perhaps because he almost went to prison on corruption charges (but was acquitted). The Newark Star Ledger editorialized that they were "two awful candidates whose most convincing argument is that the other guy is unfit to serve." However, an indictment has apparently not hurt GOP Rep. Chris Collins of Buffalo, the first Member of Congress to support The Toadstool, and possibly not the second Member to support him, Drunken Hunter (see above).
The November 6 election is the most important one in many years. Will the Democrats be able to flip the House and, after Mueller drops what will almost certainly be breathtakingly broad charges against the Trumpsters and the Toadstool (after the election), impeach him next year? Will he then resign rather than face a trial in the Senate, as Nixon did? And will the Democrats sweep the 2020 election and win back the Senate?
Or rather, will the Toadstool, in spite of his unPresidential, gross misconduct in office and the incredibly impotent Republicans in Congress meekly submitting to him and his bullying to pass legislation clearly not in the interests of most Americans, challenge Mueller's indictments in the Supreme Court and pardon all involved in his treason and misconduct in office?
Will the Millennials and Gen Xers get off their asses and vote in November? If they don't, they will get the country they deserve, but I won't be here to suffer with them.
Ted Vaill