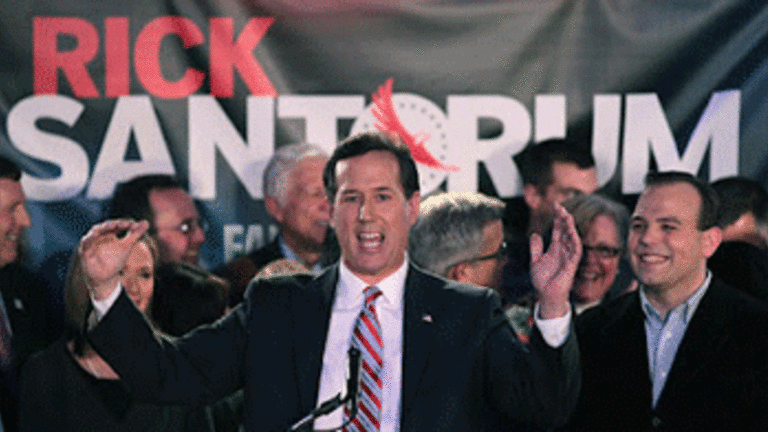 It's All Over Now, Rickie Blue
Tom Degan: If Mr. Rick had been born with dark skin he'd today be organizing birthday parties for preschoolers at a Chuck E. Cheese somewhere in central Pennsylvania.
It's time to wind up the masquerade
Just make your mind up - the piper must be paid
The party's over
It's all over, my friend
-Betty Comden and Adolph Green
There's no denying it. This is still a white man's world. What evidence do I have to make this claim? Lots!
Here are just two examples for your consideration on this fine Easter morning:
George Zimmerman has yet to be charged for the murder of a 17-year-old black kid named Trayvon Martin one month and eleven days ago.
Uber-knucklehead Rick Santorumn has managed to make it as far as he has in American politics.
Let us face some serious facts here, campers: if Mr. Rick had been born with dark skin he'd today be organizing birthday parties for preschoolers at a Chuck E. Cheese somewhere in central Pennsylvania - Spring Grove perhaps - a nondescript little town where I attended prep school nearly 40 years ago.
The very fact that we're even talking about this guy tells me more than I really want to know about the pathetic state of American politics and politicians these days. Rick is merely a symptom of a disease that is consuming America's soul. That's not to suggest that the 2012 Clown-Car-Race-to-the-Bottom hasn't been an amusing thing to watch. Perish the thought please.
But I suppose it's a waste of time on my part to be devoting as much as a single paragraph to Rick Santorum today. As the song says, "It's time to wind up the masquerade". Rick needs to understand that there is no way in hell he's ever going to be elected president of the United States. Not in this lifetime or the next.
This is a fact that by now should be apparent to just about everybody - everybody except Rick Santorum, that is. What the man needs desperately is an intervention of some kind. Some close and caring friends should sit him down and gently explain a few stark realities to the clueless twit. When your daily comments become too moronic -- for the extreme right wing even -- it's time to quietly pack up the tents and go home.
I'm not implying that I am elated by the utter and complete meltdown of the Santorum campaign. Not at all. I soooo wanted him to get the GOP nomination at their convention this summer I could almost taste it. What a laugh riot that would have been! Barack Obama wouldn't have had to campaign at all. He could have just spent the entire autumn much as William McKinley did in 1896, sitting on his front porch, reading the newspapers, sipping coffee, and issuing hourly "statements" to the press.
Now that Mitt Romney is the presumptive nominee, the president is going to have a bit more of a fight to contend with -- but not much of one. The "party of Abraham Lincoln" has sunk so far down into the ideological cesspool, I believe they have become virtually unelectable nationally. The women of America will see to that. They're fed up with the Republicans' weird obsession with their bodies and they're jumping ship by the thousands each day. Can you blame them?
This is an election the Dems will be able to win with one hand tied behind their backs. To make matters worse for the GOP, the "base" won't be coming out on Election Day to the extent of making much of a difference unless Mitt chooses a half-witted extremist (ala Sarah Palin) as his running mate. That choice will scare the heck out of the rest of the country, The grand old party is over.
Watching our hero Rick bravely trying to reach the summit of Mount Stupid has indeed been a delightful thing to behold. The final nail-in-the-coffin moment for the Santorum for President campaign, I'm sure, was when he made contraception the issue of the week. This struck me as a tad peculiar. "Hmm" I said out loud to myself, "I can't even remember the the last time birth control was a political issue in this country!"
And there was a jolly good reason for that, too. The last time birth control was a political issue, I was learning how to walk! For the historical record: I'll be 54 on August 16.
When Lyndon Johnson signed into law the Civil Rights Act of 1964, he told his aides, Jack Valenti and Bill Moyers, "We've lost the South for a generation." He was correct. But while the Democrats might have "lost the South for a generation" - and then some - I think it's fair to say that the Republicans have lost the African American vote forever.
Early in the week, in a nasty little Freudian slip that didn't get one-tenth of the press coverage it deserved, my man Rick referred to the president as a "government nigg...." He stopped himself cold. Was this merely an innocent slip of the tongue as some have implied? Or is this an example of the way Santorum talks in private? I don't know the answer to either of these questions, but I'm willing (just barely willing mind you) to give poor old Rick the benefit of the doubt.
What I do know is this: The Republican party is anathema to the hopes and aspirations of our brothers and sisters of color. Just look at what they're doing in Republican-controlled states all across the land! They're passing those perfectly hideous "Voter ID laws" that are purposefully designed to deny city-dwelling blacks, along with young people and the elderly (all of whom tend to vote for the Democratic party), the right to cast their precious ballots.
They want us to believe that they are trying to purge from our electoral system the "epidemic of voter fraud". How noble of them. Here's the problem: There is no epidemic of voter fraud! There never has been been an epidemic of voter fraud! Never in our history!
The only "fraud" that has been been perpetrated is not "voter fraud", it's election fraud - and it is not being committed by the American people - it's being committed by GOP politicians and right-wing judges (Remember Florida in 2000?) What they are attempting here is nothing short of a coup d'etat. Please make my job easier, folks. Keep voting Republican - I'm beggin' ya!
Yeah, this is still a white man's world alright. The GOP is making sure of that. And some people wonder why I loathe that disgusting party. Go figure.
I was very tempted to write about Newt Gingrich this morning but why bother. By this stage in the game, to pick on someone as pathetic as the Newtster would be the equivalent of throwing a bucket of ice-cold water on an injured dog It's just not an acceptable thing to do under any circumstances -- in very bad taste. And besides, it's Easter.
So let's all drink a toast tonight to the campaign of Rick Santorum. At least he gave it the old college try....or the elementary school try....(The nursery school try?)....BUT HE TRIED, DAMMIT! That's the main thing!
He even managed to win a few primaries. I won't mention the names of the states he was able to take. I'll just say that he won in all of the places you would expect an intellectually challenged person to do really well in -- not unlike the one state that Gingrich was able to win. I won't mention that state by name either. It would be a cruel thing to publicly shame so many regions of the country. Like I said, it's Easter.
Tom Degan
The Rant