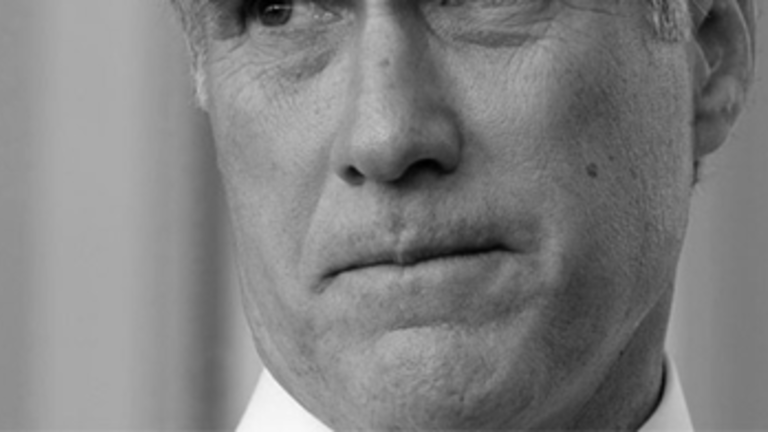 Romney at the NAACP
Karen Finney: Romney could strike his own legacy and tell the audience that while he and President Obama differ on many issues, they are both children of God and sons of America.
It's an awkward time for former Gov. Mitt Romney to address the NAACP — whether it's because of the "complicated" relationship between the African-American community and the Republican Party, or the voter ID laws implemented across our country by Republican-led legislatures and governors that will disenfranchise millions of minority voters in the 2012 election, or even the audience that, while polite, is also likely skeptical of Republican policy ideas in light of the disappointment of "No Child Left Behind" that followed former President George W. Bush's soaring rhetoric about the "soft bigotry of low expectations" and fears about the impact of the GOP-backed budget by Wisconsin Rep. Paul Ryan (R) that could have devastating effects on communities of color.
Still, Romney walks into the room with a unique opportunity, steeped in his family's credibility and the increasing diversity of the Mormon Church, to connect with the audience. It was his father, George Romney, who pushed for housing reforms and integration of the suburbs as secretary of Housing and Urban Development under former President Nixon and refused to support Barry Goldwater as the party's nominee in 1964. Even before that, George Romney pushed for a Civil Rights Commission in Michigan to enforce the state's civil rights laws and spoke against segregation at a time when many in positions of power were not, using his own experience as a perceived "other," reportedly saying, "I speak as a member of a minority group that knows the longtime harmful effect of persecution and discrimination."
Romney is likely to invoke the values and lessons learned from his father and mother on civil rights and equality, as he did during a 2007 interview with Tim Russert on "Meet the Press" in which he said, "you can see what I believed and what our family believed by looking at our lives." However, the challenge in doing so raises the political question Romney has yet to answer about why he won't also follow his father's beliefs about transparency and be more forthcoming with his financial disclosures.
In his remarks to the NAACP convention this week, Romney shouldn't focus on his father's legacy, the GOP's history, or even the expected list of issues like jobs, the economy, crime and education. They are important, but unlikely to help him get more than the 4 percent Arizona Sen. John McCain received and the 11 percent Bush received among black voters in past elections.
Instead, Romney should speak from the heart, as he did in the second part of that same Russert interview, about his reaction to the Mormon Church's 1978 announcement on its policy change toward African-Americans. It was an eloquent moment of candor, as he said, "I heard it on the radio and I pulled over and literally wept. Even to this day, it's emotional, and so it's very deep and fundamental in my life and my most core beliefs that all people are children of God. My faith has always told me that. My faith has also always told me that in the eyes of God, every individual was merited the fullest degree of happiness in the hereafter and I had no question that African-Americans and blacks generally would have every right and every benefit in the hereafter that anyone else had."
Based on those values, Romney could strike his own legacy and tell the audience that while he and President Obama differ on many issues, they are both children of God and sons of America.

Karen Finney
The Hill
Posted: Monday, 9 July 2012