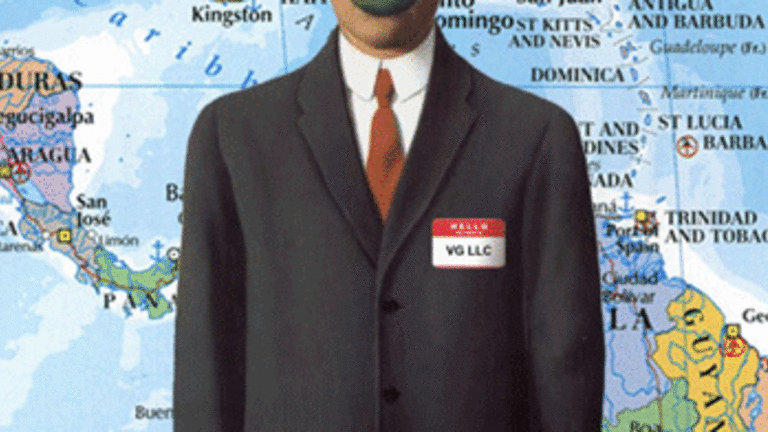 The Company Without a Face
Lauren Windsor: Romney Victory paid an untraceable contractor $750,000. Is VG LLC an unregistered business entity? Is the Romney campaign offshoring its fundraising consulting to a foreign contractor? Is VG LLC a slush fund to deposit untraceable money?
Romney Victory Inc. is a joint-fundraising committee set up by the Romney campaign and the Republican National Committee. In its July filing with the Federal Election Commission (FEC), Romney Victory paid $750,000 to a company named VG LLC on May 31, 2012 for fundraising consulting. The mailing address listed for VG LLC, 585 Commercial Street in Boston, is the very same address as the Romney campaign's national headquarters… So who is behind VG LLC?
After personally calling the Massachusetts Secretary of State and finding no records for VG LLC, I called the FEC. According to the FEC, a campaign need not provide the physical address of an entity, only a mailing address, which is not necessarily one and the same. VG LLC could be incorporated anywhere, thus necessitating contact with every Secretary of State's office in the United States. Yes, campaigns can contract foreign corporations, but more on that later.
Each Secretary of State maintains its own online database for business records—there is no official federal level equivalent. After all, why make disclosure easy? I proceeded to search each database state by state, and uncovered three active records for VG LLC for entities in Arizona, Indiana, and North Carolina; two for V.G. LLC in California and Wisconsin; and one for V G LLC (with a space in between the V and the G) in Missouri. I spoke with the statutory agents for the Arizona, Indiana, and California companies, who all confirmed that they were not involved with the Romney campaign. I spoke with the wife of the statutory agent for the Wisconsin company, and she also denied involvement. The North Carolina entity is a restaurant managed by Gurpreet Vaseer.
V G LLC (with a space) is managed by Vincent Gabriel of St. Louis. His phone number is available neither with the Missouri Secretary of State nor online telephone directories nor AT&T directory assistance under his own name, V G LLC, or his listed address. According to Mr. Gabriel's articles of organization, the purpose of his company is "the transaction of any lawful business for which a limited liability company may be organized under the Missouri Limited Liability Company Act."
After finding no records of a VG LLC apparently connected with the Romney campaign with ANY Secretary of State within the fifty states and DC, I had a eureka moment—what about the territories! The territories do not have searchable online databases, so I had to call each office. I spoke with business office agents in Puerto Rico, the Northern Mariana Islands, and the U.S. Virgin Islands, but found nothing. No one was reachable at the governments of American Samoa and Guam.
Initially I had thought that VG could be a high-level Romney staffer's initials. Spencer Zwick, the Romney campaign's finance chairman, uses a company called SJZ LLC. I could find no such employees, but a search of 'VG' turned up dictionaries listing VG as an acronym for the British Virgin Islands. I called the business office of the British Virgin Islands, but the agent said she had no listing for VG LLC there either.
Faced with this deepening mystery, I turned to Bill Allison, a veteran investigative reporter and the Editorial Director of the Sunlight Foundation. I presented him with the circumstances of the story, and he suggested using the fledgling international business entity database, OpenCorporates. Nothing turned up there, either. Both he and I were stumped. The only realistic path was to contact the campaign.
The treasurer of Romney Victory Inc. is Keith Davis, a partner at the accounting firm Huckaby Davis Lisker, which specializes in FEC compliance. I spoke with Davis directly. He denied having any knowledge of VG LLC, as he did not deal with the day-to-day disbursements of the campaign. When I asked him what role he did have with the FEC reports, Davis replied that he certainly reviewed them. Davis said that he would forward my concerns to someone more involved in the day-to-day operations of Romney Victory Inc., so I e-mailed him with one question—who is the managing agent of VG LLC? I followed up with Davis a week later via phone, and have received no reply.
I then tried the Romney campaign headquarters itself to request comment from treasurer Darrell Crate, but could get through to no one. No messages could be left on the phone system. I then called Red Curve Solutions, Mr. Crate's company specializing in "comprehensive budgeting, accounting and financial management services for campaigns and fundraising-driven organizations." I left a message with his secretary, but have received no reply. I called the campaign press line, but no spokespeople were available and none have replied to my e-mails. I have to date received no response to multiple inquiries with the Romney campaign.
The FEC requires political committees such as Romney Victory to file disclosure reports outlining its receipts, i.e. the contributions it has received, and its disbursements to payees, i.e. its expenses. The Federal Election Campaign Laws state that the treasurer of a political committee must disclose the name of and address of every payee; and the date, amount, and purpose of the disbursement, for every expense over $200.
The purpose of the disclosure itself is to be able to identify where campaign funds are going, that they are not being used illegally. President Theodore Roosevelt's call for campaign finance reform through the prohibition of corporate contributions initiated Congressional legislation from 1907 to 1966 that is the basis of current FEC law. Three goals encompassed those statutes:
Limit the disproportionate influence of wealthy individuals and special interest groups on the outcome of federal elections; regulate spending in campaigns for federal office; and deter abuses by mandating public disclosure of campaign finances.
Bottom line, Romney Victory paid an untraceable contractor $750,000. Is this is simply a clerical error? Is VG LLC the V G LLC of Vincent Gabriel in Missouri? Is VG LLC an unregistered business entity? Is the Romney campaign offshoring its fundraising consulting to a foreign contractor? Is VG LLC a slush fund to deposit untraceable money? Who is behind VG LLC?
Lauren Windsor
Lady Libertine 
Posted: Tuesday, 4 September 2012