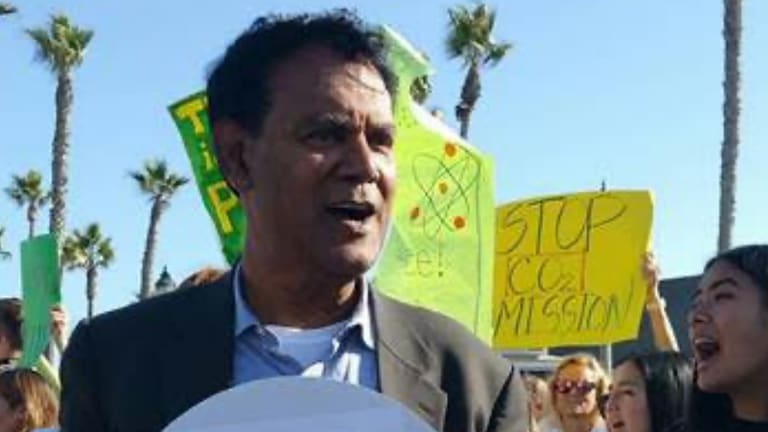 "Pay to Play" Major Issue in California Primary Pitting Sanders Progressive Against Two Corporate Democrats
As the candidate who rejects corporate donations, this distinction alone, he believes, will help him win one of the two seats in the primary election.
As a consequential primary season is heating up, here's a campaign worth watching – and supporting – as it addresses head-on an unjust "Pay to Play" rule in California election law as well as the domestic fallout from today's energy-driven Ukraine War.
Peter Mathews is a progressive Democrat from Long Beach – that's oil country, heavily populated by oil derricks with a major refinery spewing out poisonous emissions into poor neighborhoods. He's making the Green New Deal a centerpiece of his campaign in California's 42nd Congressional District. This, at a time when the future of fossil fuels is being heavily debated. Higher prices at the pump ($6-7 gallon in his district) and President Biden's decision to open up drilling on leased lands to lower the price of gas is once again pitting alternative energy proponents against oil industry defenders, the latter dolling out large donations to Mathews' Democratic Party opponents.
What he's confronting in this open seat for the House of Representatives are two corporate Democrats, the equivalent of Joe Manchin and Kyrsten Sinema in the Senate. Like Sen. Manchin, Long Beach Mayor Robert Garcia is cozy with the oil industry; like Sinema, Cristine Garcia is beholden to the pharmaceutical industry, among other large corporate donors.
At the outset of his race, Mathews pledged not to take any corporate money, and soon had to face the consequences: California's revised election code charges a fee of $18,000 in order to send out a candidate brochure to all voters in a district–that is, $9000 for brochures in English, $9000 for brochures in Spanish. When he ran for the seat two years ago (and came in second out of four Democrats in the Primary election) the cost was one-sixth that amount. "Why the huge increase?" he asked a county clerk. "Everything is more expensive," she replied lamely.
Making election inequality worse, when facing the option of mailing out candidate statements between April 20 and May 17th, Los Angeles County has declared it will mail out the candidate statements on the last day (May 17)–a week after absentee ballots are to be mailed out, and voters will begin voting on May 9th. Mathews' campaign has called on the county to release the statements immediately. Primary election day is June 7th.
Mathews was able to raise $9,000 to print the brochure in English, knowing that most Latino voters speak and read English. As a person of color (he was raised in India and immigrated to the US at the age of 10), he is passionate about immigration reform, raising the minimum wage, ending housing discrimination and restoring funds to under-financed schools in the northern part of his district, far from the wealthy Long Beach enclaves that ring the gleaming shores of the Pacific Ocean.
Unlike affluent Marin County in Northern California, which pays $24,000 per student, his district pays an average of $10,000 per student. As an educator for thirty years who teaches political science to mostly working-class students at a community college, he finds this discrepancy appalling and the well-heeled Mayor's much touted support for education a worthy target.
Oil and education shouldn't mix, says the candidate
Since 2014, he explained in an interview, Long Beach's Unified School District received over $600,000 in donations, some $116,000 coming from Garcia's Educational Fund-- complements of Oxbow Corporation (self described as "one of the world's largest recyclers of refinery and natural gas byproducts.); California Resources Corporation (CRC) (a focused exclusively on California.), Vallero which runs a large refinery adjacent to the ports of Long Beach and Los Angeles) and Southern California Edison, one of the nation's largest electric utilities which claims to be on a clean energy mission.
According to journalist Kevin Flores in an article  titled "Long Beach is Addicted to Fossil Fuel Companies", The Mayor's Fund produced a video praising CRC , featuring the company's CEO talking about "the importance of funneling local students into his company." Climate activists, Flores notes, "would rather see the fossil fuel industry kicked off school campuses and steering them into careers supporting clean energy."
I asked candidate Mathews how he planned to counter the renewed calls for "drill baby drill" which have erupted in the US as a result of energy insecurity brought on by the Ukraine war.
Mathews sees the dangers to climate activism. "We should have been working for alternative energy and encouraging solar power and electric cars years ago." But rather than succumb to the corporate clamor for more oil produced domestically, he vows, if elected, to redouble his efforts to protect the planet by traveling the country urging communities to support legislation that will get the US off of fossil fuels by 2030.
So far, Long Beach has been spared the forest fires that have destroyed whole towns in California, "although," he explains, "there were fires some 20 miles away." Needless to say, most people in his district – being Californians -- are acutely aware of the dangers of climate change.
The class divide is plain to see in California's 42nd District
"We are a district of rich and poor," he says, alluding to beautiful homes worth $2-3 million hugging the ocean, while hi-rise luxury apartments rent for as much as $15,000 a month. Mayor Garcia, supportive of Richard Nixon and George W. Bush, was as late as 2020 a founding member of the Young Republicans Club. Mathews says he is "beholden to developers. He has adopted a policy of gentrification which has forced a lot of people to move several miles to the north, where people are really struggling. You can find 11 to 14 people living in one apartment. People are doubling up out of necessity."
Renters make up to 60% of Long Beach households. In 2020, Mayor Garcia claimed that Long Beach had "built and planned 4,000 new affordable and working class homes," when in fact, out of 3,218 building permits issued between 2014-2019, "only 626 units out of 3,218 were affordable." Today, some of the neighborhoods in Long Beach are perhaps "the most overcrowded in the entire nation."
Mathews contrasts Garcia's discriminatory free market housing policy to his call for affordable housing, renter protections and rent control. Homelessness has risen by 7-8 percent in the last decade, and the results are shocking. "You see people sleeping on sidewalks, encamped along the freeway and in churches and church parking lots." He points to a program called Housing First in Utah, which over the past ten years has provided funds and housing to homeless people to help them stabilize their lives. As a result, "homelessness went way down in the state. People got job training and decent paying jobs." He wants to replicate this program nationwide.
The other Garcia
Assemblywoman Cristine Garcia claims to be an environmentalist, but like Mayor Garcia is heavily beholden to oil and pharmaceutical companies as well as the finance, insurance and real estate sectors and, perhaps most significantly, water companies. In 2020, she introduced legislation calling for the privatization of water, all the while receiving determined to put the publicly owned Central Basin Municipal District into receivership as a first step toward privatization.
Garcia also has character issues. She lied in her campaign literature that she held a PhD. She came under fire for at a democratic caucus debate over affirmative action, blurting out "I want to punch the next Asian person I see in the face." She called the speaker of the assembly a faggot and was sued by some staff for violating sexual harassment guidelines. As a result of her anti-Asian and anti-gay comments, she was from four committee assignments , including chairperson of the Natural Resources Committee.
Abortion is an economic issue
All three Democrats support a woman's right to choose, but Mathews agrees with Rep Katie Porter of Irvine, California that abortion is largely a financial issue for women. In the wake of the leaked draft of Justice Alito's Supreme Court decision doing away with Roe v Wade, that forced pregnancy would make it harder for women to pursue education, increase their incomes and build wealth. "Pregnancy and parenthood is an economic decision," she said. "This is going to shape people's economic opportunities." Mathews supports Porter's comments wholeheartedly, noting that abortion restrictions "affect working women disproportionally." Those who are anti-choice are anti-women, he says, who has three women in his family, "My wife, my daughter, and my dog!"
What makes Mathews run?
All humor aside, listening to Mathews' recitation of so many issues with such deep passion prompted me to ask him where it all came from.
His response: his experience as a child in India coming face to face with the kind of poverty that had children begging outside his family home. The son of professionals (his father was a professor and his mother a teacher), he witnessed this spectacle every day when he came home from elementary school. He would greet them, open the gate to his home, and walk into the kitchen where he would inevitably find his mother cooking hot food to give to them. The gate became a constant reminder to him of social and economic injustice. "On one side of the gate were well fed, well clothed, well- educated kids like me and on the other side, were hungry children, reduced to skin and bones. I felt something in my heart at that young age and would go on to question, what was it about that gate that separated us as human beings."
As a college student he studied political and economic development, grateful for a his major professor at University of North Texas who was from UC Berkely. He "raised fundamental questions like 'how do we help countries that are exploited in the Global South? What is holding them down?'" Mathews says the story of the gates still haunts him: "There are so many gates," he says ruefully. He would go on to write a book on this very theme, Dollar Democracy on Steroids: With Liberty and Justice for Some; How to Reclaim the Middle-Class Dream for All . He dedicates the book, published in 2020, to his now 10 year old daughter. Reads the dedication: "To my eight-year-old daughter Page, whom I love deeply, I wrote this book to help save our country and our world for you, your generation and those who follow. This is the least that we adults owe you."
What are his chances?
At this stage, less than one month before the primary election on June 7, Mathews believes his prospects are very good for winning one of the two seats needed for the general election in November. For one thing, the uproar over the Supreme Court's overturning Roe v Wade has "galvanized women." He has sent out thousands of tweets making it clear "that we have to codify Roe, that Congress has to pass it into law." He is in favor of abolishing the filibuster.
Mathews, who is a strong supporter of Bernie Sanders and produced videos that had thousands of views for the Senator's 2016 presidential election, is counting on his base among Bernie Sanders supporters to put him over the top. In the 2020 presidential election, voters in his district chose Sanders, who won 45 percent of the vote, over Biden, who just got 26%. Sanders' Our Revolution organization in both Long Beach and Los Angeles have endorsed him, as well as the Sunrise Movement in Long Beach and Feel the Bern of LA.
"This is a Bernie Sanders district," he says. And he believes the issue of big corporate money corrupting elections resonates in his district. "Pay for play," he says, "has a pernicious effect in American politics and has prevented us from achieving a just society. This is not democracy," he adds. "This is a form of plutocracy that must be changed."
As the candidate who rejects corporate donations, this distinction alone, he believes, will help him win one of the two seats in the primary election that will allow him to stand for the November 2022 midterm general election. But that requires donations from regular people.
"We only need 25,000 votes to win," he says – especially since he is not running against an incumbent, which usually garners 95% of the vote. His campaign has sent out 40,000 text messages to voters between the ages of 18 and 30, and 62,000 messages to all Democrats and independents who voted in the 2020 elections.
This is a pivotal moment in America," he says, "in which progressives have a real chance to motivate people to get out and vote. [The late Progressive] Senator Paul Wellstone [of Minnesota] was my hero," he adds. "We need more people like Wellstone and Bernie in Congress. I will give it 110 percent "
You can read more about him and donate through his website. 
Charlotte Dennett