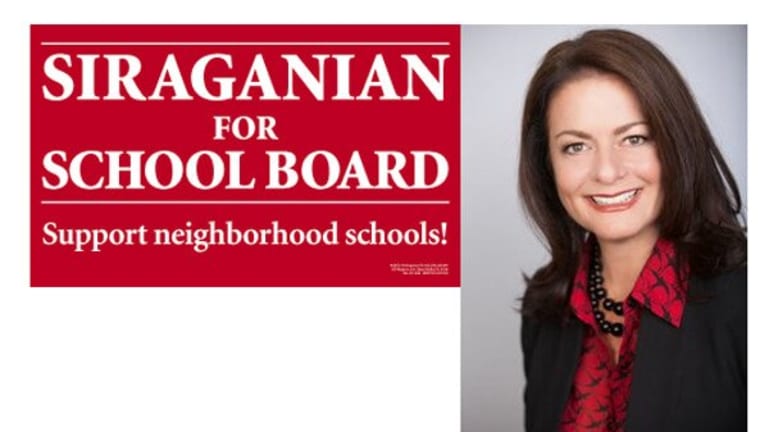 Who Is Sandra Siraganian?
Robert Niles: Why is a high-roller GOP player from Vegas and downtown LA dropping a grand on a Pasadena school board candidate?
A school board race might not seem as important as races for higher profile offices such as Congress and the Legislature. But a school board can have a direct effect on the lives of thousands of community children and their families. When voter turnout is small, it's all too easy for candidates with extreme views and questionable interests to make their way on to the school board.
So who are these candidates running for school board? It turns out to be a very interesting question, in the case of District 6 in the Pasadena Unified School District, which includes Sierra Madre, East Pasadena, Chapman Woods, and my neighborhood, an area of unincorporated Los Angeles County between Pasadena and San Marino. Two candidates are running to replace the retiring Tom Selinske for our district's seat.
Larry Torres is National Board Certified Teacher with 29 years' experience teaching in public schools. He's served for 14 years on PUSD school site councils and holds a master's degree in education from Harvard. He has a campaign website and has appeared at multiple local candidate forums, providing district residents with plenty of opportunities to get to know him and his positions.
Torres' opponent is Sandra Siraganian, a Sierra Madre real estate agent. Siraganian doesn't have a campaign website, and she's not bothered to show up for any candidate forums yet, making it hard to get any sense of what she thinks about education or what kind of board member she would be. We do know that the Pasadena Foothills Association of Realtors has endorsed Torres for the seat. Why would Siraganian's own co-workers endorse her opponent?
When I was teaching journalism at USC, I told my students that the best way to get to know a candidate is to learn about the people donating money to that candidate. The City of Pasadena publishes campaign contribution reports from candidates for the PUSD board. It's still early, but Siraganian has submitted one contribution report already.
And it's a biggie — $1,000 from Frederick "Fritz" Hitchcock, who was listed with a Las Vegas address on the contribution report. Despite the Vegas address, Hitchcock is the chairman of California Chamber of Commerce and lives most of the year in the Ritz Carlton Residences at L.A. Live, according to an interview published on the chamber website. He's a major player in Republican politics, having contributed more than $142,000 to federal and California state candidates and campaign committees alone just last year.
Why is a high-roller GOP player from Vegas and downtown LA dropping a grand on a Pasadena school board candidate? Let's take a look at Siraganian's own campaign contributions to get a better picture of her political beliefs.
Siraganian doesn't give nearly as much money to political campaigns as Hitchcock. But she did give nearly $400 to a Tea Party Political Action Committee in 2011. She also gave $250 to the California Lincoln Clubs in 2013, and $100 to Tim Donnelly's campaign for governor last year. Donnelly enraged even his fellow Republicans during the gubernatorial campaign by accusing fellow GOP candidate Neel Kashkari of supporting the imposition of Muslim Sharia Law in the U.S. Donnelly has had his own issues with the law — he was busted by the TSA in 2012 for trying to bring loaded handgun on a plane.
On the subject of guns, Donnelly sponsored a bill in the California Legislature to allow teachers and school janitors to have guns in schools. Does Siraganian support bringing guns into our schools, too?
Donnelly also was one of the founders of the "Minuteman" movement, a group of border-control vigilantes. The Los Angeles Times reported last year that Donnelly in 2006 reacted to that year's immigrant rights rally by saying, "We are in a war. You may not want to accept it, but the other side has declared war on us."
Does Siraganian agree with the candidate she supported? Does she really see immigrants as the enemy in a war? What does Siraganian think about the thousands of immigrant children and families she would be called to serve as a school board member? With her being a no-show at candidate events, it's hard to ask her that question.
But there is another clue online: Siraganian appears to have a Twitter account, though it's been inactive since late 2011. The posts reveal a political outlook very much in line with the Tea-Party views that her political contributions suggest. Here's a Twitter post on immigration:

Let's ignore the nonsense math and the dubious accounting. It's the use of the slur "illegal alien" that ought to concern voters. Yes, "illegal alien" is a slur -- a phrase intended to demean and dehumanize immigrants. In no other case do we use the word "illegal" to modify an entire person, instead of that person's acts. And the use of the word "alien" -- an old legal term -- further serves to make immigrants seem inhuman.
It's fair to question whether a candidate who so casually uses this slur can serve a school district where the majority of students are of Hispanic origin. PUSD voters deserve to know what Siraganian thinks about the use of this slur, today.
Two other tweets also prompt concern:
The Web addresses in those tweets no longer work, but the words in the tweets say enough to make voters want to ask questions. The phrase "the gay agenda" is almost exclusively used by people who oppose the efforts to allow gay and lesbian citizens equal rights under the law, including the freedom to marry.
The timing and content of the second tweet appears to reference an April 2011 controversy when Los Angeles Laker Kobe Bryant called a referee a "faggot." That's another despicable slur, and Bryant swiftly and appropriately apologized for using it. But many commentators, including many on the right wing of American politics, chose to joke about the incident, recalling the word's archaic meaning as "a bunch of sticks."
Voters deserve to hear what Siraganian thinks about the gay, lesbian, and bisexual teachers, parents, and students in the PUSD community. Will she protect their rights as citizens and their dignity as community members? Or will she make jokes about them, dismiss them with slurs, and insist that they head directly for the closet once they pass through the schoolhouse door?
We need to know what Sandra Siraganian thinks and believes. Her record paints a picture of a radical Tea Party member who has supported racists for public office and supported the casual use of terms that evoke racism and bigotry. Is this who Sandra Siraganian really is?
Maybe if she bothered to show up for a candidate forum, we could ask her.
Robert Niles