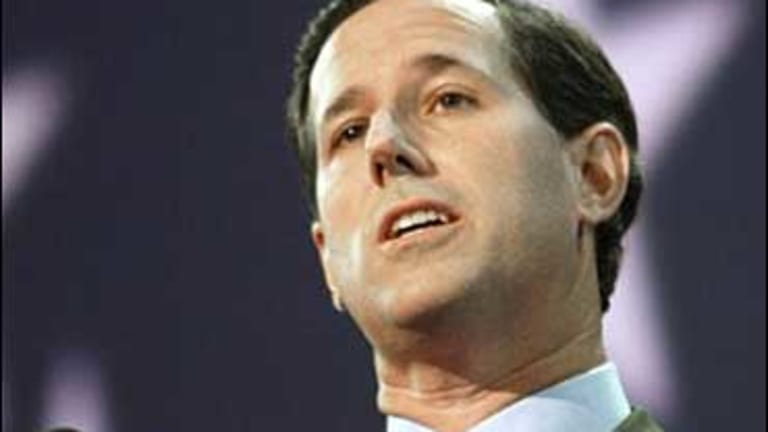 Why, Rick Santorum, We Will Choose to Return to The Netherlands to Die
Denis Campbell: As my ultra-rational and liberal Dutch wife said, "It's so annoying people believe what they are told by the Republican party. Has the US gone completely mad?"
"Rick Santorum's ridiculous statements are thought of in The Netherlands in the same vein as those by the North Korean dictator (Kim Jong Il)" said my Dutch wife. We were watching Erik Mouthaan of Dutch rtl TV asked by Rachel Maddow about reaction in The Netherlands to Santorum's attack on the health system and euthanasia.
Many viewers were likely not surprised to see there was anger. However, they might have been shocked to see such an unwillingness to inject themselves into the US political conversation. Most think Santorum will disappear and yet others ask: is he a serious candidate and what if becomes the US President?
We lived in the Achterhoek region near the German border for almost six years before moving to the UK. It is a land of strong families, farmers and real, down-to-earth people. They speak a dialect called Platte, literally 'of the earth.' The Dutch medical system is a public/private hybrid system that works exceptionally well because no one, regardless of ability to pay, is EVER left out nor are you expected to pay huge premiums to participate. You are expected to make a contribution to your care and everyone does out of a sense of personal and national responsibility. And the level of that care is superb.
When Santorum started the euthanasia debate speaking extemporaneously, he was simply trying to shock and inflame the debate against Obamacare. Rick, never, EVER anger the Dutch. They are smarter and far more able to make a cogent argument than ANY US Politician.
It is also astonishingly tone deaf and very poor timing to pick this fight. That Santorum would use now, as the second son of Queen Beatrix, Prins Johan Friso, 43, lays in a German hospital in a coma and possibly brain dead after being trapped in an avalanche, shows an inability to understand and grasp subtle foreign policy issues.
Johan Friso is the father of two who gave up his right to the throne to marry without Parliamentary approval (in other words for love). He is the younger brother of Crown Prins Willem Alexander. He needed 50 minutes of CPR to bring him back. The nation is in shock and grieving, so much so there is talk of cancelling the annual Queen's Day festivities in April. These are the same festivities marred by a madman two years ago trying to ram the bus carrying the Queen and her family and killing and wounding many innocent bystanders
Having lived there for six years and speaking the language fluently, I was shocked and awed by six blatant lies in Santorum's off-the-cuff speech:
10% of all deaths in The Netherlands are the result of euthanasia.
Half of all those people (so 5% of the total) are people being euthanized voluntarily.
Elderly people in The Netherlands do not go to the hospital.
Not only do they not go, but leave the country because they are afraid of hospitals.
If you go to the hospital with sickness, the hospital will kill you for budget purposes.
Elderly people wear bracelets that say "Please don't euthanize me."
The fundamental word in the Dutch system is choice. When faced with the prospect of a long, debilitating and painful death, one can elect euthanasia and the doctor will not be prosecuted for assisting you in carrying out your wishes. You are allowed to die with dignity. Full stop.
Here in the UK, we would face an increasing likelihood of having to go to hospital to die because as much as I love the NHS, they are under such Tory-induced (the UK's GOP) budget cutback stress that there are not enough hospice care nurses to allow people to die quietly and with dignity in their own homes. So that is why my headline reads we would return to The Netherlands in our twilight years in order to have a choice if it was needed.
And to debunk Rick Santorum's drive to bring the US back into the 17th century… in three instances with family I have seen the Dutch system in action and it totally debunks the assertions made by Rick Santorum and parroted without consequence by the broader GOP.
My brother-in-law's 91-year-old grandmother passed quietly in her home two weeks ago. At age 90, she was diagnosed with breast cancer and chose to undergo a radical mastectomy and chemotherapy. She had always been very active and was offered the choice. She fully recovered and resumed her normal life. She fell three weeks ago and broke her arm.
Oma went to the local clinic where again she was again offered a choice, go to the hospital, have it reset and likely die there (it was clear to all her body was shutting down from the shock), or we'll make you comfortable and send you home. She knew her body did not have the strength to fight and heal again (at 91!), selected the latter and died peacefully surrounded by her loving family.
One of my wife's uncles was in a coma for three weeks at age 86. The family was offered a choice, withhold care and allow him to pass peacefully or wait. The family decided to wait, he later awakened and just celebrated his 93rd birthday.
Another aunt at age 92 had heart rhythm problems. She spent two weeks in hospital treatment and went home and still lives an active, vibrant life.
These are the 'death panels' of the Dutch government? My wife's family needed bracelets saying don't euthanize me? No. They are rational intelligent choices taken at highly emotional times and a people safe in the knowledge they will be taken care of if the necessity arises.
The US is picking on The Netherlands when they have 50 million uninsured people with but one hope and prayer, "please make sure nothing bad happens to us medically today."? The US forces people into bankruptcy to pay for their medical care? People lose their homes and life savings to pay for their medical care? And Rick Santorum has the cojones to criticise a system whilst running for President for which he has no idea. Who is Soylent Green now?
What infuriates more than anything? If a member of the UK Parliament were to lie on national television during a political campaign in the UK, they would be stripped of their political office and, depending on the severity of the lie, could face jail time. It's happened three times in the eight years I have lived here.
So how about the GOP and the Democrats start by always telling the truth? The real truth, not some SPUN for effect advert.
Or as my ultra-rational and liberal Dutch wife said, "It's so annoying people believe what they are told by the Republican party. Has the US gone completely mad?"
No, only one half of it has. So just 'party like it's 1699' GOP… the Dutch are against you? Bad sign.
Denis Campbell
UK Progressive