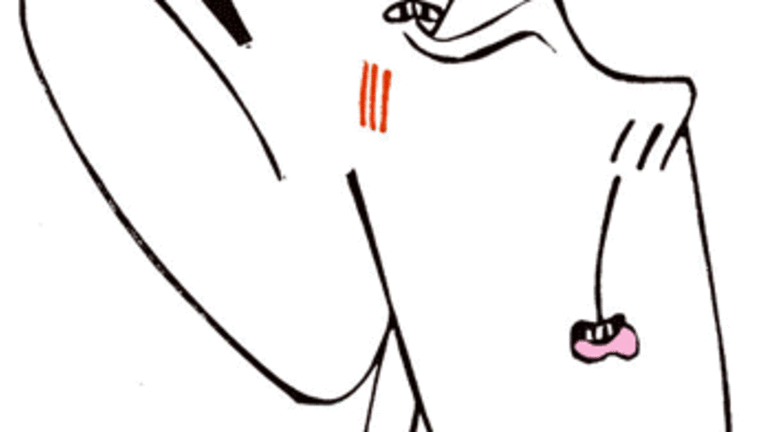 A Scary and Sad Santorum
Carl Matthes: If Rick Santorum were Pope, nuns would would be given veils. If he was President, women would be brought into the bedroom only for procreation.
Rick Santorum wants to be President. He's such a conservative Catholic that he makes the Pope look liberal!
Rick's rapid-fire, machine gun style of speaking allows him to cover more territory with more words than an auctioneer. He deflects and sweeps aside all manner of criticism. And, just like other conservative candidates, Rick is always finding ways to suggest that President Obama is not a real American, not even really Christian. Then, with a quick twist of the tongue, says that he never meant to compare our President to Hitler, a scary Muslim, an environmentalist extremist or even an abortionist's best friend. He serves-up red meat to conservatives quicker than a butcher waits on customers.
But I think Rick is confused when he makes remarks that he has a better theology than President Obama. Is he running for Pope of the United States?
He makes unbelievable utterances about uteruses. Rick has injected himself, not just into the bedrooms of Americans (not a place for the Pope or a President), but he has - how can I put this nicely? - inserted himself into the vaginas of America's women. Under his leadership, contraception would be out. He obviously would like a camera in every bedroom. Planned Parenthood? Out. Pre-natal care? Said Rick, "The bottom line is that a lot of prenatal tests are done to identify deformities in utero and the customary procedure is to encourage abortions." Untrue.
Rick would be President Snooper.
And, after all, when it comes to women, why shouldn't Rick know best? He has fathered eight children. He didn't, of course, give birth to eight babies. Karen, his wife, did that part. But, what red-blooded, right-wing American male doesn't equate 9 months of pregnancy, giving birth, nursing and mother/child bonding as the same as his personal gratification during the 60 second sexual act?
The Santorums lost one child who was born prematurely at just 20 weeks and they are presently caring for daughter Bella who was born with Trisomy 18. According to web sources, "Trisomy is similar to Down syndrome...Many children with Trisomy 18 die within hours or days after birth. Many children with Trisomy 18 are aborted."
Rick has had more experience fathering children, the pain of losing a child and the continual watchfulness with Bella, than the whole College of Cardinals put together. Unfortunately, all of that family joy and grief hasn't produced one ounce of humanity or acceptance in Rick. If anything, it has hardened him as he casts a jaundiced eye at anyone different from himself and at anything in conflict with his ideas about sex and marriage.
If Rick were Pope, nuns would would be given veils. If he was President, women would be brought into the bedroom only for procreation.
Rick is bringing his personal brand of Christian theology into the political arena. He supported the Mississippi "personhood" amendment which would have banned hormonal birth control, like the Pill and IUD, that millions of women - and their spouses - rely upon to prevent unwanted pregnancy. (It was soundly defeated even in ultra-conservative Mississippi.)
Rick, though, has actually even gone further, arguing that contraception of any type is immoral. He has attacked the Obama administration's rule that requires insurance companies to make birth control available to all women with no co-payment no matter where they work. Ironically, Santorum has not attacked the fact that Viagra is covered. (Men rule!) He sounds like the perfect leader in a society where women would only be valued for their child-bearing and rearing abilities.
With Rick's stringent views on family, I'm expecting him to say that divorce would be illegal except, as he has already said, in the case of gay couples who would be forced to divorce.
With some, life's hard lessons produces compassion and understanding. For others, life's troubles produces resentment and the question, "Why me?" Out of that resentment comes disdain for others and a fossilized heart.
A hardened pseudo-christian in the White House? Santorum is scary and sad.
Carl Matthes