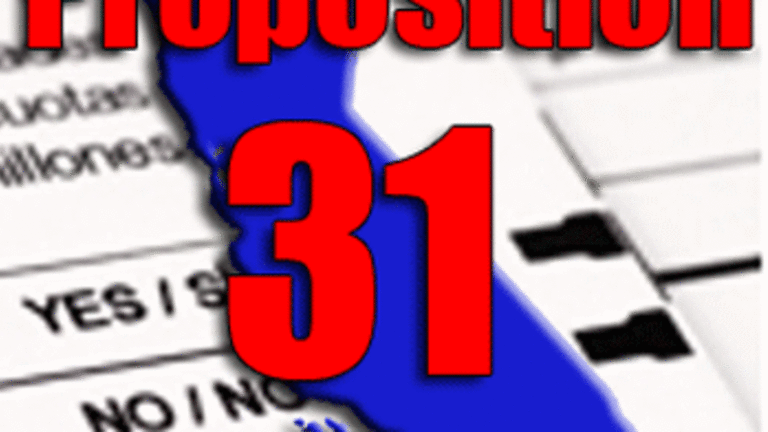 Sheile Kuehl on Prop 31
Sheila Kuehl:Prop 31 was designed to find ways to make government more efficient and responsive. Several critics have opined that Prop 31 doesn't really accomplish the goal, but simply recycles a number of ideas that have been floated through the years without a good deal of empirical evidence on whether or not they accomplish their stated goals.
Sheila Kuehl Proposition 31
Please check out the generally critical piece by long-time L.A. Times' political columnist, George Skelton at Good Goals Aren't Enough. Please also see the very cogent analysis provided by the Legislative Analyst's Office in your very own Official Voter Information Guide from the Secretary of State's Office(beginning at page 20).

A Smorgasbord of Provisions
Prop 31 is a collection of seven disparate provisions gathered pulled together by a collection of think-tanks and pundits aimed changing state government procedures. It is primarily the brainchild of an organization called California Forward, which was put together by Common Cause and the Center for Governmental Studies, among others, and funded by five foundations, including the California Endowment. The hope was to find ways to make government more efficient and responsive. Several critics have opined that Prop 31 doesn't really accomplish the goal, but simply recycles a number of ideas that have been floated through the years without a good deal of empirical evidence on whether or not they accomplish their stated goals.

Local Governments May Alter State Funded Programs
Under one major provision of Prop 31, counties, cities, school districts, community college districts and special districts, such as water, mosquito abatement and lighting, could develop individual plans for the delivery of state-funded services to the public different from those set out in the state budget or trailer bills, while still collecting the state funds for the services. In order to fund the ability of local governments to carry this out, the measure also allocates about $200 million annually to the locals, by shifting a small part of the sales tax now retained by the state.
Any local government entity would be allowed to find that a state law or regulation restricts their ability to carry out a local plan, develop local procedures that are "functionally equivalent" to the objectives of the state law or regulation they wish to supplant, and follow their own procedures, unless the Legislature or relevant state department rejects them within 60 days. The Legislative Analyst reports that, logically, this would lead to the possibility of a great deal of difference across the state as to how public services are provided by local governments and districts.
Prop 31 also allows local government entities to transfer state and local funds which have been allocated to them for particular purposes and use them to serve any purpose identified in their own, local, Action Plans. The language used in the proposed statute allows them to "integrate" state and local funds for the "purpose of providing the services identified by the Action Plan. 

Identification of Funding Source for New Expenditures or Tax Cuts

Prop 31 requires the Legislature, when adopting any bill that will cost more than 25 million dollars, to specify how the new expenditure will be paid for, either by identifying a source of new revenue, specific spending cuts, or a combination of both. The initiative requires a similar showing when a proposal reduces state taxes or other revenues by more than 25 million dollars. The 25 million dollar threshold would be adjusted annually for inflation.
The requirement applies to the creation of new state departments or programs, the expansion of current state departments or programs, or the creation of state-mandated local programs. Several kinds of expenditures, however, are exempted from the requirement, including one-time spending for a state department or program, increased funding for a department or program due to increases in work loads, funding required by federal law or increases due to collective bargaining agreements.

Bills Must Be In Print For Three Days Before Vote
Many people think this measure is necessary to stop end-of-session "gut and amend" bills that pass in the dead of night with little scrutiny. In addition, however, bills that need correction by virtue of a mistake in drafting, agreements forged at the last minute containing sections that have already been read and vetted but needing compromise, and bills that drop whole sections, leaving simply the already-vetted sections agreed to by all parties in a negotiation would also be affected. To some degree, it seems to be human nature to hold on to a polarized position until the clock ticks down and then, seeing defeat about to be snatched from the jaws of victory, compromise. Currently, even the last minute bills are required to be in print and must have a Floor analysis before the vote. Still, many folks feel strongly about this.
Two Year State Budgeting Process and Power to the Governor
Prop 31 changes the annual budget discussion and adoption to a biennial process. This means that, in 2015, the Governor would submit a proposed budget that would begin on July 1, 2015 and end on June 30, 2017. Every two years, beginning in 2016, the Governor could submit a proposed budget update. In those years not taken up with budget discussions, the Legislature would be required to review every state funded program, whether managed by state or local governments, at least once every five years. While doing oversight, the Legislature would also be precluded from passing any legislation, except urgency matters or veto overrides.
It is not really clear what this portion of Prop 31 might accomplish. Planning is a positive, but, with revenues so volatile, the legislature has had to be called into session to adopt modified budgets, sometimes several times in a year. In addition, it is possible that last minute budget decisions would continue to be pushed into the last weeks before the budget deadline, as compromises are reached, every other year.
To remedy the concern about needed budget changes, Prop 31 devolves power to change the budget solely on the Governor. Currently, under the provisions of Prop 58, adopted as an initiative under Governor Schwarzenegger, the Governor may declare a fiscal emergency (Arnold declared at least eight to get the Legislature back to vote on budget changes), bring the Legislature into special session and propose changes, which must be adopted within 45 days.
[/dc]U[/dc]nder Prop 31, if the Legislature fails to remedy the problem within 45 days, the Governor may unilaterally reduce spending, except for spending required by the Constitution or federal law, including school funding, debt service, pension contributions and some federal spending for health and social services programs, currently the lion's share of the general fund spending. Higher education, prisons, administration, transportation, the environment and energy would still be on the table. Under the terms of the initiative, the Legislature could override the Governor by a two-thirds vote.
Sheila Kuehl
Sheila Kuehl's Blog
Posted: Friday, 12 October 2012