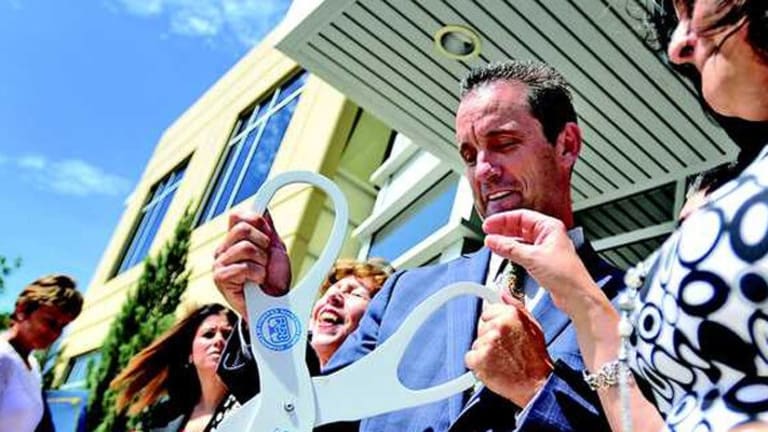 Knight to Day — What a Difference!
Rosemary Jenkins: Current first-term Congressmember Steve Knight advances an agenda that seems to be essentially contrary to the expectations of the people who voted to put him in such high office.
Someone who was once a rising star in California Republican politics has certainly shot himself in the foot—and has done it many times! Current first-term Congressmember Steve Knight is looking toward re-election in a district that has long been a conservative stronghold. Yet he advances an agenda that seems to be essentially contrary to the expectations of the people who voted to put him in such high office.
Furthermore, today he faces quite a demographic change within District 25 whose populace he has represented in one way or another over a period of time. The 25th District includes Antelope Valley and Santa Clarita Valley cities of Palmdale, Lancaster, Castaic, Simi Valley, and Lake Los Angeles in the northern reaches of Los Angeles County. There is greater racial and ethnic diversity than what he is used to, let alone many more Democrats and other progressive constituents than ever before. It appears, however, that he has lost track of what these residents expect of him, despite his declarations that "I vote on what I think my district will want. . . ."
Stunningly, he has repeatedly voted against banning the Confederate flag on State grounds (he was once a California State Senator and State Assemblymember). Knight, within this very month, has done it again in Washington (despite all the horrendous events that recently occurred and the consequent clamor for putting the Rebel flag in its rightful historic place: in museums, not literally flying in our faces on public property). He has committed the nearly inexplicable, insensitive, and callous act of casting his vote (among the few others who also did this) against taking down that flag—an object that for most of us (even in the South) is a symbol of slavery, oppression, repression, suppression, and violence.
At a time when California is experiencing terrible years of drought (and is likely to face even more years of water scarcity), Knight has voted against groundwater sustainability and other water-efficiency programs. He has fought against funding for hybrid and zero-emission vehicles and with the same energy has opposed tightening regulations regarding the emissions which pollute the air we breathe, contaminate the food and water we consume, and exacerbate numerous health issues such as migraines, asthma and other bronchial problems, cardiovascular conditions, and other medical traumas.
To make matters worse, his voting record similarly includes a lack of support for fracking moratoriums, legislation which is meant to curb the harms to ourselves and to our environment. Is he also in the pocket of Big Oil?
He opposes overturning the Citizens United case which, in effect, has taken away the power of the individual voter while increasing the potency of corporate influence. He is similarly adverse to other proposals which would make voting easier: early voting, same-day registration, college student vote-by-mail, and so on.
Knight is on record for opposing reasonable prison-sentencing reform, bi-lingual education, gun control, and minimum-wage laws and ordinances. Regardless of what one thinks about the immigration issue, the fact is that all our children deserve the best education possible because these children live here, will one day grow up here (in what they consider their homeland) where they can and should be offered the chance to become productive adult contributors to our various communities.
Education is clearly a primary need as it sets the foundation for nearly everything else we do throughout our lives, but Knight has gone on record opposing universal pre-school which, without question, provides the head start that all children need to prosper and thrive in school and thereafter.
If our labor force does not receive a sustainable living/minimum wage, we shall all suffer in the long run rather than benefit from how higher wages can boost our respective economies. A significant consequence of these rulings can at the same time reduce crime (as has been proven in many areas where these laws are already in effect). Nevertheless, Knight, enigmatically, opposes this kind of win-win legislation.
He just voted against the TAA (the Trade Adjustment Assistance Act) which would help retrain people who will lose their jobs as a direct result of the Trans-Pacific Trade Partnership Agreement (TPP). He unabashedly reflects a clear anti-worker agenda, supporting, instead, those corporations which are already doing more than fine but whose goal seemingly is to suck the life out of their workers and then throw them away.
If we do not pass reasonable gun control, the proliferation of shootings (including the recent one in Tennessee) will become part of the pattern of our everyday lives—an intolerable corollary to a lack of demand for better representation that can produce more effective laws that, in turn, will genuinely protect and benefit us.
Numerous objective groups and organizations that represent the public's interests have consistently given Knight an extremely low rating based upon his proposals and voting record. Established by a formula designating 100 as the highest score, Knight has received scores as low as a three (for negative environmental/conservation votes and for a poor voting record pertaining to 19 critical bills). Most of his ratings range from 10 to 31 per cent—totally unacceptable and intolerable.
Such evaluations demonstrate an egregious voting record that does not, despite his declamations, represent the wants and needs of his constituents but seems, instead, largely to disregard them. To his chagrin, a multitude of the electorate in District 25 are now aggrieved that they voted for him in the first place. His record demonstrates a veritable bait-and-switch campaign that belies the promises he made. He has proven himself not to be trustworthy when the words do not reflect the deeds.
Voters of District 25 (and any voting district), beware! Next year, 2016, will once again hold consequential elections with momentous results. We must educate ourselves and vote for the candidates who have proven themselves to be consistent in the support and opposition that represents our views.
One such person who has declared her candidacy to run against Knight is Maria Gutzeit—a person whom I have interviewed on several occasions. She is a viable candidate with broad support across party lines. She has already served you well on the Newhall County Water District at a time when the word "drought" is on everyone's lips. She has owned her own small business and worked with the local Chamber of Commerce. In addition, she has volunteered for the benefit of seniors and schools. All of these experiences have given her a background that has both depth and breadth. What is more, Gutzeit has many times received the honor of being one of the Santa Clarita Valley Signal's "51 Most Influential Women"—an award that is not given lightly and is reflective of the kind of person she really is.
Importantly, contrary to Knight's own platform, Gutzeit plans to dedicate herself to working "to make college education affordable again, streamline government regulations so that they don't get in the way of creating good-paying jobs, and protect Social Security and Medicare from dangerous cuts."
She is more than ready to serve you at the national level and will not change her agenda once she gets there. She has long lived in the Santa Clarita Valley and is, therefore, intimately aware of both its blessings and its needs. She seems to me to be a viable alternative to the Knight years—a difference between Knight and day for her constituents.
But don't rely on my assertions alone. Do your own research, but I believe you will then conclude that there is wisdom to my words.

Rosemary Jenkins