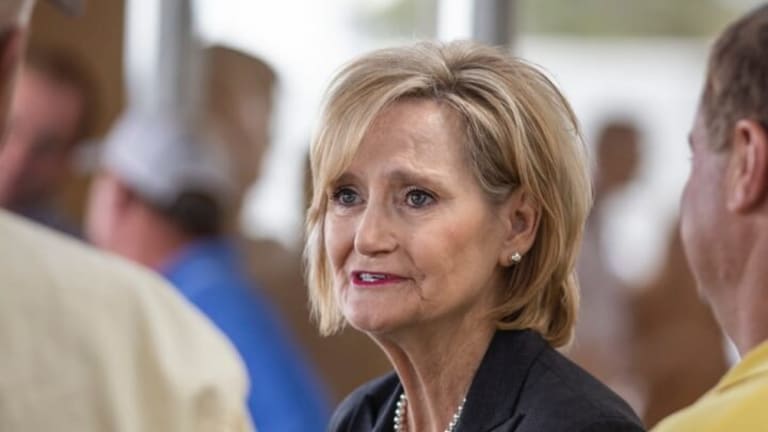 Thank God for Mississippi!
John Seeley: Even if the DSCC or Espy campaign did have affidavits from teen boys traumatized by after-school interactions with Hyde-Smith, it wouldn't hurt Cindy's chances much if the boys were past the age of consent.
Just a thought experiment: If Cindy Hyde-Smith had a pattern in her 30s of stalking—or even just "dating"—high school boys, we might see some erosion in her support among Evangelical voters, or at least Evangelical women voters. And if such boys have evidence documenting the traumatic effect of the encounters—psychiatrist bills, anti-anxiety prescriptions, bulimia treatments etc.—the skepticism of Republican voters toward old sex abuse stories (see Kavanaugh) might be reduced.
However, the special place in the Southern Mind for the protection of young ladies (at issue in the Roy Moore allegations) does not translate readily across gender lines. Even if the DSCC or Espy campaign did have affidavits from teen boys traumatized by after-school interactions with Hyde-Smith, it wouldn't hurt Cindy's chances much if the boys were past the age of consent (16 in Mississippi) – oh, and white! Somehow, I'd expect if such hypothetical youths were on the other side of tracks racially, Cindy could have real problems.
Since no teen romances have surfaced, are there other paths to an Espy victory? Not likely. Mississippi remains, like its neighbors Louisiana and Alabama, one of the most racially polarized states vote-wise. In heavily black Delta counties like Claiborne and Holmes, Espy got 81%; in quite white upland Tishomingo and Itawamba counties, his Republican opponents got 84 to 85 percent. These tallies reflect, within a couple of percentage points, the racial composition of the county voters.
On first glance, the Mississippi-Alabama equation seems a reasonable one. The two states with their narrow pedestals on the Gulf Coast, their flat roofs against Tennessee, are geographical mirror images.
And the states mirrored one another in their bitter, violent extremism aimed at terrorizing the Civil Rights Movement into surrender. On the east, Birmingham's reaction was fire hoses and a Sunday church bombing, while Selma clubbed peaceful marchers. Activists, first blacks, then a couple of whites, were murdered, the perpetrators mostly unpunished. Gov. George Wallace stood in the door to block integration of University of Alabama, then took his racist poison on the road in a presidential campaign.
To the west, Mississippi led in lynchings, continuing into the 1950s with the night kidnap and murder of teenager Emmet Till for allegedly whistling at a white woman. Rioting over integration of the state university "Ole Miss," required President Kennedy to call in troops after armed mobs attacked federal marshals. Several civil rights leaders were murdered, state NAACP chief Medgar Evers assassinated in his own driveway in a crime unprosecuted for decades. The lynchings of three young civil rights workers, with the connivance of local sheriff personnel, followed soon afterward. It would be a challenge to determine the lesser of evils between the two states' racist savagery.
Nonetheless, there's an old Southern expression "Thank God for Mississippi," most often voiced in neighbor states when national reports come out ranking states on various criteria of social backwardness. However bad the literacy level, poverty rate or health problem in Alabama or Arkansas was, Mississippi could be relied on to keep them out of last place, "thank God."
And the old adage still rings true. Mississippi takes first place in unmarried births, low birth weight, heart disease deaths, and Alzheimer's rate. It takes the silver on homicide rate, where neighboring Louisiana, with larger cities, has won the top spot. But, on a factor contributing to all the sad symptoms above, Mississippi maintains the lead on poverty rate, with 22 percent of households in that category.
A couple of points that slightly favor Alabama: George Wallace, in his wheelchair-bound senior years, did apologize for his racist acts. And Alabama in the mid-20th century sent several men to Washington who, while silent on race issues, were otherwise progressives, like Sen. Lister Hill, who brought federal aid to hospital-building and rural housing for the poor; and Supreme Court Justice Hugo Black, who (though a Klansman in his youth) joined without reservations in Brown vs Board of Education and other civil rights decisions and was one of the Warren Court's strongest civil liberties advocates.
John Seeley