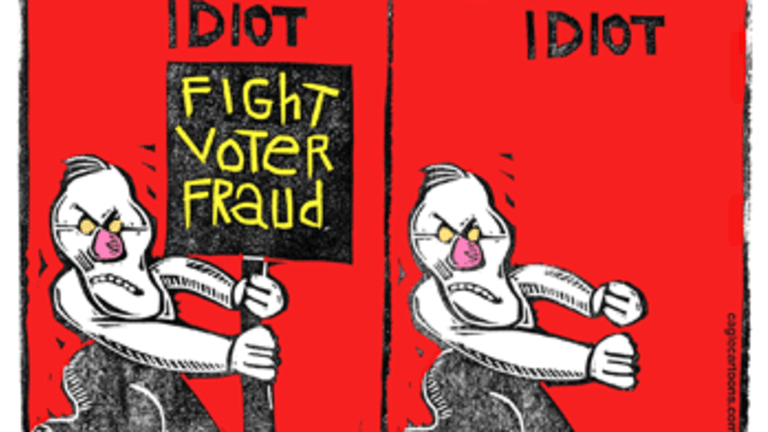 Blocking the Vote
Karen Finney: America cannot afford to again underestimate the impact current voter suppression efforts could have on the results of the election.
The upcoming debate performances, which are now consuming media analysis, will have far less to do with who is elected president on November 6 than whether or not every eligible voter has the opportunity to vote and have that vote counted. America cannot afford to again underestimate the impact current voter suppression efforts could have on the results of the election.
Conservative efforts against exceedingly rare cases of in-person "voter fraud" got an early start with last year's passage of new voter ID laws across the country — laws that just happen to disproportionately affect traditional Democratic groups: African-Americans, Latinos, students, seniors and low-income people. In 16 states, these laws also included provisions that make it harder to register voters and ended same-day registration. T
o date, the only allegations of voter fraud involve the GOP: most recently, GOP operative Nathan Sproul, previously accused of election improprieties, was paid millions by the Republican National Committee to register voter in swing states including Florida, Nevada, Colorado, North Carolina and Virginia. Earlier this year, Rep. Dan Lungren (R-Calif.) finally acknowledged his ties to a fraudulent voter registration drive involving the Sacramento GOP, and four staff aides to Rep. Thaddeus McCotter (R-Mich) were charged recently with 36 federal felony and misdemeanor election fraud-related counts in a scheme that led to McCotter's resignation.
There are the familiar GOP-linked misinformation campaigns taking place, which include robo-calls and mailers sent to Democratic-leaning voters with incorrect information on everything from voting requirements to polling location hours, as well as Election Day voter harassment. But this year, voter intimidation efforts also got an early start, expanding the "vote challenger" operation to target voter registration efforts and voters' legitimacy even before they get to the polls.
Reports across the country already include accounts of voters being videotaped and of non-election-related "volunteers" demanding to see ID. National organizations like the Advancement Project and the NAACP and others are coordinating with local organizations to track and combat these activities — where they are reported. One group, the Progressive Leadership Alliance of Nevada (PLAN), reports an "an unusually tense climate" in this year's voter registration drives.
In one incident, three female volunteers working at a DMV voter registration table were allegedly threatened by a local GOP operative who was registering Republican voters at another table. (He apparently refuses to register Democrats.) The man allegedly stood in front of their table yelling "you, you, you" as he pretended to shoot each of them with his fingers pointed as if shooting a gun. Shaken but undeterred, these volunteers are expected to file complaints this week with local law enforcement and the FBI. There have also been reports of disruptions caused by intentional fights at registration locations.
In addition, a new GOP-Tea Party group titled True the Vote and its local affiliates appear to be filing early challenges targeting areas with traditionally Democratic-leaning voters. The Ohio affiliate specifically targeted college students — including 284 students at the Ohio State University campus in Columbus, 110 at Oberlin College, 88 at the College of Wooster and 38 at Kent State University, as well as at the University of Cincinnati, Miami University, Lake Erie College and Telshe Yeshiva, a rabbinical college near Cleveland — with court appearances for not including their dorm room numbers. The case was dismissed.
So before counting anyone in or out, let the ghosts of 2000 and 2004 haunt you. Let's turn our attention to ensuring that all voters are prepared and know their rights when they go to vote on November 6.
Karen Finney
The Hill
Posted: Monday, 1 October 2012