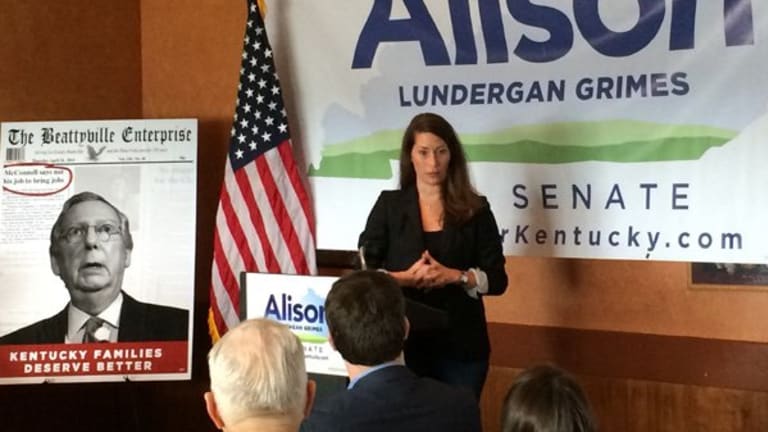 Will McConnell v. Grimes, 2014, Be a Repeat of Percy-Simon, 1984?
Berry Craig: Grimes, who seems to have no problem in the likeability department, is giving McConnell the run for his political life.
The neck-and-neck Kentucky senate race reminds me of the 1984 senate contest in Illinois.
Polls show President Barack Obama is unpopular in the Bluegrass State. That should mean a big edge for Sen. Mitch McConnell over Democrat Alison Lundergan Grimes. But the race is a dead heat, according to polls.
Going on 30 years ago, President Ronald Reagan cruised to reelection. In Illinois, he beat Democrat Walter Mondale by about 56 to 43 percent.
At the same time, US Rep. Paul Simon, a Democrat, squeaked past incumbent Republican Sen. Charles Percy, 50 to 48.
The Kentucky primary is Tuesday. Grimes, Kentucky's secretary of state, has no significant opposition. It looks like McConnell will beat Matt Bevin, his tea party tilting opponent. McConnell has been way ahead in the polls all along.
I always wondered how Simon won in 1984, the year McConnell was elected to the first of his five senate terms. In 1997, I finally got the chance to ask him.
He had retired from politics and was heading what became the Paul Simon Public Policy Institute at Southern Illinois University in Carbondale. Carbondale is not far from Paducah, where I taught history at West Kentucky Community and Technical College for two dozen years.
The college invited Simon to speak. I was emcee; my wife and I had dinner with the senator and his wife, Jean, an ex-Illinois state senator, before his address.
"So how did you beat Percy?" I popped the question, expecting some long, involved explanation.
He smiled and replied in that famous baritone voice: "If people like you, they'll vote for you."
Simon, who was from Makanda, near Carbondale, recalled the time he was campaigning door-to-door in a Republican suburb of Chicago, Percy's hometown. "A man walked up to me and said, 'Congressman Simon, I can't think of a thing on which you and I agree. But I'm going to vote for you because I like you.'"
Full disclosure time: I voted for Mondale in '84 and for Obama in '08 and '12. Grimes is my candidate for the senate.
Yet surely even Republicans would admit McConnell is challenged in the bonhomie department. "While most politicians desperately want to be liked, McConnell has relished—and cultivated—his reputation as a villain," Jason Zingerle wrote in Politico. "After all, he achieved his iron-fisted grip on the politics of his home state and his fractious party on Capitol Hill through discipline, cunning and, oftentimes, fear. Which is why, at the moments that have found him happiest—winning elections, blocking bills, denying the sheen of bipartisanship to President Barack Obama—he has radiated not joy but menace."
Zingerle added: "But these are not good times for McConnell, and, for once, his face seems to capture his mood: Mitch McConnell is worried."
Indeed, Grimes, who seems to have no problem in the likeability department, is giving McConnell the run for his political life.
Berry Craig