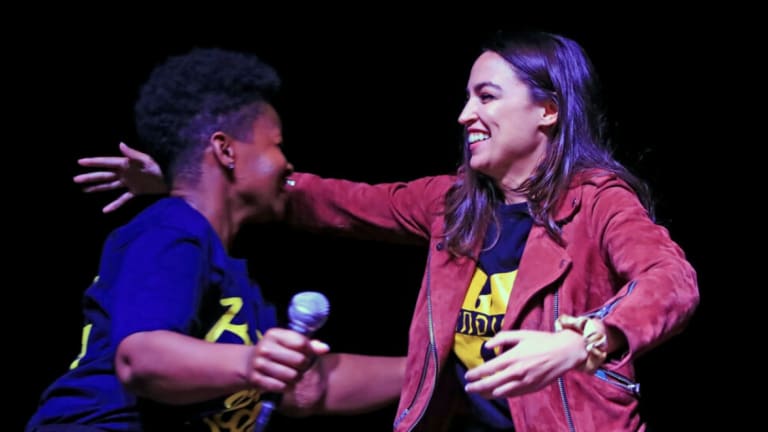 AOC Joins India Walton at Buffalo Rally
Julia Conley: The two progressives joined striking hospital workers on the picket line at Mercy Hospital after the early voting rally.
The two progressives joined striking hospital workers on the picket line at Mercy Hospital after the early voting rally.
A line outside Town Ballroom in Buffalo, New York on Saturday stretched all the way down a city block and around the corner as residents arrived for an early voting rally hosted by Democratic candidate for mayor India Walton, Rep. Alexandria Ocasio-Cortez, and other progressive leaders. Early voting began at noon in the city's mayoral race, which has gained national attention following the victory of Walton, a democratic socialist, in the June primary. 
Ocasio-Cortez urged supporters in the crowded theater to commit to text-banking, phone-banking, and bringing other voters to the polls with them, saying that victories like Walton's are what helps to make the passage of bold policy proposals possible at the national level.
"The only reason that the Democratic Party in Washington has even believed and felt and started rallying around universal child care in the United States is because a city did it first," Ocasio-Cortez said. "New York City, we came out and we said we're going to have universal pre-K... But it's not good enough for us to just have it in New York City." 
As mayor, Ocasio-Cortez said, Walton will secure far-reaching, universal policies to benefit lower- and middle-class Buffalonians—priorities which Brown has dismissed as "radical" and which the corporate media has said since the congresswoman's own surprise victory in 2018 would not win over voters in Midwestern and Rust Belt cities like Buffalo. 
"We're taking away all the excuses," said Ocasio-Cortez. "When people say universal child care's not possible, guaranteed healthcare is not possible, the labor movement is too anemic and it will never be what it once was... They say post-industrial cities cannot do that anymore, they don't want to do that anymore... Buffalo is taking that excuse away." 
Walton ran in the primary against incumbent Mayor Byron Brown, a Democrat with close ties to real estate developers in Buffalo who refused to debate his challenger and has since launched a write-in campaign which has had significant support from the right. 
The congresswoman noted that in addition to Walton's progressive campaign—centered on providing affordable housing, establishing Buffalo as a sanctuary city, developing a climate action plan for the city, and other initiatives to promote the wellbeing of lower- and middle-class residents—Buffalo is currently home to two of the major workers' rights actions that are energizing the labor movement across the country. 
Starbucks employees in the Buffalo area are pushing to establish the coffee chain's first union, while hospital workers represented by Communications Workers of America (CWA) have been on strike in the city since the beginning of October. 
Walton and Ocasio-Cortez joined the CWA workers on the picket line following Saturday's rally.
In recent days, Walton has won endorsements from New York Democratic Sens. Chuck Schumer and Kirsten Gillibrand. Gov. Kathy Hochul, who replaced Andrew Cuomo, a close ally of Brown's, has so far not endorsed either candidate. 
On Saturday, The Buffalo News reported that under the Brown administration, the city's urban renewal agency has given $20 million in public funds to the mayor's contributors as well as awarding exclusive development rights to some of his donors, without going through a public bidding process. 
"This is corruption at its finest," said Walton on social media. "Federal money meant to serve our community has gone to line the mayor's pockets. We cannot afford another four years of corruption at City Hall."
To the crowd at the early voting rally, Walton said, "When we organize, we win."