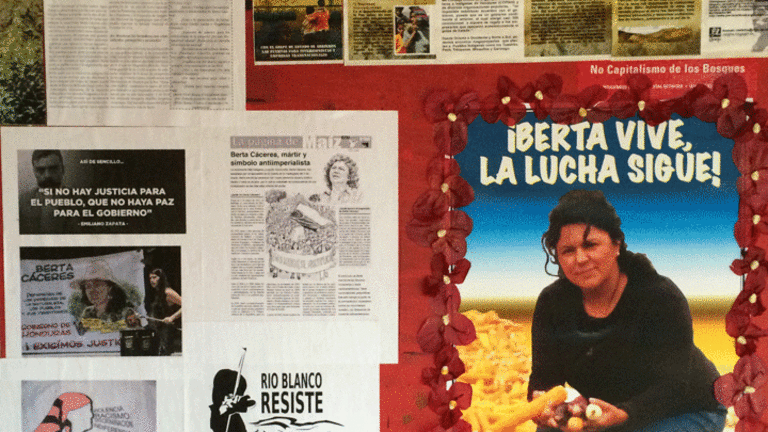 Berta's Murder
Sarah S. Forth: At least 60,000 Hondurans, in a country of 8.2 million, have been murdered since the 2009 coup that overthrew a democratically elected president. Murder of Berta Caceres
A week is not enough time to learn everything you need to know about a country, but after a week in Honduras I at least know this: Death and the possibility of death occupies a great many minds.
In meetings with Indigenous and campesino movement leaders, with human rights defenders and LGBT activists, I've heard the same story again and again: We're being targeted, harassed, threatened, killed. We fear for our safety and that of our families.
But here's another obvious fact: These same people refuse to be afraid. Or, even if afraid, they won't stop doing what they're doing.
At least 60,000 Hondurans, in a country of 8.2 million, have been murdered since the 2009 coup that overthrew a democratically elected president.
I'm in Honduras with a delegation of nine U.S. and Canadian citizens as a response to the March 2 assassination of Berta Cáceres. Co-founder of the Council of Popular Organizations and Indigenous in Honduras (COPINH), in 2015 Berta won the Goldman Environment Prize for her defense of land and water rights of the Lenca peoples in western Honduras.
At least 60,000 Hondurans, in a country of 8.2 million, have been murdered since the 2009 coup that overthrew a democratically elected president. That's about 8,500 per year. In comparison, Los Angeles County, with 2 million more people, recorded 673 deaths in the last 12 months.
Most of those deaths were "ordinary" murders, but the number of activists targeted for death is staggering. More than 200 campesinos engaged in land struggles have been killed. About 36 individuals identified as LGBT are murdered every year, though the actual total is probably higher because families are reluctant to acknowledge non-heterosexual orientation. Less than two weeks after Berta's assassination, a second COPINH activist was killed.
Most of these murders go unsolved; impunity is the norm. The director of a feminist lesbian organization that tracks killings in the LGBT community told us that of the 227 murders they recorded, prosecutors opened cases for 47. Of those, 15 went to trial and seven, or 3 percent, resulted in conviction.
It would seem that Berta Cáceres' case will be the exception. On the morning we visited with her family members, we were greeted with the news that four men had been arrested for her murder. But as Berta's former husband, Salvadore Zúñiga, explained, there are three levels of culpability:
the actual killer (believed to be a gang hit man hired for the job);
then the intermediaries who planned the assassination; and,
thirdly, the ones at the top, the powerful elites who want to be rid of whatever stands in the way of getting what they want.
Thus far, instigators of the assassination, that third tier, have not been named, which is why the family and COPINH issued statements calling yet again for the government to invite the Inter-American Commission for Human Rights to ensure an independent investigation of Berta's murder.
Despite the grim news, we found organizations and individuals determined to carry on their struggle, whether in defense of LGBT individuals or opposing transnational corporate land grabs.
There was the young COPINH member, a single mother, who walked three hours to get to a public forum about yet another dam project in Lenca territory. While we were in western Honduras, Garifuna women traveled nine hours to meet with COPINH women for two days, solidifying their connections following the loss of COPINH's dynamic leader.
Following a general boycott of elections following the 2009 coup, some progressive activists chose to engage with electoral politics. The Honduran coordinator of the campesino movement with whom we met, Raphael Alegria, is now a deputy in the Honduran legislature with the reformist Libre party.
Even Indyra Mendoza, the feminist lesbian leader who reported such grim statistics, found hope in the arrests for Berta's murder. A revision of the Honduran penal code is under consideration; she sees the possibility for nondiscrimination clauses to be included.
There's no happy ending to a stay in Honduras. The problems are vast, the resources too few, the corruption so deeply embedded. Which makes the work and determination of these activists so impressive.
Sarah S. Forth