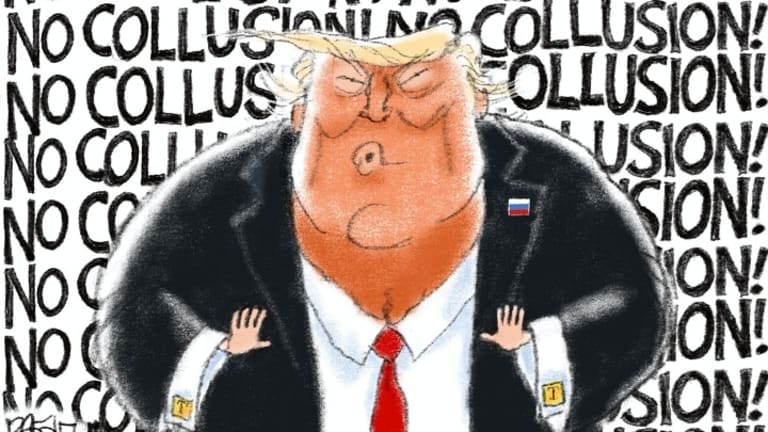 "Blame, Bully and Belittle"
Ted Vaill: There it is:  if Trump wins reelection, his second term will soon become a Hitlerian dictatorship, and California, and Democrats like myself, will become an endangered species.
This is how President Bill Clinton characterized the Donald Trump presidency: he blames everyone else for his failures; he has been a bully all his life, and always has to put derogatory monikers on all his enemies; and he loves to belittle anyone who does not agree with him and fails to show slavish adoration.
President Obama, in his speech on Wednesday night at the Museum of the American Revolution in Philadelphia, stated the following about Trump:
"We should expect that regardless of ego, ambition or political beliefs, the president will preserve, protect and defend the freedoms and ideals that so many Americans marched for and went to jail for; fought for and died for…I did hope, for the sake of our country, that Donald Trump might show some interest in taking the job seriously. That he might come to feel the weight of the office. And discover some reverence for the democracy that had been placed in his care.
"But he never did. For close to four years now, he's shown no interest in putting in the work; no interest in finding common ground; no interest in using the awesome power of his office to help anyone but himself and his friends, no interest in treating the presidency as anything but one more reality show that he can use to get the attention he craves. Donald Trump hasn't grown into the job, because he can't."
"Shock and Awe"
A truly terrifying video was posted this week by Miles Taylor, the Republican Chief of Staff to the Secretary of the Department of Homeland Security, who served Trump for 2.5 years before he resigned in 2019.
It was Taylor's job regularly to present the DHS intelligence briefing to Trump in the Oval Office:
"We would go in to talk to him about pressing national security issues, on cyber-attacks and terrorism threats. He was not interested in these things; to him they were not priorities. He wanted to exploit DHS for his own political purposes and to fuel his own agenda."
Taylor was present when Trump placed a telephone call to FEMA after the late 2018 Camp and Woolsey wildfires:
"He told FEMA to cut off the money and no longer give individual assistance to California. He told us not to give money to people whose homes had burned down from a wildfire, because he was so full of rage that the people in the State of California didn't support him and politically it wasn't a base for him."
He concluded his evisceration of Trump, noting that he was going to support Joe Biden for President, as follows:
"He was one of the most unfocussed and undisciplined senior executives I have ever encountered. I came away completely convinced, based on first hand experience, that the President was ill-equipped, and wouldn't become equipped, to do his job effectively, and was actually doing great damage to our security."
Finally, he conveyed this thought, which I have put in all caps: "PEOPLE WHO ARE STILL SERVING IN THE ADMINISTRATION HAVE SAID: 'JUST WAIT UNTIL THE SECOND TERM. IT WILL BE NO HOLDS BARRED - SHOCK AND AWE. WE'LL DO WHAT WE WANT."
There it is: if Trump wins reelection, his second term will soon become a Hitlerian dictatorship, and California, and Democrats like myself, will become an endangered species.
There it is: if Trump wins reelection, his second term will soon become a Hitlerian dictatorship, and California, and Democrats like myself, will become an endangered species. He will kill us, imprison us, force us to flee the country, and California will be drained dry and burned down.
So both President Obama and a Republican operative who saw Trump's conduct as President up close for years agree that he is totally unfit for the office. And you can add former Defense Secretary Jim Mattis, former Chief of Staff John Kelly, former National Security Advisor John Bolton, former Secretary of State Rex Tillerson, and many of the people who listened in on Trump's call to the Ukrainian President which led to his impeachment: Trump is totally corrupt and incompetent and unfit for the office of President.
The Senate Select Intelligence Committee's Report
This week the final volume of the Senate Select Intelligence Committee's exhaustive analysis of the Russian involvement in the 2016 election, entitled "Report on Russian Active Measures Campaigns and Interference in the 2016 U. S. Election" was released. From this detailed bipartisan examination, it is clear that Trump committed perjury in his written statement to Mueller, even though it was crafted for him by his lawyers.
The Report concluded that there is strong evidence that Trump communicated through Manafort and Stone with the Russians to corrupt the 2016 election, and that many members of his campaign staff were involved with the Russians during the campaign and in the transition. A prime example identified in the Report was an August 2, 2016 secret meeting of Trump Campaign Chair Paul Manafort and his associate Rick Gates with Konstantin Kilimnik, whom the Report identified as "a Russian intelligence official". The Report finds that Manafort and Kilimnik had many meetings and communications in 2016, often using secure communications and throwaway phones.
At 7:43 pm on the evening of August 2, 2016, Kilimnik passed through JFK customs after a flight from Russia and headed to the Grand Havana Room, a private lounge at Jared Kushner's building at 666 Fifth Avenue in Manhattan for a 9:00 pm meeting with Manafort. Manafort was coming to this meeting following a 5:30 pm meeting at Trump Tower with Trump and Rudy Giuliani. At this meeting, Manafort and Gates gave Kilimnik highly confidential "internal Trump polling information and strategy", especially relating to the key battleground states. "At the meeting, Manafort walked Kilimnik through the state of the Trump Campaign, including its internal polling data, and Manafort's plan to win…(S)ince approximately early May, Gates had been periodically sending Trump Campaign polling data to Kilimnik via WhatsApp and then deleting the messages…"
The Committee had reason to believe that the information provided to Kilimnik was ultimately handed over to the GRU arm of Russian intelligence. (Some of the information here is highly redacted in the Report.) "At the end of the meeting, Kilimnik, Gates and Manafort deliberately departed using separate routes to avoid being seen together." (Report, pp. 75-77)
What Happens Next?
Perjury got Clinton impeached in 1998. Is there any possibility that Trump will be impeached again? About 75 days remain until the November 3 election. Is it worth it? Is it just tilting at windmills? If Trump is crushed in a landslide on November 3, what is the point? Former AG Eric Holder just commented that there is definitely a good reason: the Republican traitors who did this must be called to account to make sure it never happens again. Recall that 40 officials in the Nixon Administration were indicted or jailed for Watergate-related crimes, both before and after Nixon resigned.
But what if Trump wins, legally or corruptly, and gets a second term? As some of the current officials in the Trump Administration told Miles Taylor, it will be "no holds barred - shock and awe." If the House and Senate are controlled by the Democrats, further impeachment proceedings could be held, but it is unlikely that 2/3 of the Senators will vote to convict, given the unpatriotic conduct of many of the Republican Senators fearing for their jobs above all. And forget about Trump's AG bringing criminal charges against any of the traitors remaining in the Trump Administration.
Some of the subpoenas now being litigated in the federal and state courts may end up actually producing some additional documents and testimony that could help in these later federal or state prosecutions, but we may have years of litigation ahead of us before this happens. That is, unless the Capitol police does the bidding of a Democrat-controlled Congress next year to "lock them up!" If they still refuse to testify or produce documents after the court proceedings have ended.
There has to be an end to this game. How will it play out? Are we on the verge of a Second Civil War? This year feels a little like 1860…
Ted Vaill