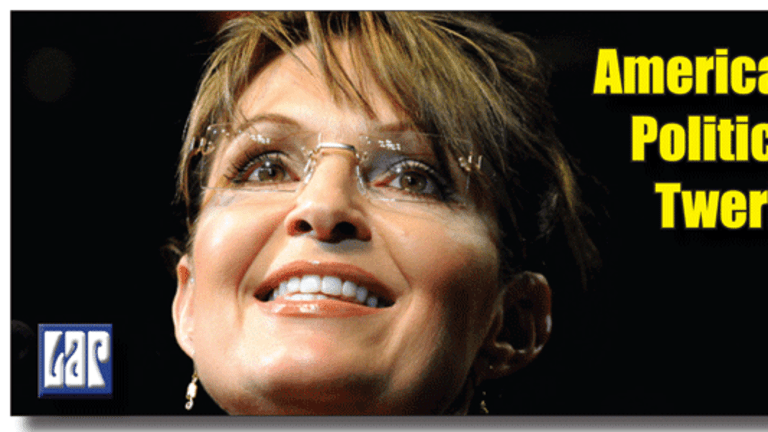 America's Political Twerks
Celebrity Politicians -- Maybe if politicians would stop trying to sound like some celebrities, they could raise their popularity.
When Muhammad Ali proclaimed, "I am the greatest," we knew—and he knew—it would psyche out his opponents, get media attention, and receive a bigger box office. But, in the sport of boxing, Ali probably was the greatest.
When Howard Stern proclaims himself to be the "King of all Media," he knows—and we know—it's simply a case of hyperbolic promotion, something some celebrities do to get even more promotion.
But when rapper Kanye West proclaims he'll be the next Nelson Mandela, and that by the time he's 95, he'll be a bigger hero than Mandela ever was, we know it's a case of arrested development.
On a radio show in Chicago during memorial services for Mandela, West declared he was worshipped around the world, that he liberates minds with music, which he declared is more important than liberating a few people from apartheid.
He also declared that standing on a stage prop during his current tour was "putting my life at risk." Disregard the reality that designers, handlers, and all kinds of professionals have no desire to see a multi-millionaire attraction get injured—at least in a performance—West added to the hype by adding that appearing on the magic mountain on stage, and the fear it generated in him, "is like being a police officer or something, in war or something."
The fiancé of Kim—"Look at how famous I am for doing nothing"—Kardashian may have been puffing. But nothing in his background suggests he was doing anything less than what he normally does—places whatever talents he has under the shield of self-aggrandizement and self-promotion. In that arena, he is truly an outstanding performer.
Most of the best creative artists don't need to resort to huffing and puffing and blowing down the doors of credibility to get attention. Their work speaks for itself. George Clooney, Bill Cosby, Gloria Estefan, and thousands of other talented people in the creative arts, never needed to twerk to make themselves seem to be more important than they are. However, some celebrities do have to brag, and commit outrageous acts of stupidity to get media attention to keep their luster before the fans—who often believe anything the media tell them.
That's the world of a few celebrities. It shouldn't be the world of politics.
Rep. Henry J. Radel (R-Fla.), a former TV host and media entrepreneur who willingly accepted an invitation to the Tea Party, declared himself to be a "hip-hop conservative." We don't know what that means, but we do know he's a coke-head who was convicted in October for possession.
This past year, Rep. Ted Yoho, a fellow Republican from Florida, compared himself to Rosa Parks, Martin Luther King Jr., and Lech Walesa in his fight against the "evils" of Obamacare.
Rep. Mike Kelley, a Republican from Pennsylvania, said Speaker of the House John Boehner could be like Jesus on Palm Sunday. Fortunately, Boehner himself claimed no such thing.
Sarah Palin and several dozen super-patriots, all of whom show a lack of knowledge about American laws, culture, and history, declared that Obamacare was just like slavery.
Former Pa. Sen. Rick Santorum suggested there were parallels between Nelson Mandela fighting apartheid and he and the Tea Party fighting against Obamacare.
Maybe if politicians would stop trying to sound like some celebrities and act like the representatives of the people who elected them, they could raise their popularity to a level higher than a dead end on a muddy road.
Walter Brasch
Wanderings