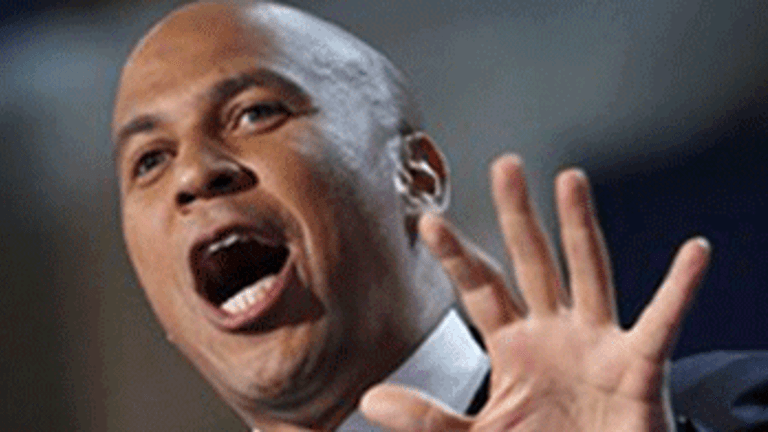 Will Newark's Woes Scuttle Cory Booker's Senate Run?
Nia-Malika Henderson: Booker's brand, chronicled in film, magazine spreads and 140-character tweets, stands in many ways wholly apart from the reality of Newark, a majority-black city marred by race riots, corruption and neglect.
Cory Booker has become one of the most famous mayors in the nation with the help of a careful political campaign that cast him as a unique talent willing to forgo better opportunities to save this crime-ridden and poverty-plagued city.
His story has been enhanced by tales of derring-do: chasing down criminals on foot, extracting a neighbor from a burning building, and rescuing shivering dogs stranded in the snow. The "cult of Cory" has produced a windfall of investment in a city that has been dubbed the carjacking capital of the United States, and a bonanza of publicity for the 43-year-old mayor.
All of that has helped make the Democrat one of the most prominent members of a new generation of African American politicians who are positioned to follow President Obama's legacy. They are young, modern, worldly, and celebrated by the same multiracial, progressive coalition that elected and reelected Obama.
But for Booker, this new world is complicated by old problems as he makes an all-but-certain 2014 bid to replace Sen. Frank R. Lautenberg (D), who announced in February that he will retire.
Booker's brand, chronicled in film, magazine spreads and 140-character tweets, stands in many ways wholly apart from the reality of Newark, a majority-black city marred by race riots, corruption and neglect.
His likely Senate run, in which he could face tough primary challengers, would be a referendum on his sometimes shaky stewardship of the city.
"This is a race that will be about breaking jaws in typical New Jersey style," said Hank Sheinkopf, a Democratic strategist. "He has to keep the hero story going to keep the attention off of Newark. He can't say it's a great place, but he can say it's better than it was and that he has had the courage to stand up and fight the bad guys."
Tweeting But Not Governing?
Booker's critics say that a Senate race would expose him as an absentee mayor who is busy tweeting his 1.3 million followers while ignoring the city's entrenched problems.
"Everything is a ribbon-cutting and a press conference from him and some goodwill stuff he puts on Twitter, and meanwhile he is never here," said state Sen. Ronald Rice (D), who lives in Newark and lost to Booker in 2006. "We are the biggest city in New Jersey, and we need a mayor who stays home to get things done."
Rice noted that on a recent weekend, while Booker was in South Florida on a fundraising trip, the manager of an IHOP in Newark was fatally shot while trying to break up a fight between customers. Two other people were wounded.
Booker is aware of his vulnerabilities.
"At the end of the day, when you talk to Newarkers when I'm running for Senate, should I be doing that, you're going to say to them, 'Hey, how did he do on crime?' " Booker said in an interview. "And they are going to have to say, and they should give me an honest opinion."
Not all of it will be good.
Since a 30 percent drop in the city's homicide rate in 2008, when 67 people were killed, the number has risen, averaging 91 homicides in 2011 and 2012. Overall, the homicide rate has fallen 17 percent since Booker became mayor, but Newark was 20th in the FBI's 2012 ranking of the country's most dangerous cities.
Last year, carjackings spiked to a rate of almost one a day, the fourth straight annual increase, according to city crime data, a statistic that the police force — which Booker reduced by 15 percent in 2010 — has had to grapple with. In his State of the City address last month, Booker announced the hiring of 50 additional officers.
The March 5 speech, in which he trumpeted a "full-scale management turnaround," probably is an early template of how he would frame his time as mayor.
"The state of Newark, New Jersey, is strong and roaring forth," he said. "We are meeting and surmounting age-old challenges and gaining a new and unprecedented momentum."
On the economic front, the city has experienced a building boom. Panasonic relocated its North American headquarters to downtown Newark, and Prudential recently broke ground on a $444 million, 20-story office building.
"I had the same concerns that people who read the newspaper had. There was a perception about safety and there weren't a lot of good images," said Joseph M. Taylor, chairman and chief executive of Panasonic of North America. "What Booker convinced me of is if a company like Panasonic committed, it could give confidence to other business leaders to move to Newark. We could be the tipping point. He did a good job with a very skeptical CEO."
When Booker became mayor in 2006, the jobless rate was 7.6 percent, but the economic collapse landed hard in Brick City and the rate has nearly doubled to 14.9 percent, down from a 20-year high of 16 percent in July.
Dealing with an $83 million budget gap in 2010, Booker eliminated 25 percent of Newark's government jobs, a move that rankled labor groups and contributed to the high unemployment rate.
For much of his tenure, Booker has relied on state aid and oversight to balance the city's budget, receiving about $100 million since 2008. New Jersey Gov. Chris Christie (R), burned in 2011 by Newark's $18 million budget surplus after the city received $32 million in state aid, put tight austerity restrictions on the most recent $10 million allocation, a move that could lead to more cuts.
Yet Booker declared 2013 the year of "budget independence," citing increased revenue and a building boom that he said has improved Newark.
"There's still a long way to go for this city, but when you look at a city where we were, especially the economic distress, now Newark is the hot thing," he said in the interview. "The businesses are coming in, the population is coming in, the city is growing in ways that it hasn't before."
Trouble with Broad Support
Booker's would-be Senate bid got off to a rocky start when he said he was considering a run before Lautenberg announced his retirement.
Lautenberg advised Booker to concentrate on his day job in Newark, specifically citing the violence in the city. The mayor has lost several high-level staff members, including a fundraiser, leading to questions about his ability to delegate.
Demographically and politically, New Jersey is similar to the Obama coalition: African Americans and Latinos make up 30 percent of the population, and the state hasn't sent a Republican to the Senate since 1972.
A Fairleigh Dickinson University poll shows Booker taking 50 percent of the vote against potential primary Senate opponents Frank Pallone Jr. and Rush D. Holt, congressmen who have single-digit support. About 32 percent are undecided.
But Booker, a Rhodes Scholar and Yale Law School graduate, has had trouble solidifying widespread support in Newark. In 2010, he lost the majority-black South Ward, and his relationship with the City Council has been tense. At a council meeting in November, when Booker made a rare appearance to break a tie vote to fill a seat, residents shouted, "Cory's gotta go," and police had to use pepper spray to disperse the crowd.
Asked about the perception that he would face a tough mayoral reelection race, Booker cited an October poll commissioned by potential mayoral candidates that showed him with a 70 percent approval rating in Newark and a 69 percent approval rating among African Americans.
"The key for him if he wants to reach that Obama-like threshold is he has to win over solidly the hearts and minds of this core constituency," said Cornell Belcher, a Democratic pollster. "It can't be begrudging. It has to be wholehearted, energized support, and that starts with his own back yard in Newark. If black people in Newark are lukewarm to him, I find it hard to believe that the other black voters around the state are going to be red-hot to him."
Nia-Malika Henderson
The Washington Post
Republished with the author's permission.
Wednesday, 3 April 2013