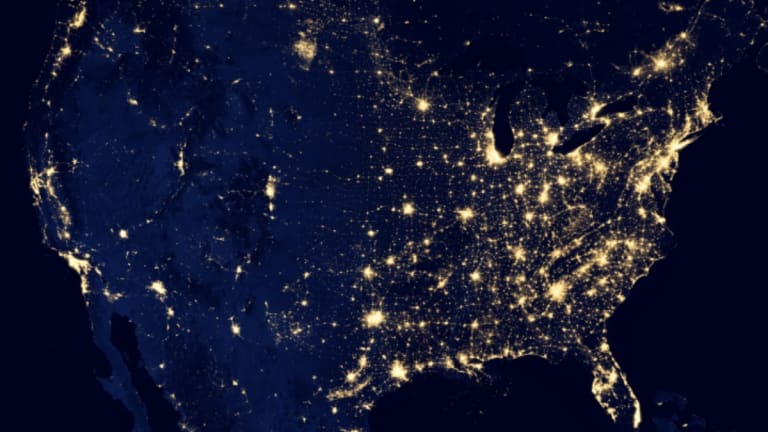 Can Biden Stop America's International Decline?
Frank Fear: The bitter reality is that our country is lagging behind the developed world in fundamental ways. Ironically, the task before us is to 'make America great again.'
It's easy to get carried away with rankings, but I don't think that posture applies this time. I'm talking about America's international standing in 2020 as measured by The Social Progress Index. We're ranked #28in the world. In 2017, the U.S. was ranked #18.
In 2015, we were #16. In 2013 (the SPI's first year), America placed #6. Why are we falling in the rankings? We'll answer that question later. First, let's get a handle on the measurement system. 
Called "the best metric of national performance," The Social Progress Index measures performance across 163 countries using a system that analyzes data associated with 50+ social indicators selected from hundreds of possibilities. Academics and practitioners were involved in the screening process. Data availability and accuracy were factored into the indicator selection process.
The bitter reality is that our country is lagging behind the developed world in fundamental ways. Ironically, the task before us is to 'make America great again.'
Three dimensions are measured—Basic Human Needs, Foundations of Well Being, and Opportunity—and country scores are presented in order from #1 to #163, with like-scoring countries grouped into six tiers.
In the 2020 analysis, the Tier 1 ranked highest internationally (#1-#10) were Norway, Denmark, Finland, New Zealand, Sweden, Switzerland, Canada, Australia, Iceland, and The Netherlands. The top-ranked countries in Tier 2 (#14-#42) were Luxembourg, Austria, Belgium, South Korea, France, Spain, the United Kingdom, and Portugal.
At #28, the United States was ranked in the middle of Tier 2, immediately following Greece and immediately before Singapore. Tier 6 countries that ranked lowest internationally (#163-#154) were South Sudan, Chad, Central African Republic, Eritrea, Somalia, Burundi, Niger, Democratic Republic of Congo, Afghanistan, and Guinea.
Patterns in the data are clear. The top-ranked Tier 1 countries are located in Western/Northern Europe and the South Pacific, save one—Canada. The top-ranked Tier 2 countries are located in Western Europe except for South Korea. All of the bottom-ranked countries are located in Africa, except for Afghanistan.
While country placement in the SPI tiers is based on country performance, you can also look at findings using peer reference. And that option may be the most troubling aspect of the findings as far as the U.S. is concerned. When you consider the countries with which the U.S. competes and is compared, it is not possible (using 2020 SPI data) to find any country that underperforms America.
That's right. America brings up the rear. In addition to the peer nations already mentioned (e.g., the United Kingdom, Canada, and Australia), other peers—Germany and Japan also rank high—#11 and #13.
That means none of America's peers rank lower than we do at #28. (Note: Because of insufficient data, China is not included in the SPI)
Using SPI data as a yardstick, the U.S. needs to improve in a variety of areas. Writing in Quartz, Annalisa Merelli identifies these: "maternal health, political rights, discrimination against minorities, greenhouse gas emissions…all of the indicators of personal safety (e.g., homicides), and in health and wellness, such as life expectancy, access to medical care, and premature deaths."
And Merelli points out that the U.S. is the only G7 country—among Canada, France, Germany, Italy, Japan, the United Kingdom, and the United States—that has declined in social progress performance over the last decade.
In 2017,Business Insider warned that "the U.S. was 'flatlining' compared to countries like Canada and Germany." BI quoted SPI CEO Michael Green as saying, "The U.S. is not underperforming because of the Trump administration or the Obama administration.
It's about the story of long-term underinvestment in the justice system, in the education system, and in healthcare." And in The Huffington Post, Harvard prof Michael Porter, who contributed to SPI's development, wrote: "We need smarter government spending based on best practices drawn from around the world…. The starting point…is realism about where we stand and where we must get better."
Why has the US fallen as it has? I believe it's Neoliberalism, which includes a commitment to low taxes and tax cuts, reliance on trickle-down economics and the corporate sector, large doses of philanthropy, smaller government, loosened regulations, and privatization of the public sector, among other policy choices.
That approach not only hurts many of America's most vulnerable people, its long-term application has tarnished America's standing in the world. Progressives have made both assertions for a very long time.
What about today? There are pervasive feelings of relief and enthusiasm now that Trump is out and Biden is in. But will that translate into progress regarding Porter's hope, that is, public admission of where we stand and strong commitment to improving?
While faith and hope are virtues of the day, hard proof requires something more. Getting there isn't rocket science either. It's about making a philosophic choice and, then, exhibiting the political will to see things through. Most prominent in that regard is increasing America's investment in the public sector.
And if Neoliberalism is the problem, Democratic Socialism is the answer. Witness which countries were ranked highest in the 2020 SPI Index— Norway, Denmark, and Sweden. In 2017, Denmark was #1. In 2015, Norway was #1. In 2013, it was Sweden. What do those countries have in common? They all embrace Democratic Socialism as a public policy mantra.
In America, on the other hand, critics demonize Democratic Socialism, saying it's akin to Marxism. It's not.
Consider this plain-speaking definition, offered by 15-year old Nathan Hampton of Lexington, Kentucky. It was published during the 2020 campaign as a Letter to the Editor in the Lexington Herald-Leader. I view it as one of the best definitions of Democratic Socialism that I've ever read. Hampton writes:
"A Democratic Socialist is still a Capitalist, just one who seeks to restrain the self-destructive excesses of capitalism, and seeks to channel the use of government's use of tax money to creating opportunities for everyone. Democratic Socialists believe that both the economy and society should be run democratically to meet human needs—not simply to generate profits and well-being for a few."
What's astonishing to me in America today is just how many people view that interpretation as wrong-headed and dangerous. Quite the contrary, Hampton's perspective offers a meaningful and reasonable path forward to America's social progress.
And it's exactly what other countries have embraced as a means to social progress. Senator Sanders and others have said as much, and they've made it the core of their political vision and agenda.
The bitter reality is that our country is lagging behind the developed world in fundamental ways. Ironically, the task before us is to 'make America great again,' just not in the way Trump intended.
It's high time for America to step up and stop falling.
Frank Fear
You can listen to this article at Under the Radar with host Frank Fear