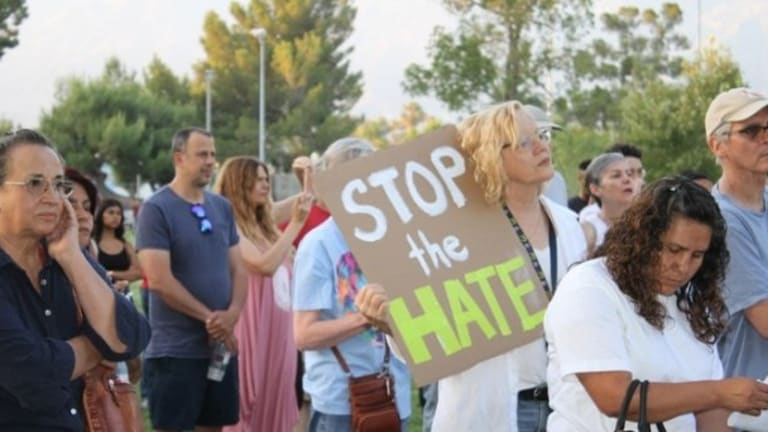 Pasadena Supports El Paso Shooting Victims, Denounces White Supremacy
This is the first time our adversaries have declared war against our immigrant community. The anger toward our community is reaching a boiling point, fueled by the heated politics of immigration.
This past Thursday, several hundred Angelenos gathered in Pasadena's Villa Park as a united front against the violence of the mass shooting in El Paso, whose shooters has acknowledged targeting Mexicans.
Signs carried by the crowd "welcomed immigrants and refugees, denounced hate and violence and accused the Trump administration of ethnic cleansing."
Here are comments in English and Spanish from community members in attendance provided by ACLU SoCal Pasadena/Foothills board member Yuny Parada:
As communities of immigrants and refugees, our hearts beat with El Paso: A community that straddles borders and cultures, a symbol for safety and inclusion for people from around the world, citizens and non-citizens alike.
Como una comunidad de inmigrantes y refugiados, nuestros corazones laten con El Paso: una comunidad que se extiende entre fronteras y culturas, un símbolo de seguridad e inclusión para personas de todo el mundo, ciudadanos y no ciudadanos por igual.
We are here today to remember and celebrate the lives lost, and recommit to confronting the worldview behind the violence committed.
Hoy estamos aquí para recordar y celebrar las vidas que fueron robadas en esta masacre, y comprometernos a enfrentar sin miedo la violencia y mensajes de odio.
This is the first time our adversaries have declared war against our immigrant community. The anger toward our community is reaching a boiling point, fueled by the heated politics of immigration.
This is a destructive moment for this country. This is the first time our adversaries have declared war against our immigrant community. The anger toward our community is reaching a boiling point, fueled by the heated politics of immigration.
Este es un momento destructivo para este país. Esta es la primera vez que nuestros adversarios declaran la guerra a nuestra comunidad inmigrante. La ira hacia nuestra comunidad está llegando a un punto de ebullición, alimentada por la política amarillista sobre inmigración.
We have to fight against it, to be intelligent and find ways to defend ourselves — not with fear or hatred in our hearts.
Tenemos que luchar contra eso, ser inteligentes y encontrar formas de defendernos, pero no con miedo u odio en nuestros corazones.
The massacre of more than 20 people Saturday by a man who traveled 650 miles to a Walmart in El Paso, reportedly with the intention of shooting "as many Mexicans as possible," marks what appears to be one of the deadliest hate crimes ever against Latinos.
La masacre de más de 20 personas el sábado por un hombre que viajó 650 millas a un Walmart en El Paso, supuestamente con la intención de dispararle a "tantos mexicanos como sea posible", marca lo que parece ser uno de los crímenes de odio más mortíferos contra los latinos.
The president of the United States was elected in large part on an anti-Latino agenda. There is no other way you can feel about it other than offended and attacked.
El presidente de los Estados Unidos fue elegido en gran parte gracias a su agenda anti inmigrantes.
White nationalism is the purest form of identity politics,It seeks to define 'Americanness' by one's lineage and ancestry. It views the growing Latino population as an invasion, as illegal, as criminal — as less than human, this has created the next obvious step: violence.
El nacionalismo blanco es la forma más clara de política de identidad. Busca definir la "americanidad" por su linaje y ascendencia. Considera a la creciente población latina como una invasión, como ilegal, como criminal; como menos que humana, esto ha creado el siguiente paso obvio: la violencia.
Today, we must reaffirm our commitment to that strength. And we must redouble our commitment to defeat the vile worldview of white supremacy. Today, it is a moral imperative that decent people, and all Latinos, speak out.
Hoy, debemos reafirmar nuestro compromiso con esa fortaleza. Y debemos redoblar nuestro compromiso de derrotar la vil visión de la supremacía blanca. Hoy, es moralmente imperativo que la gente decente, y todos los latinos, levanten la voz.
What happened here was foreseeable and deliberate. Two tendencies have intersected that invariably will lead to this despicable violence. The uncontrolled access to weapons of war that has enabled mass atrocities in cities over and over again has converged with the white supremacist political agenda that we see at every Trump rally, that we hear in every Trump speech.
Lo que sucedió aquí fue deliberado. Se han cruzado dos tendencias que inevitablemente conducirán a esta terrible violencia. El acceso incontrolado a las armas de guerra que ha permitido atrocidades masivas en las ciudades una y otra vez ha convergido con la agenda política de la supremacía blanca que vemos en cada mitin de Trump, que escuchamos en cada discurso de Trump.
Too many local, state, and federal elected officials have remained silent, and worse, have served as a conduit to this worldview.The hate-filled speeches that incite violence, the criminalizing of entire families and communities, and the scandalous collusion of elected officials with hate groups – enough is enough.
Demasiados funcionarios electos locales, estatales y federales han permanecido en silencio y, lo que es peor, han servido como conducto para esta agenda. Los discursos llenos de odio que incitan a la violencia, la criminalización de familias y comunidades enteras y la confabulación de funcionarios electos con grupos de odio debe parar por que ya es suficiente.
We know that those who profit from weapons sales, who despise gun control, are often the same profiteers that make millions from arresting immigrants and putting children and families in migrant concentration camps. They profit from the politics of hate and fear. Their objective is fear. They want white people to fear immigrants. For immigrants to fear government.
Sabemos que aquellos que se benefician de la venta de armas, que desprecian el control de estos artefactos, a menudo son los mismos que se aprovechan y que hacen que millones de personas arresten a inmigrantes y pongan a niños y familias en campos de concentración de migrantes. Se benefician de la política del odio y el miedo. Su objetivo es el miedo. Quieren que los blancos teman a los inmigrantes. Para que los inmigrantes teman al gobierno.
We do not hate them, and we are also not afraid of them. We know that our courage will always be greater than fear.
No los odiamos pero tampoco les tenemos miedo. Sabemos que nuestro valor siempre será más fuerte que el miedo.
What's been polluted by hatred and racist violence will be cleansed by joining our voices and our hearts. When we join together, our voices of compassion and solidarity are universal and cross borders. Our collective strength has the ability to alleviate pain, to confront injustice, and to fortify our resistance.
Lo que ha sido contaminado por el odio y la violencia racista se limpiará uniendo nuestras voces y nuestros corazones. Cuando nos unimos, nuestras voces de compasión y solidaridad son universales y transfronterizas. Nuestra fuerza colectiva tiene la capacidad de aliviar el dolor, enfrentar la injusticia y fortalecer nuestra resistencia.
Here are a list of demands gathered by the rally's attendees.
America must confront and root out the vile and pernicious ideology of white supremacy that has brought death and fear to our communities.Our elected leaders, and other prominent public figures, must directly and assiduously confront this threat. No more dehumanization from the Oval Office. No more hand-wringing over demographics. No mealy-mouthed pandering. No deflection to 'videogames' or 'mental illness'. No silence that serves as de-facto facilitation of this racist agenda. No collusion of public officials with hate groups, at any level of government. Everyone must denounce this hatred, clearly, fervently, and promptly. There can be no appeasement. Either you stand with the welcoming and inclusion of El Paso, or you stand with a murderer who would kill us to suppress those values.
Estados Unidos debe confrontar y erradicar la vil y perniciosa ideología de la supremacía blanca que ha traído la muerte y el miedo a nuestras comunidades.Nuestros líderes electos, y otras figuras públicas prominentes, deben enfrentar directa y asiduamente esta amenaza. No más deshumanización desde la Oficina Oval. No más pretextos sobre "videojuegos" o "enfermedad mental". No más silencio que sirva para facilitar esta agenda racista. No más funcionarios públicos confabulando con grupos de odio, en ningún nivel de gobierno. Todos deben denunciar este odio, con claridad, fervor y prontitud. No puede haber apaciguamiento. O estás a favor de la inclusión de El Paso, o estas del lado de un asesino que está dispuesto a mata para suprimir esos valores.
Meaningful gun control legislation must be enacted without delay.We join the millions of voices already calling for action on gun control and demand that the voices of those directly impacted by gun violence be heard and their demands be acted upon. Congress and the President must, with all due speed, move to enact legislation banning the civilian sale of assault weapons and high-capacity magazines. Congress must put in place universal background checks that close loopholes in gun sales. And, Congress must additionally enact legislation putting in place 'red flag' laws allowing courts to bar people where there is a record, based on evidence, of someone posing a risk to themselves or those around them. We also know that officials at all levels of government can and must take parallel actions.
Se debe promulgar legislación significativa sobre el control de armas sin demora. Nos unimos a las millones de voces que ya llaman a la acción sobre el control de armas y exigimos que se escuchen las voces de las personas directamente afectadas por la violencia armada y que se cumplan sus demandas. El Congreso y el Presidente deben, con la debida rapidez, actuar para promulgar una legislación que prohíba la venta civil de armas de asalto y cartuchos de alta capacidad. El Congreso debe establecer verificaciones de antecedentes universales en la venta de armas. Además, el Congreso debe promulgar leyes que establezcan "señales" que permitan a los tribunales prohibir a las personas que tengan un registro, basado en evidencia, de que representan un riesgo para ellos mismos o para quienes les rodean. También sabemos que los funcionarios de todos los niveles del gobierno pueden y deben tomar medidas paralelas.
Migrants and immigrant communities must be treated with the dignity and humanity they/we, as people, deserve. Concentration camps must close and people allowed to pursue due process while free. Abuses and deprivations within these camps - withholding adequate access to food, water, medicine, and sanitation, or verbally and physically assaulting men, women, and children, must end. Families must be made whole and children comforted from the traumas we have inflicted upon them. Families must also be given their due freedom. Migrants must have meaningful access to counsel and due process. Government agencies must operate in transparent and accountable manners. We will not negotiate safety, dignity, and rights.
Los migrantes y las comunidades de inmigrantes deben ser tratados con la dignidad y humanidad que ellos / nosotros, como personas, merecemos. Los campos de concentración deben cerrar y las personas deben seguir el debido proceso mientras están libres. Los abusos y las privaciones dentro de estos campamentos: la retención del acceso adecuado a alimentos, agua, medicinas e higiene, o el asalto verbal y físico a hombres, mujeres y niños, deben terminar. Las familias deben ser integradas y los niños consolados por los traumas que les hemos infligido. Las familias también deben tener la debida libertad. Los migrantes deben tener acceso significativo a asesoramiento y debido proceso. Las agencias gubernamentales deben operar de manera transparente y responsable. No negociaremos seguridad, dignidad y derechos.
Our communities must be heard, and the story of our border and our border communities re-written so that we might embrace the hope and opportunity of who we can be. We stand together at the border and beyond, and lift our voices--we insist America stop to listen. We will not talk about our children and our struggles in a vacuum. We must connect this crisis to its root causes, to historical and systemic injustices, to the decades-long criminalization of immigrant families and militarization of border communities, to the oppression not only of people who cross the border but also those who live along it. The systems that nurture and promote white nationalism and racism must be confronted and dismantled.
Nuestras comunidades deben ser escuchadas y la historia de nuestra frontera y nuestras comunidades fronterizas deben reescribirse para que podamos abrazar la esperanza y la oportunidad de quienes podemos ser. Nos mantenemos unidos en la frontera y más allá, y alzamos nuestras voces: insistimos en que Estados Unidos se detenga a escuchar. No hablaremos sobre nuestros hijos y nuestras luchas en el vacío. Debemos conectar esta crisis a sus causas profundas, a las injusticias históricas y sistémicas, a la criminalización de las familias de inmigrantes y la militarización de las comunidades fronterizas durante décadas, a la opresión no sólo de las personas que cruzan la frontera sino también de quienes viven a lo largo de ella. Los sistemas que nutren y promueven el nacionalismo y el racismo blancos deben ser confrontados y desmantelados.
We must talk about the border differently, embracing a new narrative that encompasses human and civil rights. Just as borders outline and define a nation, its gateways exemplify its character. Once it was Ellis Island, and the Statue of Liberty, her lamp lifted to guide and welcome the stranger. Today it is razor-encrusted border walls and the private prison industry. The US must renew — not deny and defile — its values as a nation of immigrants.
Debemos hablar sobre la frontera de manera diferente, abrazando una nueva narrativa que abarque los derechos humanos y civiles.Así como las fronteras delinean y definen una nación, sus puertas ejemplifican su carácter. Una vez que fue Ellis Island, y la Estatua de la Libertad, su lámpara se levantó para guiar y dar la bienvenida al extraño. Hoy se trata de muros fronterizos incrustados con cuchillas y la industria penitenciaria privada. Estados Unidos debe renovar, no negar y contaminar, sus valores como nación de inmigrantes.