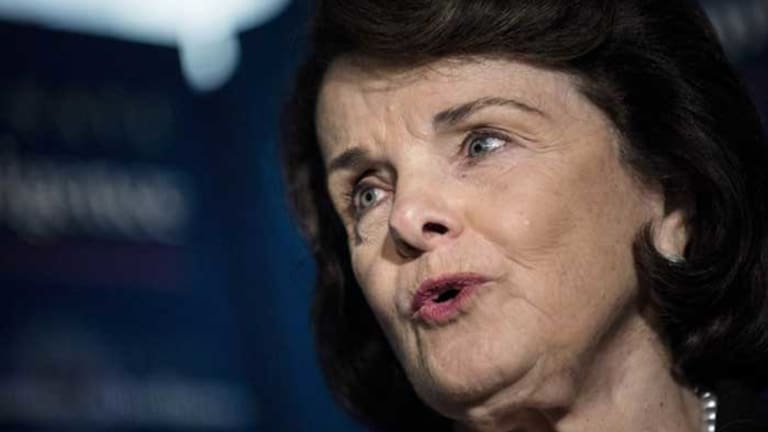 New Political Generation on Hold as Elder Democrats Hang On
Carla Marinucci: The next few years will be a turning point for the Democratic Party in California — with the very real possibility that the "big three" of Brown, Feinstein and Boxer will leave office by 2018.'
When Rep. Mike Honda celebrated his hard-fought re-election win in Silicon Valley over fellow Democrat Ro Khanna, his victory speech crystallized one of his party's biggest challenges in California as it looks toward the future.
"There's no reason to retire," the 73-year-old Honda exulted when his narrow victory over Khanna, 38, was assured. "I'm going to live until 103. ... I'm not going anywhere."
While Honda's grit and enthusiasm is a boon to his progressive and labor backers, his stated determination to hang on to his House seat for years to come underscores the fears of some Democrats that they head into the 2016 elections in danger of losing ground to Republicans with critical Millennial voters.
Some political observers suggest that a "gerontocracy" dilemma looms for Democrats, who fired up millions of young voters with a fresh face named Barack Obama in 2008, but who now face the dominance of the party's older officeholders and the difficulty of its younger generation in moving up the ladder.
In what he called a post-election "wake-up call," Simon Rosenberg, who heads NDN, a Democratic think tank in Washington, warned his party last week that the Democratic National Committee must take the lead in "recruiting and training a new generation of candidates and operatives needed to beat a new generation of Republicans."
'Children of Reagan'
"Part of what we are witnessing is the coming to power of the children of Reagan — fortysomething Gen Xers who came of age during the Reagan era," Rosenberg said. "This generation of politicians is young, gaining in experience, and will be a force to be reckoned with in institutional and state politics for generations to come."
In California, Democratic leadership is dominated by older warriors — from Gov. Jerry Brown, 76, to state party Chairman John Burton and Sen. Dianne Feinstein, both 81, to House Minority Leader Nancy Pelosi and Sen. Barbara Boxer, both 74.
Most members of the Bay Area's House delegation — all of them Democrats — are in their 60s and 70s. The lone exceptions are Reps. Jared Huffman of San Rafael, 50, and Eric Swalwell, 33, of Dublin — who, like Khanna, bucked the Democratic Party establishment and the White House when he took on a long-term incumbent. Unlike Khanna, Swalwell won his race, defeating 20-term Rep. Pete Stark in 2012.
A recent USC Dornsife/Los Angeles Times poll showed that although Boxer and Feinstein are still popular with voters, nearly 60 percent of respondents said they wanted fresh faces to take their jobs.
Patience running out
With Republicans about to seize control of the U.S. Senate and speculation growing that Boxer won't run for re-election in 2016, the political gossip mill is churning about the patience — or lack thereof — of younger Democrats who have been biding their time for several years.
"I don't think talent is going to wait," said Republican strategist Rob Stutzman, citing a Democratic bench that includes Lt. Gov. Gavin Newsom, Attorney General Kamala Harris, Controller John Chiang and a host of House members.
If Boxer "doesn't retire, I don't know why she wouldn't be challenged from within her party," Stutzman said. "And it will almost certainly happen to Feinstein," who will be 85 when she comes up for re-election in 2018, he said.
If Boxer "doesn't retire, I don't know why she wouldn't be challenged from within her party," Stutzman said. "And it will almost certainly happen to Feinstein," who will be 85 when she comes up for re-election in 2018, he said.
Even on the national stage, the Democratic leadership has a distinctly gray tinge. The party's leading presidential hopeful is Hillary Rodham Clinton, 67, in contrast to a Republican field that could include Sens. Rand Paul, 51, and Ted Cruz and Marco Rubio, both 43.
"Wisdom comes from experience — but a lot of these people have a little too much," said political commentator Patrick Dorinson. "When you've been in power a little too long, with little opposition, you get entrenched. And the more they do that, the more they allow the Republicans to develop the new talent."
GOP consultant Kevin Spillane says Democrats hoping to attract Millennials "will have to change, or Republicans are going to win."
Key East Bay race
He points to new faces like Catharine Baker of Pleasanton, 42, an attorney and mother of two school-age children. The moderate Republican won her East Bay Assembly race despite a well-funded challenge from Democrat Tim Sbranti, who had the backing of the California Teachers Association and Democratic establishment figures including Brown.
Baker, the first Republican to win election to state office from the Bay Area since 2006, said her victory was the product of an effort by state GOP leaders to cultivate younger candidates at every level.
She stressed education and jobs, not social issues. Her appeal to crossover and younger voters came because "I was an outsider, not an elected official," she said.
Being pitted against big unions, a prime source of Democratic campaign funding, helped rather than hurt her in the suburban district that stretches from Livermore to Orinda, Baker said.
"That's another big component in change," she said. "I had a lot of people tell me I was the first Republican they've ever voted for."
Republicans also fielded a crowd of fortysomething candidates for statewide office in the general election. GOP officials acknowledge it could take another election cycle — or more — to overcome the Democrats' 15-point voter registration advantage. But in this election, Fresno Mayor Ashley Swearengin, who ran for controller, and secretary of state candidate Pete Peterson both won endorsements from major newspapers and gained a platform for future runs.
Younger Republicans such as Swearengin, Baker and Neel Kashkari, the party's 41-year-old candidate in the gubernatorial election, have one advantage their junior Democratic counterparts lack — the GOP has been out of power so long, there's no old guard to block the way up.
Former San Leandro Mayor Anthony Santos, who ran for re-election in 2010 at 78 — and lost — says he advises his fellow Democrats not to stay too long in the job.
"There are too many Democrats who are well over 70 and have no idea what it is like to be young — and what the younger people are thinking and what their needs are," Santos said.
Excellent example
Democratic observers said the House race between Honda and Khanna was a prime example of the party's dilemma.
Honda has the advantages in Washington of seniority and seven terms of experience, which he said helped in securing such benefits for his district as funding to extend BART toward San Jose.
Khanna, however, would have attracted rising-star buzz on Capitol Hill, as an Indian American and favorite of the tech crowd — no small consideration for a party reliant on Silicon Valley fundraising.
Honda did nothing to endear himself to those donors — or the valley's young tech innovators — in his victory speech when he said the election "could not be bought" by "millionaires and billionaires."
With few incumbents to protect, Republicans are concentrating on rebuilding the party through programs such as Trailblazers, which targets promising young GOP candidates, and GROW Elect, which encourages Latino Republican up-and-comers at the local level, said party strategist Aaron McLear.
Republican diversity
In the state Legislature, still overwhelmingly Democratic, Assembly GOP leader Kristin Olsen of Modesto noted that there will be more women among Republicans than Democrats in the next session.
Among the GOP newcomers are three Asian American women from Orange County — Ling-Ling Chang and Young Kim, who won Assembly races, and Janet Nguyen, a former refugee from Vietnam who won her state Senate race in a landslide.
Political consultant Rich Schlackman said Democrats have their own rising stars, pointing to Newsom, Harris, Secretary of State-elect Alex Padilla and Treasurer-elect Betty Yee.
And at the local level, Oakland Mayor-elect Libby Schaaf could be someone to watch, Democratic observers suggest. Even Khanna may be heard from again, if he can find a clear path, they say.
Larry Gerston, a political science professor at San Jose State University, said the next few years will be a turning point for the Democratic Party in California — with the very real possibility that the "big three" of Brown, Feinstein and Boxer will leave office by 2018.
Then, he said, "you'll see a flurry of people trying to move up."
Carla Marinucci
SF Gate