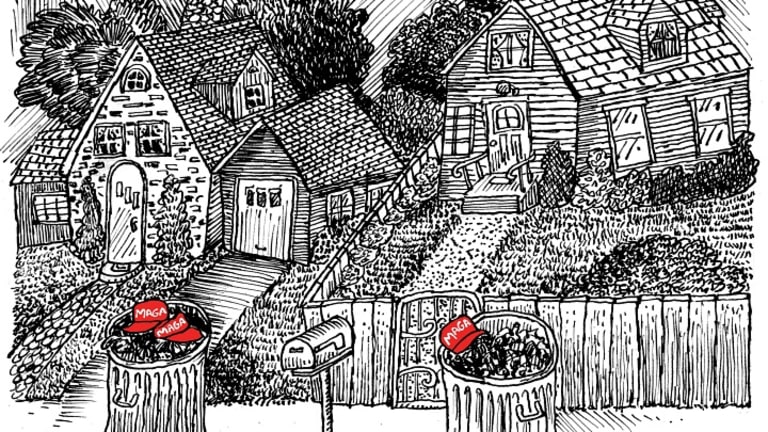 Eternal Sunshine
Karen Tran-Harding: I hope that those that participated in the assault on the Capitol that day realize that their actions actually created an opposite reaction.
Why even after the recent assault on Capitol Hill, I'm choosing positivity
I have always been an optimistic person. Even though the past tumultuous year kept dragging us all down, I committed to a positive attitude – it's probably how I have gotten through my darkest days as a physician.
When the coronavirus was ramping up last spring, my husband lamented that the vaccine was not going to be ready for another year and that we and everyone we loved could die. I kept telling him that we should try to hope for the best. Because as health care providers, a vaccine was one small ray of hope for us to hold on to our sanity during the coronavirus pandemic. Thankfully, vaccinations began in December, months earlier than we anticipated, giving us some potential to tame the health crisis.
I hope that those that participated in the assault on the Capitol that day realize that their actions actually created an opposite reaction.
Leading up to the presidential election, my husband was fearful that Trump would win a second term. I told him I thought that after four years of Trump that, yes, there's a huge, crazed MAGA fan base but that I believed more Americans had had enough and would turn out to vote him out of office. Then Joe Biden and Kamala Harris finally won the election to become the next president and vice-president of the United States.
After election day, my husband was extremely uneasy that the courts were going to overturn the legitimate results. I reassured him that the decisionmakers knew the Trump lawsuits were ludicrous. Over time, of the 62 lawsuits filed by team Trump, 61 have now failed.
My husband became a lot more positive as it came time to certifying the Electoral College votes. But in the days leading up to the session, he had heard all the news of the potential coup attempt at the Capitol and was anxious that there was going to be violence. I told him not to worry. Would people really think that storming the Capitol would actually put Trump back in power?
I never wanted to be more wrong. Just like many other Americans, I watched the violence in Washington, D.C. with shock and despair. Fostered by authoritarian lies and unlawful pressure to influence election officials to disregard the will of the people, the assault on the Capitol to disrupt the finalization of election results revealed a serious threat to our constitutional order. Especially since this particular act caused the appalling deaths of five Americans during the turmoil, it was especially difficult to remain positive.
But I keep on trying.
I reminded myself that Reverend Raphael Warnock and Jon Ossoff had just won the tight Georgia runoff just hours before. And that Democrats now have the Senate, the House, and the Presidency.
I remembered that multiple Republicans, Cabinet members, and aides were starting to finally publicly distance themselves from Trump.
And yes, those Trump supporters separated themselves way too late and already helped light the fire that incited the chaos at the Capitol. But a tiny part of me does understand that politicians feel the need to do whatever they can to get re-elected and have their party's agendas passed, even if that means aligning yourself with a morally objectionable figure.
A lot of people are disgusted that these former Trump supporters were willing to enable this insanity and are just now having moments of self-reflection to save their reputations after the violence. Absolutely none of these lawmakers should be given any praise, but I liken the situation to a bank robbery. If these people were all trying to rob a bank and the job is going south, I would rather have them back down and admit the idea was stupid than double down and shoot a hostage. But yes, even the participants in that scenario still need to be arrested and prosecuted to the fullest extent of the law.
This all made me appreciate the Republican lawmakers that were early and open critics of Trump that much more, despite knowing that they could be losing votes. A small part of me hoped that maybe some of those former Trump supporters are actually good people deep down but chose career and ambition over decency for far too long.
I usually don't watch even watch live Congress sessions but after the insurrection that transpired, I watched the Senate and the House of Representatives certify the electoral votes. I needed to see American democracy stand up and continue on despite what violent protestors tried to do.
When it came time for the certification of the Georgia votes and the representative from Georgia brought up their objection, I held my breath. But when Vice President Pence stated that the objection needed to be signed by both someone from the House and the Senate and the Georgia representative responded that their Senators withdrew their objections after the events of the day, it was momentous. Especially when the people of the joint session clapped. And I hope that those that participated in the assault on the Capitol that day realize that their actions actually created an opposite reaction.
It's no doubt still a horrible time in our country. Some people in positions of power are going to keep lying and claim that the free and fair election was fraudulent and some Americans are going to keep believing them. But to sustain our rule of law, we need to promote widespread commitment by as many citizens as possible to the values that sustain democratic self-government. We can never let those trying to tear down our constitutional order ever win.
I will always be optimistic that America will continue to stand firm and uphold our great democracy no matter these obstacles. Because despite all these dark recent events, our democratic process has again proven itself resilient and I know it will always continue to do so.
Karen Tran-Harding
How the Other Side Thinks