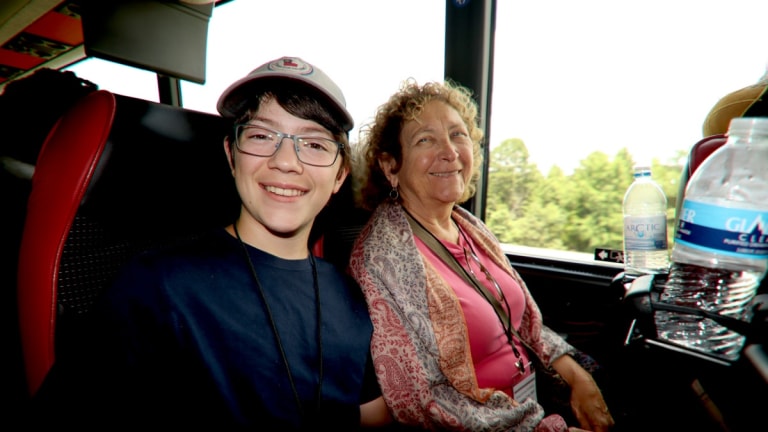 Freedom Ride for Voting Rights & Lessons Learned
Vivian Rothstein: Without the engagement of ordinary people in the political life of our nation, elected leaders cannot and will not make the progress we need.
In Tulsa, Oklahoma, at the city's massive Juneteenth celebration, my 14-year-old grandson Sam and I met up with 180 hospitality workers, clergy and community activists headed to Washington, D.C. on the Freedom Ride for Voting Rights. Our route would take us near Leake County, where I had worked 56 years ago to advance voting rights as part of the second Mississippi Freedom Summer Project in 1965. The plan was to meet up with activists from Black Voters Matter in D.C. to lobby members of Congress for passage of Senate Bill 1 and put an end to the filibuster.
We had slightly more than an hour to scramble through the crowds and buy dinner from a food truck before grabbing a seat on the bus and heading to the local Holiday Inn Express. By the time we arrived at the hotel, our chicken and waffles were cold and we were too tired to eat–good practice for our leg of a complicated trip of four buses traveling across the country while absorbing our nation's history of racial violence.
Before the school year ended, Sam had written an eighth grade paper on voter suppression in which he concluded that it "disproportionately harms minorities, giving them less of a voice in our government, which makes it even more difficult to address other issues relating to discrimination and equality."
Without the engagement of ordinary people in the political life of our nation, elected leaders cannot and will not make the progress we need.
Impressed with his choice of topic and how seriously he considered it, I asked him to join me in this grassroots campaign to urge Congress to pass federal voter protections. With 389 Republican bills now introduced in 48 states to make voting less accessible for communities of color, it was definitely time to act.
Sam is a can-do kind of kid. He's enthusiastic about lots of things – Dungeons and Dragons, singing in the school chorus, talking about politics. Like most 14-year-olds, he wants to be taken seriously by adults.
We couldn't have been assigned a more congenial or generous busload of people with which to make the trip. The Green Bus, as ours was called, was filled with:
members of the hospitality workers union UNITE HERE Local 11 from Arizona, California and Hawaii;
Interfaith activists young and old
and members of community organizations
Our bus was like our country – diverse in age, culture, race, economic class, country of origin and family status. I was delighted to get acquainted with a young Asian American woman who is a sous chef at the Waldorf Astoria in Beverly Hills, attended art school and is an accomplished archer.
And I appreciated a pastor on the bus sharing with me the story of his 15-year battle with drugs and homelessness before cleaning up his life and attending seminary. Everyone was engaged and interesting and had a story to tell, and many were glad to see a 14-year-old who cared enough to join this demanding journey.
The bus "captain" used the onboard mic for introductions, singing and personal storytelling. I shared my experience as a 19-year-old Mississippi Freedom Summer volunteer accompanying Black citizens to the courthouse to register to vote.
I had watched as one woman was asked to read aloud a section of the state constitution and interpret its meaning to the satisfaction of the clerk. Of course, she failed to qualify. This type of experience and countless others, shared in films and museums along the route, put current voter suppression efforts and the movements to fight them into an historical context of white supremacy that was most vivid in our Southern states.
My story and many others were shared through video with the entire UNITE HERE caravan of 29 buses and some 1,500 riders from a total of 21 states. For the rest of the trip, the other Freedom Ride for Voting Rights members came up to thank me for working on voting rights back in the 1960s and for bringing my grandson to carry on the tradition. I was taken aback as they snapped selfies with me and Sam and expressed such sincere appreciation.
We stopped at the monument to the Little Rock Nine – brave students who had risked their lives to integrate the formerly segregated Central High School in Little Rock, Arkansas, in 1957. I was struck by the fact that it was high school students who had the courage to suffer the taunts and threats in making this historic change.
Sam is going to enter high school in the fall; I'm not sure he made the connection. I couldn't help but remember the biblical phrase from Isaiah: "And a little child shall lead them."
The most powerful part of the trip for us was the stop in Montgomery, Alabama, a center of American commerce. People were transported by boat and held in pens until brokers sold them at the nearby auction block. The Legacy Museum, a project of the Equal Justice Initiative organized by Bryan Stevenson, uses creative technology to bring the people held in these pens to life as one enters the museum.
Sam and I were transfixed as we witnessed slave narratives spoken by filmed actors in period dress as if the enslaved people were standing before us. They shared the desperation and hopelessness that grew out of losing children and watching partners being sold, never to be seen again.
Another exhibit reproduces a prison visitor station where you pick up a telephone and a prisoner shares his or her story of years in solitary confinement, often for crimes committed as juveniles or not committed at all. It's the intimate communication of looking in the person's eyes and hearing their history of incarceration and abandonment that makes the emotional link between slavery and our current criminal "in-justice" system, which is a major focus of the exhibits. Sam said the museum helped him see "how connected slavery is to all of the modern-day issues we're facing."
That visit was followed by a walk to the National Memorial for Peace and Justice, often called the Lynching Museum, which is on a hill a few blocks away. Also created by the Equal Justice Initiative, the monument inscribes the names and dates of death of the 4,000-plus Black men, women and children who were lynched in the U.S. between 1877and 1950, sometimes as many as 20 a day in the same county.
I was anxious to find the Mississippi county where I lived in the summer of 1965 to see what its lynching history was. Sam helped me walk through the memorial to find it and, as we searched, the floor dipped and the pillars with the names and dates of the individuals lynched loomed above us. It felt like the weight of our nation's racist history was crushing us.
These emotional and troubling visits led to deeply personal exchanges on our bus about how the country's legacy of racial violence has been experienced by African Americans and their families into the present time. Listening to these stories helped me get in touch with the intense feelings of grief, anguish and fear that can be experienced when a loved one dies, not from accident or illness, but deliberately at the hands of another human being.
Many of our busmates learning this history of oppression and resistance were veteran election campaign canvassers, having safely staffed some of the nation's most successful door-knocking efforts during the height of the COVID-19 pandemic. Local 11's organizing helped:
win Arizona for the Biden-Harris ticket,
was instrumental in giving Georgia two Democratic senators,
and played an important role in securing Arizona Sen. Krysten Sinema her seat
The door knockers — union members laid off during the pandemic joined by local students and community activists – found out first-hand what it takes for working class people, youth and those with limited resources to vote.
Marilyn Wilbur, an 18-year military veteran on our bus who helped the union knock on over 1 million doors in Arizona, explained her participation in the Freedom Ride for Voting Rights: "I didn't risk my life in Iraq to have election officials take away my voting rights."
It was people like Marilyn and the sense of community and common purpose we shared that made the biggest impression on Sam. We all had similar views about protecting voting rights even though we differed in every other way. Through this grueling, eye-opening and inspiring collective experience, I believe these present-day Freedom Riders, including my 14-year-old grandson, developed an understanding of the hard and sustained work needed to make durable social change to include. 
"It was a once-in-a-lifetime experience," Sam told me.
I hope, however, that isn't the case. As was often expressed in the 1960s civil rights movement, "freedom is a constant struggle," and grassroots mobilizations like the Freedom Ride for Voting Rights need to be part of any strategy for change. Without the engagement of ordinary people in the political life of our nation, elected leaders cannot and will not make the progress we need.
Vivian Rothstein
Capital & Main