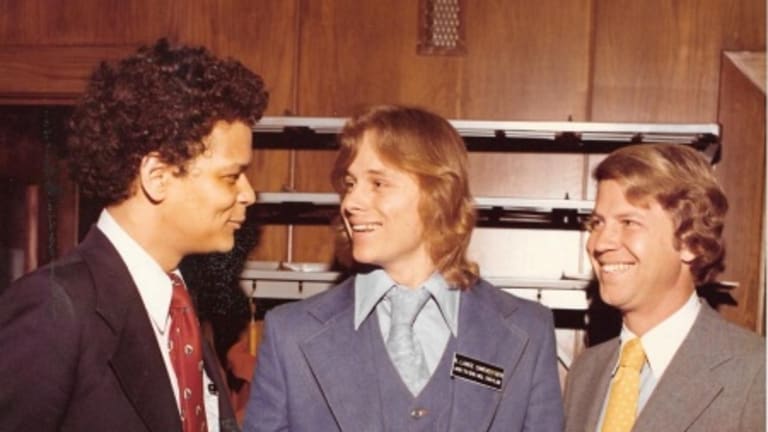 Georgia On My Mind
Lance Simmens: Georgia is on the precipice of becoming a reliable blue state from this point forward, but today it took a huge step backwards.
While I was not born in Georgia and thus legitimately cannot claim to be a son of the South I have spent a good deal of time and been educated, both academically and experientially, in the Peach State.
In 1971 I left Philadelphia to attend college at Georgia Southern in Statesboro, a quiet, sleepy little Southeast Georgia town of about 15,000 approximately 200 miles from Atlanta. At that time I-95 was is the process of being finished and the 800-mile trip would entail leaving many segments of the highway for Route 301 through the states of Virginia, the Carolinas and Georgia. The backroads would provide a virtual history lesson of a time long past but not forgotten. I can still recall billboards inviting county residents in those states to join the local White Citizens' Council, essentially an upscale version of the Ku Klux Klan organized to fight segregation. The signs were still up 17 years after Brown v. Board of Education.
During that time period overt racism was waning but still practiced. I remember having to go to the local health clinic uptown in my freshman year and caused quite a stir when I made the mistake of using the "colored" bathroom. I also vividly remember an old rusty sign with an arrow pointing down an alley way in town that read "colored motel." This was small town Georgia and illustrative of many towns in the South where it was actually divided by railroad tracks where living on the wrong side of the tracks carried a racial connotation.
Bulloch County, where the college was located, was a dry county and hence necessitated runs to the package store, literally 20 feet beyond the sign indicated neighboring Candler County, about 10 miles away. The store had a barrier separating it in two, with pool tables for blacks on one side and whites on the other.
Georgia is on the precipice of becoming a reliable blue state from this point forward, but today it took a huge step backwards.
I was asked to help organize a recreational program at the local County work farm just outside town because of my athletic prowess that first year of school. This was a correctional institute populated by the chain gangs that would spread out over the country roads of the county under the hot Georgia sun. Of course, the farm contained two dormitories, one black and one white and on weekends we would take donated baseball equipment and uniforms to prisoners that ranged from cattle rustlers to murderers and play on a hardscrabble clay field with guards equipped with shotguns positioned on the first and third base lines. Since the prisoners did not have athletic shoes they preferred to play barefoot, so as the stationary pitcher I joined in and took off my shoes as well.
In 1976 I was awarded a Governor's internship to serve in the Georgia State Senate in Atlanta. While there for the 90-day session I had the distinct honor and pleasure of working with State Senator Pierre Howard from Decatur, a metropolitan appendage to Atlanta, and he introduced me to State Senator Julian Bond. The two Senators and I would meet 2-3 days each week for lunch at the State government cafeteria, across the street from the golden-domed State Capitol, where we would engage in thoughtful conversation over pending legislation and history. And what a fascinating political mentor he would turn out to be.
Julian Bond had attended the George School, a Quaker prep school in suburban Bucks County, Pennsylvania while his father served as President of Lincoln University, a historically black university on the outskirts of Philadelphia. Since I had played baseball on the grounds of the prep school we immediately established a relationship. During the course of my internship, Senator Bond would introduce me to chitlins at a function at Spelman College and invited me to have dinner with Dick Gregory, who had spoken to a group at the Capitol that afternoon. The Senator would also discuss his favorite author, W.E.B. DuBois, who was one of many scholars his father would invite to join him at the house for dinner.
The Senator had been instrumental in establishment of the Student Nonviolent Coordinating Committee (SNCC) and the Southern Poverty Law Center (SPLC). He had been deprived of his seat in the Georgia House of Representatives in 1965 because of his outspoken opposition to the Vietnam War and sued House Speaker James "Sloppy" Floyd (you cannot make these things up) and ended up being seated when the US Supreme Court (Bond v. Floyd), in a unanimous decision in 1966, reversed a District Court decision denying him his seat in the State House.
Something probably not known by many, 1968 Democratic presidential candidate Hubert Humphrey was said to have discussed Mr. Bond as a potential vice-presidential candidate however at the time he was 28 years old and the Constitution would require him to be seven years older.
Senator Howard introduced me to Jimmy Carter and I would end up working for the Presidential candidate in the primary states of New Hampshire, Florida, New York, Pennsylvania, Indiana, Michigan and South Dakota and wound up working on the floor of the Democratic National Convention that summer in NYC.
Along the campaign trail I had the honor of attending a sermon by Martin Luther King, Sr., "Daddy King," at an African Methodist Episcopal church in Mt. Vernon, New York and was one of three individuals invited to join him in the sacristy of the church after the service. After securing my Master's degree at Temple University I went to Washington in the fall of 1978 and interned for Georgia Senator Herman Talmadge in preparation for a position as Congressional liaison at the Department of Housing and Urban Development in the Carter Administration.
I was also present in 1979 when Ray Charles performed "Georgia On My Mind" in the State House of Representatives, the very House where 14 years earlier Julian Bond was refused to be seated via an election he had legitimately won on three different occasions.
I have been lucky to have witnessed the evolution of the political ecosystem and race relations in my adopted home state. However it appears as though we still have a long way to go.
I have watched my adopted State evolve slowly and haltingly over the years to the point where two Democrats, one an African-American pastor at Ebenezer Baptist Church in Atlanta, where "Daddy King" served as pastor for 44 years, having been elected to the United States Senate just a few months ago. Georgia is on the precipice of becoming a reliable blue state from this point forward, but this week it took a huge step backwards.
It is with a heavy heart and a great deal of sadness that in light of the amazing progress I have personally witnessed over my life that the Georgia legislature today passed and the Governor signed what may be the most serious voter restrictions since the Jim Crow Era's legacy of poll taxes and literary tests. It is disgusting, racist, and Un-democratic and reflects hopefully the dissolution of the current Republican Party.
Trumpism will be an ugly curse that will be with us for some time and we as a society must be prepared to confront and cleanse ourselves of this scourge. Racism is as pernicious today as at any time in our lifetime and we must avoid slipping back towards a period where "Our Nation Is Moving Toward Two Societies, One Black, One White—Separate and Unequal," to quote findings in the 1968 Kerner Commission report.
If the Republican Party enthusiastically embraces this scurrilous movement in state legislatures across the nation, the course ahead is clear, we must obliterate it in its current form. So tonight I do have Georgia on my mind.
Lance Simmens