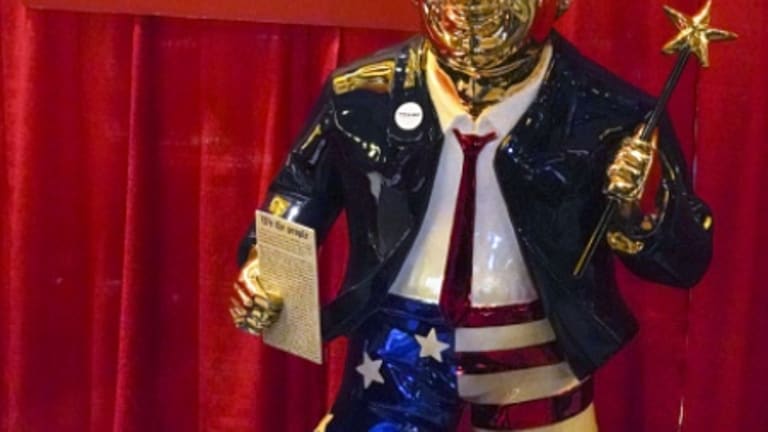 A Gilded Former Guy Hits Florida
Berry Craig: Those of the Jesus-loves-me-but-He-can't-stand-you persuasion eagerly worship a committed hedonist who prefers golf to church on Sunday.
That gleaming golden-hued idol of Donald Trump at the CPAC Conference sent me thumbing through the Bible I got for joining the Presbyterian Church in my early teens.
Commandment Two of the Decalogue (Revised Standard Version) admonishes: "You shall not make for yourself a graven image, or any likeness of anything that is in heaven above, or that is in the earth beneath, or that is in the water under the earth; you shall not bow down to them or serve them; for I the LORD your God am a jealous God, visiting the iniquity of the fathers upon the children to the third and the fourth generation of those who hate me, but showing steadfast love to thousands of those who love me and keep my commandments."
By all accounts, the larger-than-lifesize statue was a hit with convention-goers, conservative, white evangelicals among them. Arguably the most loyal Trumpians, they claim the Bible—notably the King James Version—is the literal, inerrant word of God.
But those of the Jesus-loves-me-but-He-can't-stand-you persuasion eagerly worship a committed hedonist who prefers golf to church on Sunday. Trump has violated all 10 Commandments, according to Robert P. Sellers, a professor emeritus of theology and missions at Hardin-Simmons University's Logsdon Seminary in Abilene, Texas. 
Anyway, looking at pictures of the Golden Donald, I suspected it was another spoof on gullible Trumpers. After all, there was precedent.
At the 2017 CPAC gathering, protestors passed out tiny red, white and blue Russian flags emblazoned with "TRUMP" in gold letters. When unsuspecting delegates waved the flags to show their fealty to their favorite president, it dawned on event staffers that the banners ridiculed the Trump-Putin bromance and they quickly confiscated them.
Those of the Jesus-loves-me-but-He-can't-stand-you persuasion eagerly worship a committed hedonist who prefers golf to church on Sunday.
The Trump statue wasn't a prank. CNN's Michael Warren reported that Trump fan Tommy Zegan made it to rebuke "multiple pieces of art mocking Trump." You can't make this stuff up. 
Zegan's tribute to Trump shows a garish 45 grinning, holding a Tinkerbell-type star-tipped wand in one hand and the Constitution in the other. He's sporting a suit and crimson tie, clad in Stars-and-Stripes shorts and shod in flip-flops.
"There are so many reasons why this is a perfect metaphor for the state of the GOP after the Trump presidency," Zack Beauchamp wrotein Vox.
"The party sacrificed its commitment to political principles, including previously cherished ideals like free trade, on the altar of Trumpism. White evangelicals abandoned their alleged commitments to godliness in public servants and embraced a man accused of serial sexual assaultwho had an affair with a porn star and paid her hush money to cover it up. Conservatism, once seen as a high-minded intellectual tradition, became undeniably base and degraded in the Trump years. 
"But above all else, the statue points to the way in which the GOP remains the party of Trump even after his presidency — gaudy golden aesthetic and all. The party's base is so committed to the former president that they construct idols of him, literally, to stand up at their premier political conference."
Unlike the golden calf in the Old Testament, the Trump one is only gold-painted fiberglass. 
Too, like those red MAGA baseball caps, blue Trump flags and a ton of other Trump stuff, the idol is an import. According to The Guardian, Zegan, an American, built the statue in Mexico, where he lives,and only gilded it in Florida. 
The Guardian story recalled, that Mexico "has been the target of much Trump racist abuse over his political career, and somewhere he has literally sought to build a wall against."
In another story, Guardian Washington correspondent David Smith pronounced the idol "fitting because of the golden thread that runs through Trump's career." He cited that "intelligence dossier compiled by Christopher Steele, a former MI6 officer, contained the salacious – and still unproven – allegation that Trump watched sex workers perform 'golden showers' by urinating on each other in a Russian hotel room in 2013.
"In 2018, the Guggenheim Museum in New York reportedly turned down a White House request to borrow a painting by Vincent van Gough and instead offered the administration an 18-carat gold toilet—an installation by artist Maurizio Cattelan."
While the statue was a selfie-magnet for MAGA menfolk and womenfolk, a slew of Trump detractors lampooned it on Facebook and Twitter. Here's a sampling from The Other 98%: 
Linda Hunt Bartnik: "Where's Moses when you need him?"
Deborah Gray: "Didn't God say something about this to Moses & the Hebrews...."
Larry Madarieta: "The fact that they don't find that ridiculous and embarrassing speaks volumes about the delusions of the radical right..." 
Amy Mo: "Was it made out of his toilet bowl?"
This from the Twittersphere via The Hill: 
Josh Jordan: I asked CPAC if they were afraid of offending God with a golden Trump statue and they said "Trump is God." (I'm kidding, I think)
Al Cardenas, former chair of the Florida GOP: "It[']s come down to this. Worship[p]ing the Golden Impeached @ACU"
Elsewhere on Twitter via Upworthy:
Eimhear O'Dalaigh: "WHAT IN THE NAME OF JAZUZ IS GOING ON AT CPAC?"
Scary Larry: "So the republicans found a Bob's Big Boy statue and brought it to CPAC. They took gold spraypaint and made it into an idol cast in the shape of a swine, fashioned as a tool. Then they said, 'This is our god, who we brought out of Mar-a-Lardo.' Doucherotomy 666:45 (trump Bible)"
Brian Behar: "GOP: 'We are good, devout Christians. We shall not worship false idols.' CPAC organizer: 'Solid gold Trump statue rolling in 3..2..1.'"
In the CNN story, Zegan added that the statue is actually a replica of his real McCoy stainless steel "museum-quality" and "literally priceless" work tucked in a Tampa warehouse. He hopes it will be unveiled in the Trump presidential library. (The statue could go next to copies of Mein Kampf and The Turner Diaries and video versions of Birth of a Nation and Triumph of the Will.)
Meanwhile, Zegan interpreted the statue's symbolism to Walker: "The coat and tie is the fact that he's a professional, he's a businessman. The red tie symbolizes he's a Republican. The red, white and blue is that he's a patriot. The fact that he's wearing thongs and shorts is that he's at the age where he should be retired. He should be at the beach right now."
Nonetheless, Zegan enthusiastically vowed he'd vote for Trump if he runs again in 2024.
Anyway, the statue also reminded me of The Gilded Age: A Tale of Today, by Mark Twain with Charles Dudley Warner. Twain chose the title because "gilded" means superficial and tawdry like dull, worthless metal coated with a thin gold veneer to make it appear shiny and valuable.
Twain's first novel, The Gilded Age was stinging satire aimed at crass, corrupt, money-grubbing businessmen and crooked politicians who dominated the late 19th-century.
"...Twain describes a culture and political system that enabled the election of Donald J. Trump," wrote Donald Tiffany Bliss in The Mark Twain Annual. "....This provocative tale about Americans' obsession with getting rich--greed and speculation in the financial markets and the influence of money and lobbyists in Congress--truly remains a 'tale of today.'"
So does the story of Gilded Donald. 
WarnedBeauchamp: "In the Bible, the Golden Calf story ends with a furious Moses destroying the idol — dumping its ashes into water and forcing the Israelites to drink it as punishment. In theory, the voters in 2020 could have been the party's Moses, the loss of the White House and the Senate their bitter ashwater.
"And yet, here they are, still building idols of a false god." 
Berry Craig