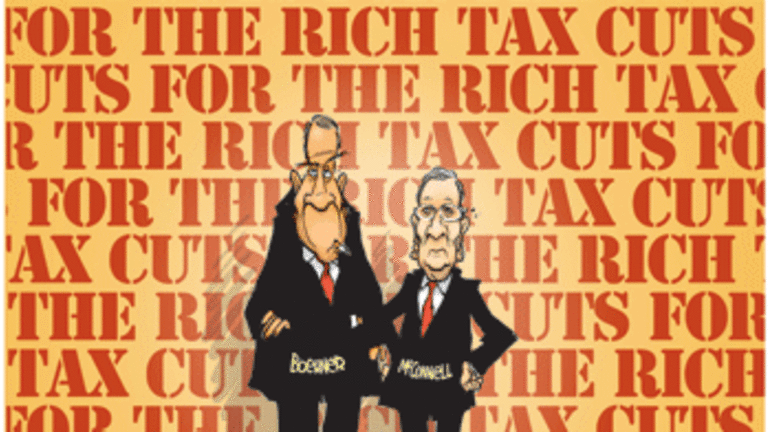 GOP Still Making Bad Assumptions
Karen Finney: Weeks after the election, congressional Republicans are still clinging to similar bad math and bad assumptions that th eRomney campaign made, yet hoping for a different result.
On a conference call two weeks before the 2012 election, Obama campaign senior advisor David Axelrod said, "We know what we know and they know what they know, and I'm confident that we're going to win this race, and we'll know who is bluffing and who isn't in two weeks." Turns out Team Romney wasn't bluffing, though: like Mitt Romney's policy positions, the campaign's polling wasn't just based on bad math, it was bad math based on bad assumptions— assumptions based on severely flawed internal polling data from Romney pollster Neil Newhouse, whose models appear to have been blinded by outdated assumptions about the American electorate. In the end, they ignored mountains of contrary data and failed to effectively gauge who would show up at the polls on Election Day 2012.
Weeks after the election, congressional Republicans are still clinging to similarly bad math and bad assumptions, yet hoping for a different result.
Romney's failure to convince a majority of voters that his defense of "job creators" and trickle-down economics would benefit the middle class serves as a good example: as exit polls showed, 53 percent of voters believed Romney would favor the rich, while only 34 percent believed his policies would do more for the middle class, at a time when 55 percent of Americans already believe that U.S. economic system favors the wealthy.
Yet similar to the Romney arguments economists agreed didn't add up, congressional Republicans are digging their heels in on a narrative that the top 2 percent they call job creators must be protected, relying primarily on eliminating tax loopholes they are now willing to call "revenue" to address our fiscal issues. And despite a majority of Americans already suggesting the GOP will be to blame if the "fiscal cliff" talks fail, and a majority of Americans — 60 percent, including 63 percent of independents — who support letting the Bush-era tax cuts expire, there is little talk of the middle class.
It will also take a lot more than simply not talking about "legitimate rape" to address the gender gap with female voters. As they examine their own binders full of women, House Republicans should consider this CBS analysis: "Romney won 52 percent of the male vote compared to 53 percent for House Republicans. Females cast an identical 55 percent for House Democrats and President Obama."
Those numbers not only reflect opposition to policies and attitudes that threaten women's rights, but also an alarming lack of respect for women. It wasn't just the image of the GOP House committee chairmanship being made up entirely of white men that sent the wrong message: trying to "fix" the issue by putting a woman in charge of the Administration Committee was equally insulting.
The latest GOP spin on comprehensive immigration reform also falls far short of public sentiment and political reality. Exit polls indicated 57 percent of Hispanic voters were "less enthusiastic" about Romney because of his immigration positions. Strong majorities of Americans favor comprehensive reform that includes earned citizenship, as well the DREAM Act: a November 2011 poll showed 58 percent of those surveyed support it, with only 28 percent opposed.
Yet, despite GOP rhetoric that might have sounded like change, the GOP proposal put forward last week is not only not comprehensive, it provides no way for young immigrants to earn citizenship — not even through military service or education — offering instead a new maze of visa applications and check-ins with the Department of Homeland Security that sounds more like probation than citizenship.
Karen Finney
The Hill
Wednesday, 5 December 2012