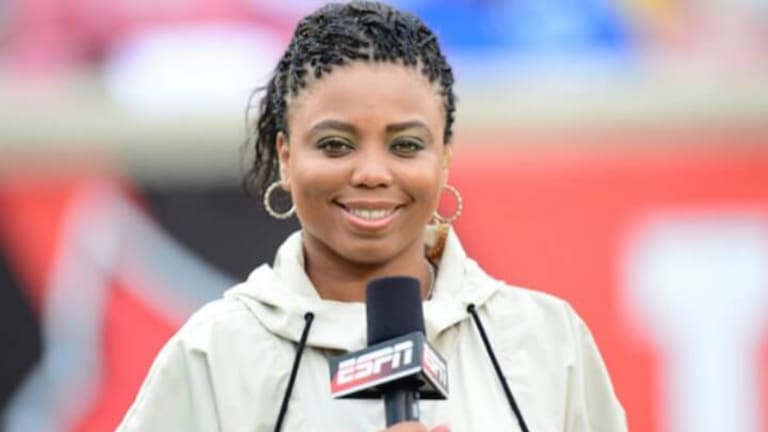 Why Didn't ESPN Fire Jemele Hill?
Frank Fear: An open question is whether ESPN's handling of the Hill situation will make it more difficult for companies to impose sanctions when employees speak out politically.
What would you have done about Jemele Hill? Hill, one of ESPN's primary studio hosts, created a stir last week via a series of tweets she issued about President Trump. Among other things, Hill said Trump is a white supremacist who surrounds himself with other white supremacists. Trump and his press secretary are calling for Hill's head. Others are defending her.
Would you have fired Hill? There are at least two reasons you might.
First, Hill tweeted from an account (@gemelehill) that blends personal and professional identities: "Co-host of the 6pm SportsCenter, aka The Six. Born and raised in Detroit. Grew up at Michigan State."
Second, Hill violated ESPN policy. ESPN asks employees to restrict their social media activity to sports-related matters. Hill's tweets had nothing to do with either sports or her job at the network.
The situation is dicey for ESPN. The network has been accused of having a liberal bias in the people it hires and retains. Not long ago the network terminated the contract of former Red Sox star, Curt Schilling, after he posted right-wing memes on social media. And Trump blasted ESPN for not punishing Hill:
ESPN is paying a really big price for its politics (and bad programming). People are dumping it in RECORD numbers. Apologize for untruth! 4:20 AM - 15 Sep 2017
Politically, Hill is anything but right-wing. Stephen A. Crockett's described her this way: "Hill is a throwback to a 1960s revolutionary.../and/...is in line with black women today. (Truthfully, black men, black women have been killing us on the "Stand up for yourselves" front.) They don't take anything lying down."
Hill has since apologized to the network for her tweets. ESPN accepted her apology. The network didn't suspend or fired her.
But ESPN John Skipper did use the incident to remind employees of the company's policy: "[W]e have social media policies which require people to understand that social platforms are public and their comments on them will reflect on ESPN. At a minimum, comments should not be inflammatory or personal."
That's a telling response to a situation that—only a short time ago—might have been managed differently. Consider how ESPN handled the Bill Simmons matter. Simmons, who's a popular figure with American sports fans, is an imaginative/visionary producer of sports commentary and other content. He was an ESPN star, too. But in 2014 he was suspended by the network after making a disparaging remark during a podcast about NFL Commissioner Roger Goodell. Simmons and the network later parted ways.
While there's likely more to the story about Simmons' departure, the reality is that he's no longer with ESPN. So why didn't ESPN do more than reprimand Hill?
I wondered (as did The Washington Post) whether Simmons would answer that very question. Last Friday he did—in response to a question posed by a reader at Simmons' website, "The Ringer."
Q: Does it bother you that ESPN suspended you for three weeks for calling Goodell a liar, but they didn't suspend Jemele Hill for calling Trump a white supremacist?
Simmons answered: "It doesn't bother me. Neither of us should have been suspended. But I enjoyed how brilliantly Jemele checkmated her bosses. She knew ESPN couldn't punish her for speaking candidly, as a black woman, about a president whose pattern of behavior toward women and minorities speaks for itself. She used her platform and it worked. Now, she has a higher profile than she did three days ago. She seems more fearless and genuine than she did three days ago. She doubled down on a fan base that already liked her and openly shunned the other side. And she flipped her relationship with ESPN—now, the company needs Jemele Hill more than she needs the company."
Yes, Hill is an African-American women who spoke truth to power. She also occupies a media platform that would seem to make her unrelatable to most Americans. But her situation is relatable to millions of everyday people – especially women, people of color, and many other "targets" of Trump's angst. Many are doing—and will do—just what Hill did—speak out.
An open question is whether ESPN's handling of the Hill situation will make it more difficult for companies to impose sanctions when employees speak out politically.
An open question is whether ESPN's handling of the Hill situation will make it more difficult for companies to impose sanctions when employees speak out politically. But, at the very least, I think the incident contributes to broadening the boundaries of public expression. By boundary conditions I mean who says what, about whom, when, where, and how—and with what evidence to back up their claims.
Those boundaries have widened post-Trump that I'm not sure where they are today. For evidence, just check the content on your Facebook Newsfeed. And for those of my vintage, can you imagine The Tonight Show's Johnny Carson doing what Stephen Colbert does every night on The Late Show? I can't. Colbert slices and dices Trump to the point that it's unrecognizable as political satire. Yet, in doing what he's doing, The Late Show has higher ratings than before Colbert started focusing on Trump.
And why not? There's so much material. We have a president who tweets a video of himself driving a golf ball into the back of Hillary Clinton; a president who repeatedly calls people by disparaging names and insults them in many other ways; and a president who now threatens to "totally destroy" a country.
Where does Jemele Hill fit into this mix? Brittany Cooper puts it this way: "The only regrettable thing…is that we have a racist president, and a country full of people who don't want to tell the truth about it."
Frank Fear