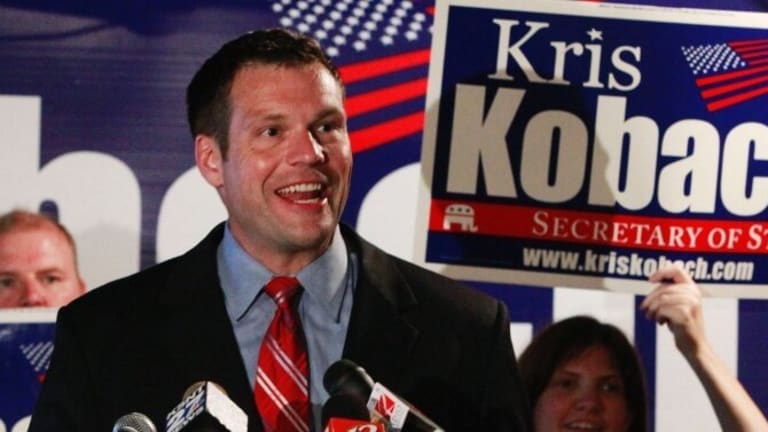 Keeping Racism Alive at the Polls
Kris Kobach Crosscheck
There's almost no such thing as voter fraud, even though the Trump administration — and Republicans in general — affect to be so afraid of it they've had to develop a system guaranteed to purge voters from the rolls in enormous numbers.
They're keeping America safe!
From nothing.
This, you might say, is the elephant in the room, politely unacknowledged even when the Republican system, very much embraced by the Trump administration, is critically analyzed. It's called the Interstate Crosscheck System, developed by Kris Kobach, Kansas secretary of state and Republican candidate for governor, and its flaws are unavoidably — indeed, grotesquely — obvious.
But before that matters, I think it's crucial to establish the fact that voter fraud — bad citizens, or worse yet, illegals, voting twice, indeed, driving from one state to another (Georgia to Illinois, say) in order to do their part to swing a national election — is itself a complete fraud. However, trumpeting the fear of such non-existent behavior is absolutely brilliant.
It's the current manifestation of minority vote suppression. It's the new racism.
The Crosscheck method is so utterly slipshod that way-y-y-y over 99 percent of the name matches the system reports to participating states "were unlikely to have anything to do with even attempted voter fraud."
All this is made clear in investigative journalist Greg Palast's irreverent new documentary, The Best Democracy Money Can Buy, which takes on Crosscheck and present-day vote suppression, no holds barred, linking modern racism with the old-fashioned kind. In the process, the film lets us know the real value of the right to vote, from the point of view of those who had to fight and die to attain it.
Here, for instance, is author Linda Blackmon Lowery describing her experience on the Edmund Pettus Bridge on March 7, 1965 — Bloody Sunday: "When we got to the top of the bridge, then you could really see what was on the other side. And there were white people sitting on their cars with their Confederate flags and their banners. 'Die nigger.' 'Go home, coon.'"
Suddenly she heard a popping noise, as teargas canisters went off all around her. "You couldn't breathe, you couldn't see. I ran into this big old thing of teargas. (A police officer) was running behind me with a billy club. (She makes a hand gesture describing being clubbed from behind.) When I woke up they had me on a stretcher, putting me in the back of a hearse. I just jumped up and before anybody could catch me I was heading across that bridge."
A short while later, the film shows a protester holding a sign: "My vote has been paid for in blood."
And this begins to create the context for discussing Crosscheck, part of today's oh so politically correct racist gaming of democracy, which is — let's be frank — an incredible inconvenience to people in power. It was then and it still is now. What's a rich, powerful white person supposed to do?
Crosscheck is part of the answer. Kobach's system is simplicity itself. In order to protect America from the horror of millions of people voting twice (risking prison time for committing this federal offense), Crosscheck collects the names on the voting rolls of all participating states, which at this point is 27, mostly under Republican legislative control, and conducts a computer search for matches, or quasi-matches. Those matches — all the Fred Jacksons, all the Jose Garcias, etc., etc. — become potential double voters. Note: The matching names are first and last only, with middle initials ignored. Allegedly, Crosscheck also compares birth dates, though such data is often missing from voter rosters.
A list of the matches are sent to the participating secretaries of state and state election boards, which can then purge their rolls of these folks. According to Palast, these states have so far removed 1,067,046 voters, not counting Georgia Secretary of State Brian Kemp's recent "purge-frenzy," removing 591,000 voters' names in the current election cycle.
Here's the thing. Most of the matched names belong to people of color. "Jackson, Rodriguez, Garcia, Lee, Kim — these are primarily minority names," Palast explained. "It doesn't take a genius to figure out this system is unbelievably racially biased."
In the documentary, Palast points out that 90 percent of Washingtons, for instance, are black. In some states, "20 percent of minority voters . . . are on the Crosscheck list."
So, as the Washington Post reported a year ago, the Crosscheck method is so utterly slipshod that way-y-y-y over 99 percent of the name matches the system reports to participating states "were unlikely to have anything to do with even attempted voter fraud." But because of Crosscheck, a huge number of voters, mostly men and women of color, who tend to vote Democratic, will either be denied their right to vote or forced to vote provisionally, which usually means they won't have their vote counted.
I repeat: There is virtually no such thing as voter fraud — certainly nothing at a level that could actually impact an election. As the Brennan Center for Justice pointed out last year, in its report "The Truth About Voter Fraud": It is more likely that an American "will be struck by lightning than that he will impersonate another voter at the polls."
But keeping Americans of color — those who have truly paid with their blood for the right to vote — away from the polls by the millions, does indeed impact our elections. Look at who got "elected" president!
Palast, hardly content simply to expose this outrage in book and film, has teamed with Jesse Jackson and the two, with the pro bono help of the New York law firm Mirer, Mazzocchi and Julien, have filed suit, under the National Voter Registration Act of 1993, with every Crosscheck state to get the names — the million-plus names — of registered voters purged from the rolls. The public, after all, has a right to hold the state accountable for the games it plays.
Robert Koehler
PeaceVoice