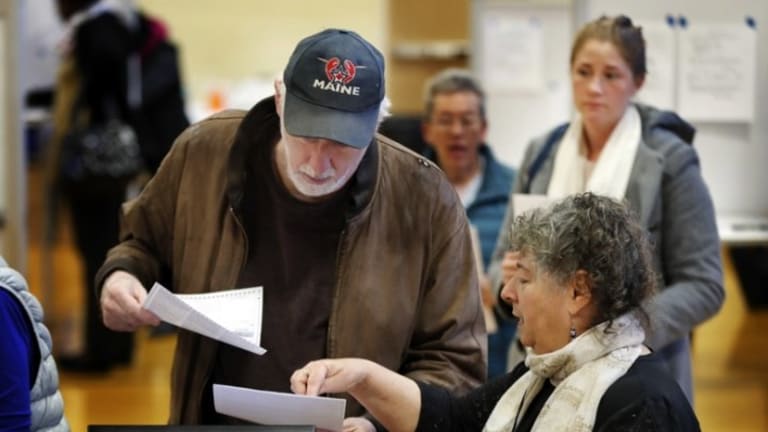 Politics at the State Level: Maine
Steve Hochstadt: Our lives are more strongly influenced by state governments, which might ban or support the right to abortion, try to suppress or encourage voting, raise or lower taxes.
These days, all of our attention is directed at Washington, DC, as if that's where the most important things happen. Watch the national networks – what's happening in state government is rarely mentioned. States only count if their polls can tell us about the next national election. The political stalemate in Congress means that very little is being legislated. Our lives are more strongly influenced by state governments, which might ban or support the right to abortion, try to suppress or encourage voting, raise or lower taxes.
To understand the state of American politics, let's look at my former home, Maine. Its recent political shifts are not typical, if any state is typical, but they are revealing about what separates Republicans and Democrats at the beginning of 2020.
Our lives are more strongly influenced by state governments, which might ban or support the right to abortion, try to suppress or encourage voting, raise or lower taxes.
In 2018, the Democratic wave washed over Maine. Attorney General Janet Mills ended Republican occupation of the Governor's mansion, by winning 51% in a 3-way race. The State Senate, which had been narrowly controlled by Republicans 18-17, went Democratic 21-14. Democrats had controlled the Maine House of Representatives since 2012. They increased their majority from 73 to 89 seats. This was part of a national trend in favor of Democrats, who held 42.6% of the 6073 state legislative seats up for election across the country, and won 47.3% in 2018.
My source for Maine's legislative politics last year is one-sided: the Legislative Scorecard produced by the Maine People's Alliance, a very liberal advocacy group. On 13 bills that the MPA thought significant, we can see what each party is trying to accomplish and how they vote.
The MPA encouraged passage of bills that:
gave teachers the right to negotiate over working conditions in their contracts;
increased for renters the minimum advance notice of rent increases from 45 days to 75 days; g
ave workers at Maine businesses one hour of sick time for every 40 hours of paid work;
lowered the threshold for the state's estate tax, which had been raised recently by a Republican administration;
established a Permanent Commission on the Status of Racial and Ethnic Populations in Maine;
guaranteed insurance coverage of abortion care for Maine plans;
created two overdose prevention sites, where addicts could use drugs in a safe environment and get treatment;
made labor arbitration binding on issues of wages, benefits, and retirement;
established a Green New Deal task force to create a plan to reach 80% reliance on renewable electricity by 2040;
restored access to welfare services for low-income legal immigrants;
directed the Public Utilities Commission to consider creating a consumer-owned public utility;
changed the name of Columbus Day to Indigenous Peoples Day.
I have always been a big supporter of the MPA, which is why they keep sending me their newsletter.
The MPA-supported bills protected reproductive rights, supported wage workers and renters, tried to deal with the drug crisis, moved forward on the environment, and promoted racial equality. The MPA opposed an amendment to the Maine Constitution that would have made it more difficult to put a citizen's initiative on the ballot by requiring more signatures. Thousands of bills were submitted during this legislative session, but these few illustrate the politics of each party.
The voting demonstrates the lack of a middle in Maine, or more precisely, the total rejection by Republicans of the Democratic agenda. On 10 bills, the 57 Republicans in the House provided only 12 positive votes. Another way to put that is that 45 Republicans voted for none of these bills, and 12 voted for one, mostly for the bill mandating sick leave. The Republican votes in the Senate were similar, with 12 of 14 Republicans voting for none of the bills.
Democrats provided a more diverse spectrum of voting. Of 89 Democrats in the House, 29 voted for all 10 bills, 27 voted against one or two, 14 voted against 3 or 4, and 9 voted against 5 or more. The bill to create "overdose centers" was the least popular, with 40 Democratic "no" votes, and it did not go any further. Nearly one-third of Democrats supported the Constitutional amendment to require more signatures, but that needed a 2/3 majority to pass and failed. Enough Democrats voted against lowering the estate tax threshold that it failed. The bill to increase the advance notice of rent increases passed by slim majorities, with about one-quarter of Democrats voting against, and was vetoed by the Governor. The Governor also vetoed the requirement for labor arbitration, which had 12 Democratic "no" votes in the House.
Big Democratic majorities and approval by the Governor were achieved by the bills to change the name of Columbus Day, to provide paid leave to workers, to establish a Commission on minorities, to protect reproductive rights, to create a Maine Green New Deal, and to consider a consumer-owned public utility.
That's a lot of details, but it helps to delineate the nature of party voting at the state level. Some moderate, or even conservative Democrats exist, and they may vote more with Republicans than with their own party. The liberal agenda is to provide workers with more rights and pay, to continue to fight racial discrimination, to take small steps to counteract climate change.
Republicans vote as a bloc against proposals which give workers more rights against their employers, which deal with the environment, which acknowledge that discrimination continues to exist, or which accepts the reality of abortions.
Democratic control of the Maine legislature and Governor's office, sometimes called a "trifecta" by those discussing party control of state government, is only one year old, and is moving slowly to implement a liberal agenda. The Democratic votes against getting more very wealthy Mainers to pay the estate tax show a hesitancy to reverse Republican tax cuts for the wealthy, despite polls showing that most Mainers feel that the wealthy pay less than their fair share. Governor Mills was cautious about anything that was opposed by the Maine Chamber of Commerce, notably on tax and budget issues.
We might expect a more vigorous agenda, if Democrats keep their majorities in the 2020 elections, and win at the national level. We can expect unified rejection of all progressive legislation by Republicans.
Steve Hochstadt
Taking Back Our Lives