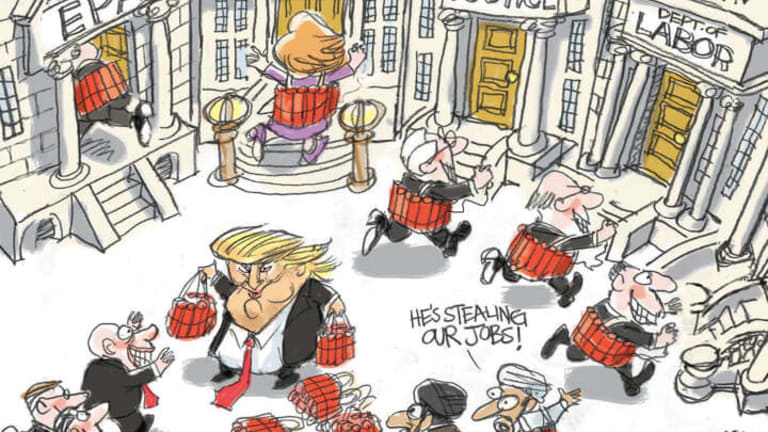 Music, Politics, and Hillary
Walter Brasch: Most of us within the year will probably declare that we miss Hillary Clinton, Bernie Sanders, and Lady Liberty "more and more every day."
Five years before the Civil War, Benjamin R. Hanby, a student at Otterbein College, composed "Darlin' Nelly Gray," an upbeat ballad from the perspective of runaway slave Joseph Selby whose wife was taken from him. Proceeds from the song would be used to try to buy Nelly Gray's freedom, but Selby never saw her after she was forcibly returned to harsh labor in Georgia.
Hanby, an abolitionist active in the Underground Railroad, would become pastor in the Church of the United Brethren in Christ, and compose about 60 more songs, the most famous being the Christmas jingle, "Up on the House Top." But it was "Nelly Gray" that had the most impact.
Chorus
Oh, my poor Nellie Gray, they have taken you away
And I'll never see my darling anymore
I'm a-sittin' by the river and I'm weeping all the day
For you've gone from the old Kentucky shore.
Almost a century later, Bob, John, and Billy Jack Wills modified the music slightly, stripped out the lyrics of "Nelly Gray" and replaced it with a similar and updated set of lyrics. "Faded Love" would become a foundation of western swing.
Chorus
I miss you darlin', more and more every day
As heaven would miss the stars above
With every heartbeat, I still think of you
And remember our faded love.
It's been a month since Donald Trump won enough Electoral College votes to become the president-elect. During this past month, he trampled upon foreign affairs by engaging in discussion with the president of Taiwan, engaged in domestic affairs by unilaterally cancelling construction of a new Boeing 747 for the president, made questionable nominations for most of his cabinet, danced around innumerable conflicts of interest, and continued to tweet caustic and generally irrelevant 140 character messages.
During the next few months, Hillary Clinton and Bernie Sanders will be seen less and less in public, while Trump and his ego will be tweeting, pronouncing, and declaring. Most of us within the year will probably declare that we miss Hillary Clinton, Bernie Sanders, and Lady Liberty "more and more every day."
Walter Brasch
Wanderings