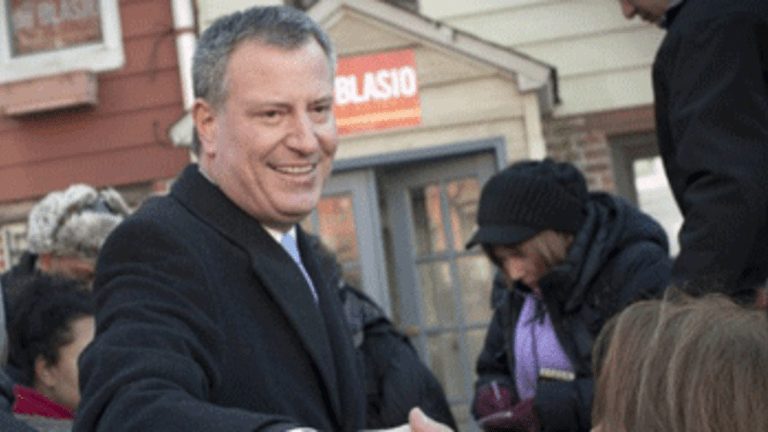 Will New York City Finally Elect a Progressive Mayor?
Randy Shaw: Bill de Blasio's "tale of two cities" campaign message has resonated with voters upset by the city's steadily growing wealth inequality and staggeringly high cost of living.
On September 10, New York City voters may do something they have not done in over fifty years: elect a truly progressive mayor. Two recent polls show progressive Bill de Blasio surging into a commanding lead (32%-18% in the NYTimes/Siena College poll, 36%-21% in the Quinnipiac survey), putting him close to the 40% needed to avoid a Democratic Party runoff. After twelve years of Michael Bloomberg and the preceding eight under Rudy Giuliani, voters now favor the candidate who has been the most outspoken against the elite-driven policies of both.
Bill de Blasio's "tale of two cities" campaign message has resonated with voters upset by the city's steadily growing wealth inequality and staggeringly high cost of living. Real estate and financial interests will not give up City Hall without a fight, but it appears that their candidate---City Council Speaker Christine Quinn---cannot defeat de Blasio.
When the year began, Christine Quinn's huge money edge and establishment support was supposed to carry her problematic candidacy to victory over the far more progressive and visionary Bill de Blasio. But a number of factors have catapulted de Blasio into a commanding lead, and Quinn's unfavorability numbers are so high (she's 39/45 favorable/unfavorable while de Blasio is 57/17) that her ability to win a runoff against de Blasio (assuming he does not reach 40%) is highly doubtful.
Bill de Blasio would be the first New York City mayor backed by a coalition including labor and racial minorities since Robert Wagner, who served from 1954-65. A city with a national reputation for progressive politics has been politically controlled by elite interests for decades, and it now appears that long suffering middle and working class voters will move New York City in a more progressive direction.
The Bloomberg Backlash
Bill de Blasio's rise and Quinn's fall are both a product of growing voter anger at the Bloomberg mayoralty. Bloomberg has done many good things for New York City, but most voters believe he bought a third term (breaking his word to abide by term limits) and his arrogance on a range of issues, from education to stop and frisk, has left people wanting a mayor who puts the interests of the 99% first.
Voters do not see Quinn as this candidate. To the contrary, her backing of Bloomberg's third term in 2009 (after vowing to oppose it in 2007) and close association with his policies leaves Quinn as essentially offering the city Bloomberg's fourth term i.e. another mayor whose policies are driven by what's best for the rich.
Like George H. W. Bush in the 1988 presidential race, Quinn is offering a kinder, gentler version of the now unpopular policies of her predecessor. But Quinn does not have the advantage of running against Mike Dukakis. Bill de Blasio is a fighter for justice who voters believe will promote economic and social fairness as mayor.
Racial Dynamics Favor de Blasio
Bloomberg won the 2001 mayor's race for many reasons (particularly by spending the most money per voter in city history) but a key factor was Democrat Mark Green's alienation of African-American and Latino voters during a hotly contested primary. In 2013, these voters are split between de Blasio and William Thompson, who lost to Bloomberg in 2009.
Bill de Blasio is white, but his wife is African-American. She and their kids have proved incredibly popular on the campaign trail, and the de Blasio's interracial marriage speaks to the life situation of many NYC voters.
While Thompson is African-American and backed by the city's powerful teachers union, its not clear that many of his potential supporters believe he can win. These voters are likely to cast ballots to get de Blasio to reach the 40%, which effectively means victory this year.
Media Activism in NYC
New York City seems an unlikely locale for twenty straight years of Republican mayors, and even though Bloomberg was a lifelong Democrat, he was elected without having any roots in the city's progressive or even liberal community.
Prior to Giuliani, NYC elected David Dinkins, the city's first African-American mayor who also lacked a progressive base. Before Dinkins it was Ed Koch, enemy of ACT UP and great friend to real estate speculators and other forces pushing to gentrify Manhattan.
Activists explain the city's pattern of mayors as reflecting its enormous size, which rewards candidates with the funding to dominate television advertising (Bloomberg purchased virtually every political advertising spot available in his 2001 race). The local media also backs the choice of real estate interests, running ongoing stories leading up to elections promoting their candidates and attacking progressives.
That's why the New York Times is writing story after story favorable to Quinn and critical of de Blasio (for the most recent example, see its September 2 story "Quinn Reversal, Meant to Help Her, Now Hurts" redefining Quinn's term-limits flip-flop as showing her ability to make "tough but unpopular decisions" while portraying de Blasio's criticism of Quinn's reversal as "hypocrisy." Times columnist Maureen Dowd was so eager to help Quinn and hurt de Blasio that she recently ran a column falsely attributing anti-gay words to de Blasio's wife that Dowd later admitted were never said; she blamed a "noisy coffee shop" for obscuring her recording.
In my new book, The Activist's Handbook, Second Edition, I describe how the Times urged voters to reject progressive Elizabeth Holtzman in the 1992 Democratic U.S. Senate primary because she opposed a proposed waste incinerator at the Brooklyn Navy Yard. Accusing Holtzman of "sacrificing principle" and "playing to exaggerated fears," the Times ensured Holtzman's defeat -- and to this day has not acknowledged that the Navy Yard's revival as an incubator for small business shows that Holtzman and her allies were right and the Times was wrong.
It's hard for a progressive New York City mayoral candidate to overcome the multi-newspaper opposition drumbeat, but de Blasio's grassroots campaign is on track to do so. After a Bloomberg mayoralty that prioritized the desires of the 1%, New York City voters could finally elect a mayor that puts the 99% first.
Randy Shaw
Beyond Chron
Tuesday, 3 August 2013