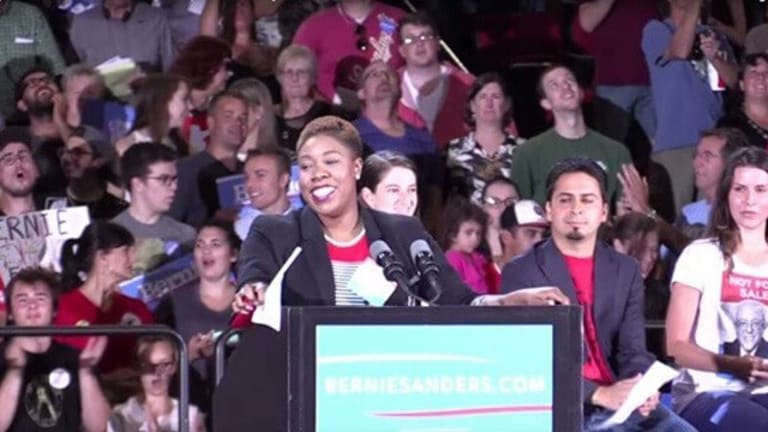 Nothing About Me Without Me
Sharon Kyle: Progressives who really want to see a populist movement–for real–need to be intentional about how they shape the future of this movement–if they want real change.
Nothing About Me Without Me - A variation of the term "Nothing About Us Without Us", a slogan used to communicate the idea that no policy should be decided by any representative without the full and direct participation of members of the group(s) affected by that policy.

Many progressives are puzzled by the goings on of the Democratic presidential primary, especially young newcomers who can't get their heads around the idea that Bernie Sanders—whose events consistently drew tens of thousands of supporters—trailed a candidate who couldn't fill a high school gymnasium to save her soul.
While many cried foul play, blamed the loyalty of superdelegates, or balked at the media bias, few prominent progressives directly focused on the role that race played in firmly establishing Hillary Clinton as the frontrunner. They may have had opinions on the issue but our lack of racial literacy usually mutes even the most loquacious progressive advocate. And when it comes to dealing with the third rail—race—most white progressives are fearful of a verbal misstep so they simply avoid the discussion.
Over the years, the Clintons, especially Bill, seemed to establish authentic relationships within the black and brown communities—or at least that is the prevailing perception. Both Clintons, unlike many white Democrats, seem to understand the centrality of race in American public life. And they used that knowledge in the 2016 presidential primary to great advantage. But that's not the norm.
Progressives who really want to see a populist movement–for real–need to be intentional about how they shape the future of this movement–if they want real change.
Recently, in an effort to continue the push for a serious people's movement that would shift the power in this country from the few to the many, Ralph Nader led a four-day event called "Breaking Through Power". The event, held in Washington D.C., featured 86 speakers addressing the gamut of concerns plaguing this nation. Well-known luminaries such as Laura Flanders, Jim Hightower, Chris Hedges, and Phil Donahue were on tap. This awesome event was to include the drafting and signing of a "Citizens Summons".
The problem? 95% of the more than 80 speakers were white.
Surveying the lineup of speakers, it's doubtful any of them would ever consider belonging to a club that explicitly or intentionally excludes people of color. But having said that, how different is this type of gathering?
Let me be clear, as far as I can tell, the speakers who participated have outstanding progressive credentials. I read and admire many of them. But if we are serious about being about "the people", we have got to be intentionally inclusive.
One of the implicit, albeit unintentional, messages this kind of lineup sends is that people of color are not welcome. This conference's conveners – conducting their gathering in a predominantly black city on issues that concern all people–missed an opportunity to deconstruct rather than maintain a barrier that is almost as solid in the progressive community as it is on the right: racial and ethnic separatism–and oftentimes outright exclusion, if I am being completely honest.
Whether Bernie Sanders makes a strong showing in the California primary or not, there are many lessons that can be learned from his campaign–not the least of which is the role of race.
Progressives who really want to see a populist movement–for real–need to be intentional about how they shape the future of this movement–if they want real change.
As a Bernie Sanders supporter, I couldn't be more disappointed in the outcome of this primary season. But at the same time, over the past few weeks I've been replaying in my mind a conversation I had with a white progressive who told me that I shouldn't focus so much on racism and racial issues. While they are not unimportant, she said they are peripheral issues that don't have broad reaching implications.
I countered by maintaining that being grounded in the role of race in almost every aspect of American political and social life is central to understanding how to mount a campaign that will benefit all people. I recommended that she read, The Miner's Canary: Enlisting Race, Resisting Power, Transforming Democracy (The Nathan I. Huggins Lectures) by Lani Guinier and Gerald Torres. These brilliant professors theorize that like the canaries that alerted miners to a poisonous gases in the mines, issues of race point to underlying problems in society that ultimately affect everyone, not just minorities.
Early in the primary season, I attended a Bernie Sanders fundraiserat the palatial home of a wealthy couple in Beverly Hills. There were probably 300 or so in attendance. Looking for the restroom, I was meandering through the crowd when a gentleman tapped me on the shoulder and asked if I were Symone Sanders, the press secretary for the Bernie Sanders campaign. I told him I wasn't and went on my way. But it was clear why he'd think I was Symone. Of the throngs of people there, I was the only non-racially ambiguous black woman within eye shot. In my gut, I knew early on that the Sanders campaign had a race problem. Just as the progressive movement has a race problem.
Peripheral issue indeed.
Sharon Kyle
Publisher, LA Progressive