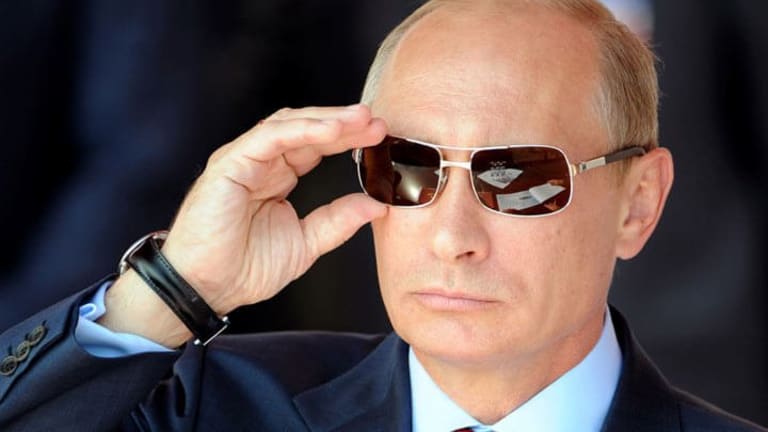 President Putin
Peter Cavanaugh: Blue collar Trump supporters soon discover cynical promises to "bring back jobs" and "invest a trillion dollars in infrastructure" were bold-faced, undeliverable lies
"There are no nations. There is no America. There is no democracy. There is only IBM, and ITT, and AT&T, and DuPont, Dow, Union Carbide, and Exxon. Those are the nations of the world today." –Paddy Chayefsky – "Network" (1976)
"You'd better watch out" – Santa Claus (2016)
Barring unlikely divine intervention, it seems as though we may fall under the spell of a new President on January 20th.
Vladimir Vladimirovich Putin was born October 7, 1952 in St. Petersburg, Russia, where he obtained his law degree in 1975. Rising through the ranks of the KGB as a foreign intelligence officer, he retired as a Lieutenant Colonel in 1991 to enter politics. He became acting Russian President on December 31, 1999 upon the resignation of Boris Yeltsen. He has functionally run things in Russia ever since.
In 2007 Vladimir was chosen as Time Magazine's "Person of the Year" and was #1 on the Time's "Most Influential People List" in 2013, 2014 and 2015, this last also being the year he was ranked first on Forbes Magazine's "List of the World's Most Powerful People."
No wonder Donald John Trump, 2016's Time's "Person of the Year", trembles with eager anticipation, swooning at the very thought of sharing the world stage with such a manly winner of enviable and desirable global distinction.
Guess what? Here's breaking news of critical importance. Putin's not a communist. The old socialistic Soviet Union was left on the trash heap of history long ago. The government of Russia has become an "oligarchy." In this instance that simply means–rule by the rich.
Blue collar Trump supporters soon discover cynical promises to "bring back jobs" and "invest a trillion dollars in infrastructure" were bold-faced, undeliverable lies
Reviewing Trump's announced cabinet choices to date, it appears "little guys" are in the cross hairs of the oncoming administration. Not only will blue collar Trump supporters soon discover cynical promises to "bring back jobs" and "invest a trillion dollars in infrastructure" were bold-faced, undeliverable lies, but small businesses will similarly learn they're not important enough to hang with the big boys. Please. Even today small business owners rarely get best parking spaces at the Country Club.
There seems to a pattern forming. According to NBC News, the personal wealth of combined key nominations so far in the emerging Trump government tops $14 billion dollars – more than 30 times greater than the crew under our most recent Republican President, George W. Bush.
It's a burgeoning billion-dollar bullpen of pending appointees radiating major corporate interests.
Billionaire Betsy DeVos will be Trump's new Secretary of Education. DeVos advocates schools of choice and is convinced "traditional public schools are failing" -- primarily due to teacher's unions.
Billionaire Linda McMahon is due to head up the Small Business Administrator. Linda and hubby, Vince, founded World Wrestling Entertainment -- where faking means everything. This resonates like a tuning fork with Trump. He threw Vince to the ground in WrestleMania 2007.
Billionaire Wilbur Ross is waiting to become Commerce Secretary. Ross is best known as owner of West Virginia's Sago Mine. It was there a dozen miners lost their lives in a 2006 explosion.
Billionaire Todd Ricketts will be Ross's Deputy Commerce Secretary.
Then we have a bunch of mere multi-millionaires such as Andy Puzder, CEO of Carl's Junior and Hardy's Restaurants. Andy is set to become Labor Secretary. He doesn't believe in a minimum wage or universal health care and can't wait for technology to replace human workers.
There's Steve Mnuchin, former investment banker and hedge fund investor. He's earmarked for Secretary of the Treasury. Mnuchin made much of his fortune foreclosing on thousands of homes while CEO of OneWestBank.
Elaine Chao is incoming Secretary of Transportation. Elaine's worth around $22 million and it's a good thing there's a serious breadwinner in the family. Elaine's husband, Senate Majority Leader Mitch McConnell, only hauls in a quarter of a million buck annually, but Mitch did come in handy back in September when he killed the idea of conducting an open investigation into Russian interference in the 2016 election.
Other multi-millionaires waiting in the wings for major jobs are radical right hero Steve Bannon (Chief Advisor), Senator Jeff Sessions (Attorney General), Tom Price (Health and Human Services) and Dr. Ben Carson (Housing and Urban Development).
ExxonMobil Chairman and Chief Executive Officer Rex Tillerson as Secretary of State? Tillerson was accorded singular honors in 2012 when he received Russia's coveted "Order of Friendship" medal – personally awarded by a very special friend -- President Vladimir Vladimirovich Putin.
Last Saturday a new Russian/Islamic agreement endorsed by Putin will place strict limits on oil production in both Russia and OPEC countries to drive up prices.
Better head for a pump and fill it up fast.
Our new President means nothing but big business.

Peter Cavanaugh