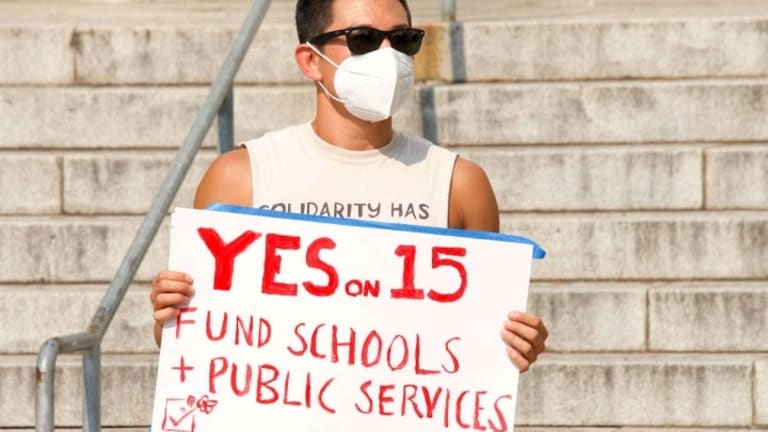 How Is Proposition 15 Getting Its Message Out During the Pandemic?
Bobbi Murray: This year COVID-19 poses unprecedented challenges for GOTV networks like the Million Voters Project and California Calls.
Campaigning for Tax Reform: A Ground Game Without the Ground
This election season Americans face a pandemic that, among other things, is changing the way we vote, even as our coronavirus-stricken president casts doubt on the reliability of mail-in ballots–one of the most COVID-free ways to vote. Californians will soon decide the fates of an array of state ballot measures, including Proposition 15, also known as the Schools and Communities First initiative; if passed, it could cause a seismic shift in California's corporate property tax system and yield as much as $11.5 billion dollars annually toward education and local services.
Jon Coupal, president of the Howard Jarvis Property Tax Association, a leading opponent of Prop. 15, sees its passage as a slippery slope for homeowners, even though homeowner taxes are not affected by the ballot measure.
Coupal says the HJTA's 200,000 members "love to reach out to their neighbors" and are mobilized — picking up and displaying No on 15 signs. "A lot of our members are seniors who fill out ballots at home and mail them." He reminds a reporter that the 1978 measure, Proposition 13, which reset California's property tax system to its present structure, qualified for the ballot with signatures collected by volunteers.
This year COVID-19 poses unprecedented challenges for GOTV networks like the Million Voters Project and California Calls.
HJTA has also made radio buys throughout the state — an approach that matches the way the HJTA demographic relates to media, and just one slice of the No on 15 campaign media strategy. As any California voter knows, the air waves are loud with television spots pro and con; both sides exhaustively deploy social media.
The Schools and Communities First initiative is supported by such mighty interests as the California Teachers Association, the Service Employees International Union (both financial supporters of this website) and the Chan Zuckerberg Initiative. Much of the responsibility for Prop. 15's get-out-the-vote (GOTV) efforts falls on the Million Voters Project (MVP), a nonpartisan, 10-year-old GOTV network that targets those less inclined to be engaged in the electoral process, including young people and members of poor communities.
Steve Barkan, a veteran campaign consultant working on congressional battles in California who is unaffiliated with the Yes on 15 campaign, has followed the Million Voters model closely. "They've developed a relationship with sets of voters over a period of time that's more effective," Barkan says. "They traditionally stay on top of new registrants as well, and [on] more transient voters who move whether they're renters or otherwise. Their operation does a better job than just about anybody else that I'm aware of."
But this year COVID-19 poses unprecedented challenges for the group and its constituent members. "With this election in particular, it's a new method of voting in California," notes Barkan.
"The polls have us at 49%," says Karla Zombro, the vice president of field strategy for California Calls who runs the MVP statewide voter outreach and mobilization program. California Calls is itself a statewide alliance that includes 31 community organizations in 12 counties.
"We need to turn out those people who are not being polled. We need to engage them directly."
Thanks to the pandemic, door-to-door canvassing is gone. And, because of the California Voter's Choice Act, familiar polling places have been replaced by ballot drop boxes.
Key to Million Voters Project and California Call's strategy is "relational organizing"—long-term local voter outreach that continues all year round, year after year. Community organization activists stay in touch with voters about a variety of issues, so that Election Day is not the only time a voter becomes engaged with public policy debates. This election season Million Voters Project organizers and volunteers are talking with California voters throughout the state in at least seven languages—English, Spanish, Chinese, Farsi, Punjabi, Vietnamese, Tagalog and Hmong—to lend advice for the voting process.
The messages across languages and throughout the state are sharply focused on reaching occasional voters; educating them on Prop. 15 and following up to make sure they understand a newer voting process complicated by mail-in ballots, drop-boxes and voter centers.
These days the challenge of mobilizing less-likely voters is compounded by lack of social contact—instead of your neighbor showing up at your door, discussing a ballot initiative and pointing you toward the church around the corner where your neighborhood votes, the COVID pandemic adds the confusion about how and where to vote since your old local polling place have been replaced by ballot drop boxes, the result of sweeping changes brought on by the California Voter's Choice Act.
Million Voters Project has 450 paid canvassers and a goal of 10,000 volunteers for voter outreach — "We sailed past 8,000 last week,' says Zombro. There are other Prop. 15 education and mobilization efforts: The Democratic Party's presence in congressional districts around the state to protect incumbent seats focuses on voter turnout and advocates a Yes on 15 vote; local candidates identifying supporters to get them out to vote, and union allies that are reaching out to their memberships also carry a Yes on 15 message.
Million Voters Project has shaped the messaging and scripts that member organizations are using in their outreach and GOTV work.
The on the ground part used to be that kind of work, phone banking gatherings, door-to-door work—now it's gone virtual and via personal phones in the form of at-home phone bankers.
The Community Coalition, another organization in the Million Voters Project, lends laptops to volunteer callers who need them and provides mobile hotspots, devices that connect callers with Wi-Fi so their phones can access a laptop, link into a landing page and work with a split screen—on one side is voter data so the caller knows who he or she is calling and can collect response data. On the other side there's a script for the caller to follow.
The virtual one-person phone bank has become a simple way of contacting voter data bases collected from the L.A. County Registrar of Voters.

Kirk Samuels, the coalition's director of civic engagement, describes the script "much like a letter," with a beginning, a middle and a closing. "The first thing I tell them is don't just read it off the paper and sound like a robot—make it your own," he says.
The virtual one-person phone bank is a simple way of contacting the voter data base collected from the L.A. County Registrar of Voters. The responses—support Prop. 15; no on 15; undecided — are immediately tabulated by PDI, Political Data Incorporated, to keep track of the numbers.
With yes responses, "We're going to ask them which voting option they think works best for them" and get people motivated to complete a ballot and vote—either by mail or local drop boxes, says Samuels. The California Secretary of State provides information about the locations.
Lydia Avila, California Calls' associate director of organizing, says that the California Calls and the Million Voters Project has been adapting get-out-the-vote plans as the pandemic has advanced. "We had already been looking to up our technology game. We just had to move a lot faster in terms of training, learning the digital tools we were looking to deploy in November."
Volunteers' technical skills and the access to technology vary. "We have peer-to-peer texting, mass texting, social media. Now we have even more ways to plug in." But for many in the base they hope to mobilize, "This is all brand new."
Organizers had to teach volunteers and potential voters how to log in, refresh browsers. Many households do have young voters with internet skills, though—that helps, Avila says. Local community organizations are also on hand to teach skills to older GOTV volunteers.
"We're going to have conversations [with volunteers] that are just a little bit more of like a small training in a way," says Avila of teaching GOTV activists new to technology and orienting them to what Prop. 15 could mean for their communities.
There's a caller script. "We're going to talk to people about Proposition 15, and then we're going to tell them about the new voting options."
Veronica Wilkins remembers going door-to-door with SCOPE (Strategic Concepts in Organizing and Policy Education), a partner in California Calls for the past 12 years. Wilkins, a career events organizer who got sidelined after COVID-19 hit, is now hitting the phones to reach voters. "The computer dials the people for me. I don't know the people," she says, although the other day she reached her landlord. He was undecided.
"The first half of the day we call them, and we educate people about Prop. 15. We ask, 'Does this sound like something you'd support? When we talk to them and they tell us yes, then we ask them about their ballot—have you received it and filled it out?"
The Yes on 15 responses are tabulated and those voters slated for further contact to make sure the voting process is a smooth one.
But she misses the connection of face-to-face conversations. "You go out into the community, you meet people," Wilkins says. The people she calls are frequently glad to hear from her—but timing matters. "It depends—is the debate on? Is the game on?" That's when she has to call back later or another evening.
Bobbi Murray
Capital & Main