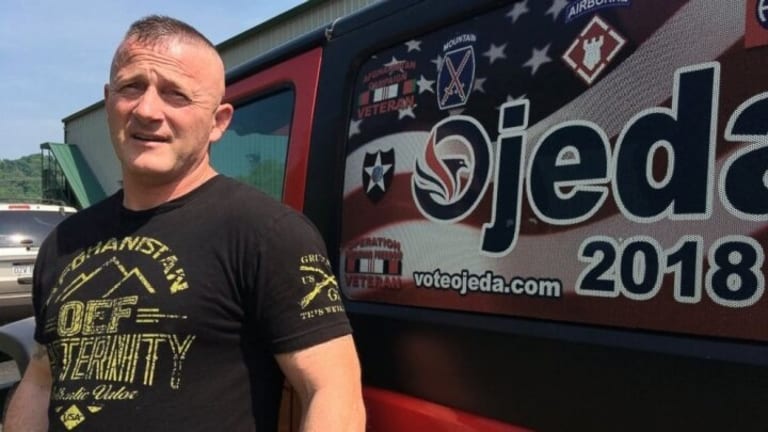 Richard Ojeda: JFK with a Bench Press and Tattoos
Berry Craig: All but ignored in the crowded Democratic pack vying for a crack at Trump is an ex-Army paratrooper with a plank in his platform that says lobbyists should have to wear body cameras.
Naturally, Sen. Elizabeth Warren, D-Mass., is grabbing headlines for announcing today that she's revving up a presidential campaign exploratory committee.
All but ignored in the crowded Democratic pack vying for a crack at Trump is an ex-Army paratrooper with a plank in his platform that says lobbyists should have to wear body cameras.
He's also for making everyelected federal official and cabinet member "sacrifice any net worth over a million dollars to charity of their choice (a real charity, not some family foundation run by their kids)."
All but ignored in the crowded Democratic pack vying for a crack at Trump is an ex-Army paratrooper with a plank in his platform that says lobbyists should have to wear body cameras.
West Virginia State Sen. Richard Ojeda is short on money and name recognition. The media seldom names him among 40 or so Democrats pondering a presidential run.
He says other candidates don't want him in the lineup.
"It's because they know they cannot compete with me when it comes to being fiercely supportive of labor," declared the 48-year-old West Virginia state senator who made major before he retired from the Army. (He earned a pair of Bronze Stars for bravery in Iraq and Afghanistan.)
"They also don't want me in that lineup because I'm not scared to call them out."
Ojeda announced his presidential bid last month--right after he lost a race for the open Third District congressional seat.
Failing to win a contest for Congress might not be the best springboard to the White House. But a largely unknown former state legislator and congressman from Illinois lost a U.S. Senate bid two years before he was elected president.
His name was Abraham Lincoln. "It is a slip, not a fall," the Republican said after the state legislature sent Democrat Stephen A. Douglas to Washington in 1858. Douglas was one of three other candidates Lincoln bested for president in 1860. 
Doubtless, Ojeda would agree it's a stretch to compare him to the Great Emancipator. But he plans to build a wave of working class support to carry him to the Democratic nomination and the White House.
Just hear him out, he urges.
A coal country candidate 
The Third District encompasses a rugged, mountainous swath of southern West Virginia.
The district is coal country, though not like it used to be, because demand for coal has been shrinking for decades. Scores of mines have closed; mining jobs have dwindled.
West Virginia is among the poorest states in the country, but the district poverty rate is greater than the state average.
The Third is also Trump territory. In narrow, steep-sided hollows split by shallow, meandering creeks, black plastic "Trump 2020 'MINERS DIG IT'" signs sprout in front yards of modest houses and mobile homes.
On the campaign trail, Trump promised to bring back "beautiful" coal. But the flood of mining jobs hasn't materialized. Coal is slumping again, as utilities increasingly look to natural gas and renewable power to produce electricity.
Even so, Ojeda's opponent, Carol Miller, who ran flat out as a Trump Republican, should have been a cinch to win.
But Ojeda's populist, blue-collar campaign and his well-publicized support for striking West Virginia school teachers made him competitive. His point-blank, let-'er-rip style also attracted some national media attention.
In a story headlined "He's JFK with a bench press and tattoos," Politico's Michael Kruse described Ojeda as a candidate "with 36 tattoos, bulging muscles and a dry-razored buzz cut."
Ojeda confesses to voting for Donald Trump but told Kruse he's sorry "because he hasn't done shit." The president, according to Ojeda, has "shown that he's taking care of the daggone people he's supposed to be getting rid of."
In another Politico story, Kruse wrote that Trump lit into Ojeda. The president slammed him as "a total wacko," and claimed he was "stone-cold crazy" at a rally in Wheeling, in far northern West Virginia. Speaking to the GOP faithful in Huntington, the Third District's largest town, Trump trashed Ojeda as "a radical left-winger."
"The people hooted and booed," according to Kruse. "And the Spanish-accented way Trump said Ojeda's name was conspicuous. Oh-HAY-da." Ojeda pronounces his name "O-jed-uh."
"Please don't fall for the garbage and the lies," Ojeda replied at a Democratic gathering and pig roast in Peach Creek. "My military service has been attacked by people who have never picked up a rifle and manned a post."
Trump evaded the draft during the Vietnam War with five deferments—four for college and one for bone spurs on his heels.
"Number one in turning Trump voters back to the Democratic party."
Though he lost, Ojeda is proud he was "was number one in the mid-terms—number one in turning Trump voters back to the Democratic party."
Trump won the district by a whopping 49 percent two years ago. Miller beat Ojeda by just a dozen.
"His 12-point loss represented the largest swing of Trump voters toward Democrats in any district around the country, according to the Intercept," wroteVox'sAlexia Fernández Campbell. "It just wasn't enough to topple a Republican in such a pro-Trump area."
Ojeda said he trimmed the GOP margin by 37 "because I can relate to the working-class citizens. I don't just talk it. I don't just say that I support unions and working-class citizens."
He's barnstorming the country stressing "the problems that the working class is having. I have been on picket lines with flight attendants and obviously with teachers and the Communication Workers of America [who struck in West Virginia mainly over job cuts]."
Added Ojeda: "Just recently I've flown to General Motors in Detroit to stand outside that headquarters and say that it's unacceptable--unacceptable-- that the white-collar workers are going to get a buyout but the blue-collar workers are going to get pink slips." (In November, GM said it plans to close five factories and lay off almost 15,000 employees, another sign the economy may be slowing.)
Ojeda lives with his wife and two kids in Holden, a community of fewer than 900 souls in Logan County. He represents the 7th Senate District, where union history runs as deep and rich as coal deposits.
Much of the bloody, early 20th-century mine wars were fought hereabouts. Coal company owners hired strikebreakers and employed detectives, sheriff's deputies and state militia to help in their ferocious resistance to the United Mine Workers of America. 

"The outspoken, tattooed combat veteran reflects all the contradictions of West Virginia politics: He is pro-gun rights and pro-labor; he's also a Democrat who voted for Trump (and now regrets it)," Campbell also wrote. "The state's coal miners have aligned themselves with him, but it was his vocal support of West Virginia's teachers that turned him into a working-class hero."
"You haven't seen anybody who will pick a bigger fight than I will."
Ojeda's touts unions with near missionary zeal. Organized labor gives him high marks as a lawmaker.
UMWA President Cecil Roberts, a West Virginian, visited the union's regional office in Charleston, West Virginia's capital, to announce personally the UMWA's endorsement of Ojeda for the seat vacated by Rep. Evan Jenkins, a Republican.
"I believe that Richard will be a yes vote for us on any issue that's of importance to working people in the state of West Virginia, particularly working coal miners, or laid off coal miners, or retired coal miners," said Roberts, an Army combat vet like Ojeda.
Standing next to the union president, who fought in Vietnam, Ojeda vowed he was ready to battle for working families. "Wait, watch and see," the candidate said. "You haven't seen anybody who will pick a bigger fight than I will. Make no mistake about it, I would rather fight than eat."
"Let's show love to everybody."
He's also stepped to his own drummer on some issues that are would seem to be unpopular in staunchly conservative, Bible Belt West Virginia. He helped pass a medical marijuana law and opposed an anti-abortion bill, according to Campbell.
Ojeda refuses to pander on social issues like LGBTQ rights, abortion and guns.
"Let's show love to everybody," he said. "I'm not going to stick my nose in somebody's business when it's about who they want to love. I have spoken to people in the LGBTQ community that are business owners, that hire people--these are phenomenal people in the community. Why are we throwing stones at them?"
Ojeda said he's pro-life, but he explained that he supports "a woman's right to be able to decide what to do with her body because it's not my body, it's her body. I'm pro-life because I want to see a reduction in abortion. That's why I support things like Planned Parenthood that does offer free contraceptives."
Too, the candidate said he's pro-Second Amendment but added that Republicans run on "guns really only because it it's a good thing to say right when it's election time to bring the far-right base out to vote."
Ojeda also said its time to stop the Republicans "from stealing patriotism from us." Trump is not the only middle-aged or older saber-rattling Republican politician or pundit who actively avoided war and military service in their salad days.
"It's all a farce and it's time for us to take patriotism back," Ojeda said.
He's running on a shoestring budget and, some might say, a quixotic quest for his party's nomination. Undaunted, he's charging ahead, depending mainly on small donations.
"Dear 2020 field: Underestimate Richard Ojeda at your peril."
But he has help from a pro, TV journalist Krystal Ball, formerly of MSNBC, and her People's House Project. The organization backs progressive, blue-collar Democratic candidates for Congress.
Ball, co-host of The Hill'sRising TV show, said she met Ojeda in 2016 at a UMWA Labor Day picnic in Racine, W.Va. "I had talked to him on the phone, and I was going to scout him out as a candidate. There we were in the heart of coal country with this progressive, populist guy, and people just loved him. We endorsed him."
She sometimes traveled with Ojeda, accompanying him to fund raisers from coast to coast. "The same appeal that he had in southern West Virginia, I saw in Silicon Valley, I saw in New York, I saw in D.C., I saw in Kentucky. When people hear what he has to say and see the character of him, they love him."
Ball is on board with Ojeda for his presidential campaign. "Dear 2020 field: Underestimate Richard Ojeda at your peril," she posted on Facebook.
"Missions"
Her candidate's website has an introductory video and space for four "Missions." "Mission One, titled "Service Requires Sacrifice," is the only one up so far:
"We ask our men and women in uniform to put their lives on the line. Many make the ultimate sacrifice. They do so for modest salaries and no chance at great wealth, out of love of country. But our elected representatives and our president, they get rich feeding at the trough of public service. Year after year congressmen making $175,000 per year suddenly are worth millions of dollars. And when they leave public service, then the cashing in really begins. Most of them have no idea what it's like to try to put food on the table or tell their kids that they can't afford college. They don't use the same healthcare as us, they send their kids to private schools, they have their own security.
"It's time for us to ask of our legislators and our president to make a fraction of the sacrifices our troops do. Live modestly while serving your country and live on a modest pension thereafter. It's not too much to ask when our country hangs in the balance. This ensures not just that our representatives won't be bought and paid for, but that they will have some understanding of the life of the working class citizen. We will all be amazed how our healthcare improves when our representatives have to use the same health care that the working class citizen or returning veteran uses.
"The Service Requires Sacrifice Mission is simple:
"1.) Anyone who is elected to Federal public office, or is appointed to the Cabinet, must sacrifice any net worth over a million dollars to charity of their choice (a real charity, not some family foundation run by their kids).
"2.) After they retire from public office, they will collect a $130,000 pension per year. They can make another $120,000, on their own, for a total of $250,000 per year maximum for life, subject to automatic yearly cost of living adjustments. If you really want to sell your country out to big pharma, all you can get in return for your soul is $120,000.
"3.) Elected officials will have the same healthcare package options as everyday Americans.
"We're tired of millionaires making decisions that impact our families but do not impact their own. Whether it be public schools, healthcare, housing, or banking, elected officials must be held accountable by ensuring their own decisions will impact their families as well."
Soldier, teacher, politician
Born in Minnesota, Ojeda graduated from high school in Logan, the Logan County seat. He earned a bachelor's degree from West Virginia University and added a master's from Webster University.
He spent two dozen years in the army, rising from private to major. A combat engineer, he still sports miniature Bronze Star and Master Parachutist's pins on his lapel.
Ojeda is counting on organized labor support beyond West Virginia. But he's not waiting for union members to seek him out; he's visiting union halls nationwide.
"It's too early for unions to endorse," he said. "I know that. But I can tell you right now that all I need to do is get face time with the [union] people and the people will realize that I'm the one that will stand with them wholeheartedly."
After he left the Army, he came home to West Virginia and taught school from 2013 until 2016, when he won his senate seat.
"I couldn't sit silent in my senate chair."
He said when the teachers struck earlier this year over low pay and the high cost of health insurance, "I couldn't sit silent in my senate chair.
"I had to get up and finally say something because of the bills that [the Republicans]...were pushing that were attacking our teachers, that were attacking the AFT [American Federation of Teachers], the WVEA [West Virginia Education Association], the WVSSP [West Virginia School Service Personnel]."
He rose on the Senate floor and defended the teachers and other public-school employees. "I just wanted to get up and finally let these legislators know that they can talk all the garbage they want to talk but I'm not going to sit quiet while they attack our working-class citizens and go after our unions."
Outside the Capitol, he grabbed a mike and spoke passionately on behalf of teachers during the nine-day strike. Many teachers donned tee-shirts and lugged posters with Ojeda's photo and they enjoyed taking selfies with him, Campbell wrote.
In addition, he and many of the strikers tied red bandannas around their necks. They symbolized the kerchiefs thousands of union miners wore in the 1921 Battle of Blair Mountain near Logan.
Sheriff's deputies, mine guards and anti-union volunteers heavily armed with rifles and machine guns were dug in on the high ground. Though outgunned, the miners attacked up the slopes and surrendered only after Army troops and Army airplanes arrived. The clash was said to be "the largest armed uprising on American soil since the Civil War."
Ojeda's support for the strikers earned him more press statewide and nationwide.
"What won that strike wasn't Richard Ojeda—it was the fact that when you walked outside our Capitol, you saw not only the teachers and the school service personnel standing shoulder to shoulder. You also saw United Mine Workers of America tents, International Brotherhood of Electrical Workers, Communication Workers, Painters, Pipefitters, Boilermakers, Carpenters—all were there standing in solidarity.
"They were not going to be denied, and that was a beautiful thing. If unions realize that if we stand together, then we can win."
("In the end, teachers got the 5 percent pay raise for all public employees they were demanding, and the strike and its aftermath turned Ojeda into a hero to educators," Campbell also wrote.)
"I believe in transparency."
While Trump still refuses to reveal his tax returns, Ojeda promised he'll "post every one of my tax records back at least 10 years. I'm going to list things on my financial disclosure form that no politician would ever want to list. I believe in transparency, and I think it's important for us to be transparent to do away with the corruption."
Ojeda's idea of transparency includes forcing lobbyists to strap on body cameras. "Police officers wear body cameras, so then how come a lobbyist [doesn 't]? We know right now that one of the biggest hazards we have in this country, our democracy, is the back-door dealings that go on in our state and our national capitals….If you think it's bad in the state capitals, in D.C. it's even worse."
"They're getting snowed by people who really don't care about them."
He doesn't get why many working stiffs still back Trump. "The day after the election, we saw people on TV saying, 'I like everything Ojeda said but I've got to support my president.'
"He wouldn't allow them to set foot on any of his golf courses. They cannot afford to buy a meal in any of his country clubs. But we're not going to have a positive outcome until working class citizens realize they're getting snowed by people who really don't care about them.
[dc]"I[/dc]n every single election this is part of [the Republican] plan; tricking average citizens into voting for the other side's best interests instead of their own best interests."
More information about Ojeda is available on his campaign website and his Facebook page.
Berry Craig