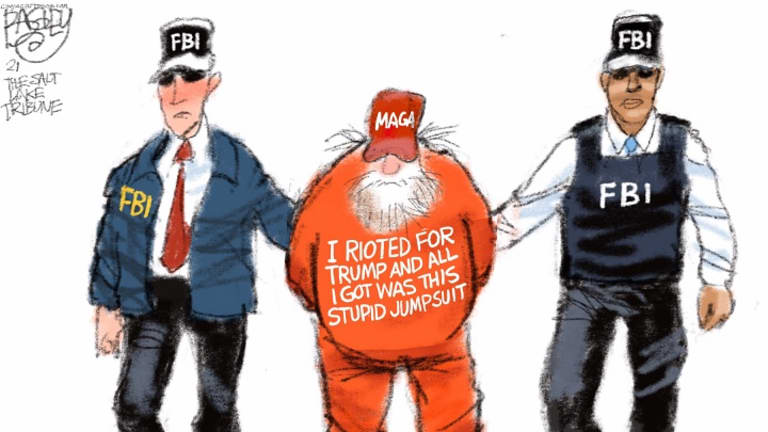 Don't Stand Back: You No Longer Need to Stand By
Ted Vaill: After it became clear that he was going to lose the election and his Presidency, Trump began his barrage against the truth by using the Big Lie used so well by Hitler
At the last Presidential Debate, disgraced and twice impeached President Donald Trump was asked if he had anything to say to The Proud Boys, a far-right militia that supported him. He replied: "Stand Back and Stand By". If you asked "Stand by for what?" —- now you know. The President invited The Proud Boys to come to Washington, D.C. on January 6, 2021 to help him stage a coup to overthrow the American government.
Even before the November 3 election, Trump was muttering that the election was going to be rigged against him, not if he won, but only if he lost. He has been using this canard for many years, whenever he thinks that he might lose something he cares about, because he thinks he never loses. Losers are weak, and Trump can never appear to be weak.
After it became clear that he was going to lose the election and his Presidency, Trump began his barrage against the truth by using the Big Lie used so well by Hitler
After it became clear that he was going to lose the election and his Presidency, Trump began his barrage against the truth by using the Big Lie used so well by Hitler: the election was rigged against him and he was going to fight for what was right and be declared victorious. In order to do this, he had to deputize his cadre of sycophants to stir up the 74 million deluded Americans who voted for him to make them believe that the election was stolen from him. "Stop the Steal" become the motto he repeated and repeated ad nauseam.
Even before January 6, 2021, money was being raised through "GoFundMe" and other online fundraising sources to bring supporters to D.C. on January 6 from all over the country by air and on busses chartered to bring them to D.C. while they were being propagandized. Some of them were "little old ladies in tennis sneakers"; others were hardcore alt-right criminals who were out to overthrow the government.
It is my belief that some of the Trump insiders detailed to take over the Defense Department leadership after Secretary Mark Esper was fired by Trump following the November 3 election were complicit in the plot to overthrow the government. The coconspirators could be:
SecDef Chris Miller, the former head of the National Counter Terrorism Center;
Chief of Staff Kash Patel (who had "unique access" to President Trump while a member of his National Security Council before being slotted into his Defense job);
Retired Brigadier General Anthony Tata, a conspiracy theorist;
Ezra Cohen, a former Defense Clandestine Service spy;
or even the Director of National Intelligence John Ratcliffe, who until he became DNI was a rabid Trumpster Congressman.
In any event, money was provided to radical Trump supporters to come to D.C. to help overthrow the government and preserve the Trump Presidency. (There is even an unproven source that claims that over $500,000 in Bitcoin was sent to various radical U.S. para-military groups in December, 2020 from a bank account in France. This needs to be investigated. )
The Save America Rally/March
Just after the election, two Trumpster Tea Party women coined the term "Stop the Steal" and started a Facebook website that went viral, and Trump and his sycophants adopted them. Trump tweeted repeatedly starting on December 19: "Big protest in D.C. on January 6. Be there, will be wild." Rally Organizer Ali Alexander claims that he got three GOP Congressmen, Paul Gosar and Andy Biggs from Arizona and Mo Brooks from Alabama, to provide legitimacy for the Save America Rally/March.
A permit was obtained from the National Park Service for the event, to be held on the Ellipse between the Washington Monument and the White House. The permit stipulated that it was NOT a march to the Capitol and that it was expected that 5,000 people would attend. Later, they expanded the expected crowd up to 30,000. The Capitol Police were not involved in crowd control here; the D.C. Metropolitan Police were detailed to handle this event. Neither of them expected a march to the Capitol.
As January 6 arrived, a large stage had been constructed for the rally, and it looked more like a stage for a rock concert, very expensively constructed with bulletproof glass in front of the podium. It now was called, on big signs: "The Save America March". The organizers began the rally by shouting "President Trump asked us to show up today and we are here…We are here to save the Republic…We don't want to back down; America is worth saving…I don't want to learn Chinese and make the White House turn red."
Eric Trump then took the podium. He emphasized that his father "will never, ever stop fighting for you" and introduced his wife Lara, who shouted out that "This fight has only just begun…we are in this fight to the bitter end…Senators and Congressmen, show some backbone and show some fight!" Eric Trump then added "We need to march on the Capitol and stand for what is right!"
Kimberly Guilfoyle, Donald Trump, Jr.'s, girlfriend, then screamed out that "We will not let the Democrats steal the election!" and introduced Junior, who said "This is Donald Trump's Republican Party. We will not just roll over and die!" He went on to say that the Members of Congress "will be voting in a couple of hours. Choose wisely, because if you just roll over…" He was drowned out by the crowd shouting "FIGHT FOR TRUMP!" Trump Jr. then concluded by saying "Today, your representatives have got to pick a side. Thank you for standing up to the bullshit. Stand up and hold your representative accountable…We're coming for you and we'll have a good time doing it."
Then Rudy Giuliani and his friend, Chapman law professor John Eastman (soon to be fired by the school) gave the crowd screwed up interpretations of the law. Rudy opined that "Everything that has been outlined for today is perfectly legal…Pence can decide on the legitimacy of the electoral ballots. He can send them back to the legislatures in Georgia, Pennsylvania, Arizona, and Wisconsin. You [Pence] can look in the mirror and say 'I am doing the right thing'." He ended as angry rock music played.
Professor Eastman recounted the false charges about dead people voting and Dominion unleashing uncounted ballots from "secret folders" to get the Democrats "over the finish line". Giuliani closed with the line that may send him to jail: "Let's have trial by combat!!!", and then introduced Trump.
Congressman Mo Brooks of Alabama, one of the planners of this rally, shouted out from the podium: "Today is the day American Patriots start taking names and kicking ass!!"
Many in Congress are taking down Mo's name and are going to kick his ass out of Congress.
Trump Urges Crowd to March to the Capitol
Trump opened by bellowing "We will never give up! We will never concede! We will stop the steal!" It was simple in Trump's mind: "All Vice President Pence has to do is send it back to the States to re-certify and we become President!…Many of you have traveled from all across the country to be here…Now it is up to Congress to confront this egregious assault on our democracy. And after this [rally], we are going to walk down, and I'll be there with you [he chickened out]…We're going to walk down to the Capitol and we're going to cheer on our brave Senators and Congressmen and women, and we're probably not going to be cheering so much for some of them…"
And the final pitch: "You have to show strength and you have to be strong. We have to demand that Congress do the right thing and only count the electors who have been lawfully seated, lawfully slated. I know that everyone here will soon be marching over to the Capitol building to peacefully and patriotically make your voices heard…" I think that at this point Trump was reading from the teleprompter. You will undoubtedly hear his impeachment counsel (if he can get any respectable lawyer to represent him) say "Look, he only wanted peaceful protest!"
But it was too late. He had already lit the match…
Trump concluded with this: "So we're going to walk down Pennsylvania Avenue. And we're going to the Capitol, and we're going to try and give…our Republicans, the weak ones because the strong ones don't need any of our help. We're going to try and give them the kind of pride and boldness that they need to take back our country.!"
With that, the Insurrection and invasion of Congress happened, as Trump hoped. And that will get him impeached and removed, never to be allowed to run for office again.
Ted Vaill